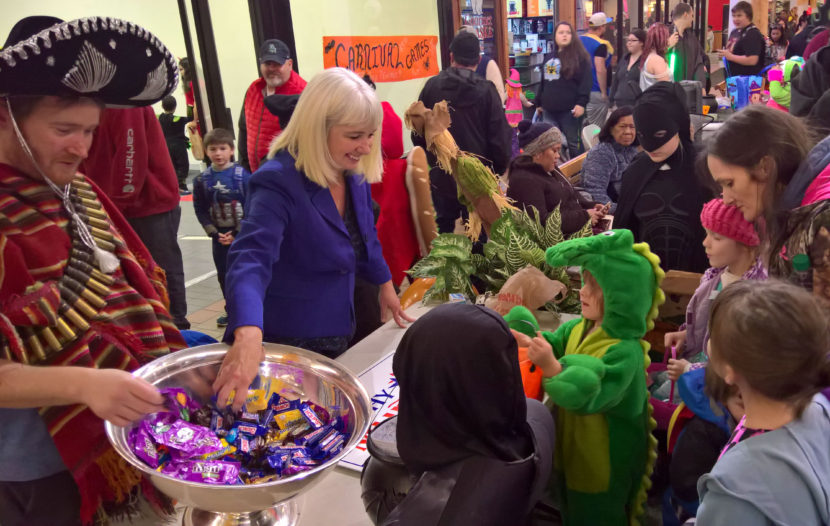 Cathy Muñoz has represented Juneau's Mendenhall Valley in the Alaska House of Representatives since 2009.
This election, she's seeking her fifth term and is facing Democrat Justin Parish in the House District 34 election.
By Alaska standards, Muñoz is a moderate Republican and her voting record shows her sometimes at odds with her party colleagues. While policy is important, another aspect of politicking was on display at one of her recent campaign events.
It's Halloween night at the Nugget Mall, and hundreds of kids are dressed as pirates and princesses, superheroes and steampunks.
They're hitting up trick-or-treat tables in the busy mall.
Cathy Muñoz is not in costume, but she's handing out candy and campaign balloons with her 10-year-old son who's dressed as a Halo Spartan, a campaign staffer who's Pancho Villa, and her husband who's wearing a floor-length black leather coat – he's Neo from "The Matrix."
Muñoz has a quick pitch for why she should be re-elected that's mainly about state finances and protecting Juneau as the state capital.
"I serve as the only member from Southeast on the Finance Committee. In that role, I'm very active in protecting Juneau jobs, and promoting policies that encourage a diverse economy and fisheries and mining and tourism," she said. "I work really hard to keep Juneau jobs, Juneau state jobs in the capital city. Whenever there's a rumor of a job moving, I'm very active to turn that around and prevent any inadvertent job loss in the community."
Helping steer infrastructure and construction projects into Juneau is another key point she emphasizes, citing the Capitol building renovations, the new Father Kashevaroff State Library, Archives and Museum, the state Fish & Game building renovation on Douglas, and the Department of Labor's office updates.
"All of those good projects anchor jobs in Juneau and help strengthen our state capital," she said. "I'm also very committed to a state fiscal plan. I supported the governor, SB 128, I was one of five in the House Finance (Committee) that voted in favor of the plan. I'm committed to continuing to work to get Alaska on sound financial footing."
But that pitch is actually from an October debate. After interacting with hundreds of people at her trick-or-treat stand in the mall, the policy stuff hasn't come up once.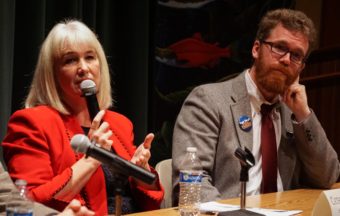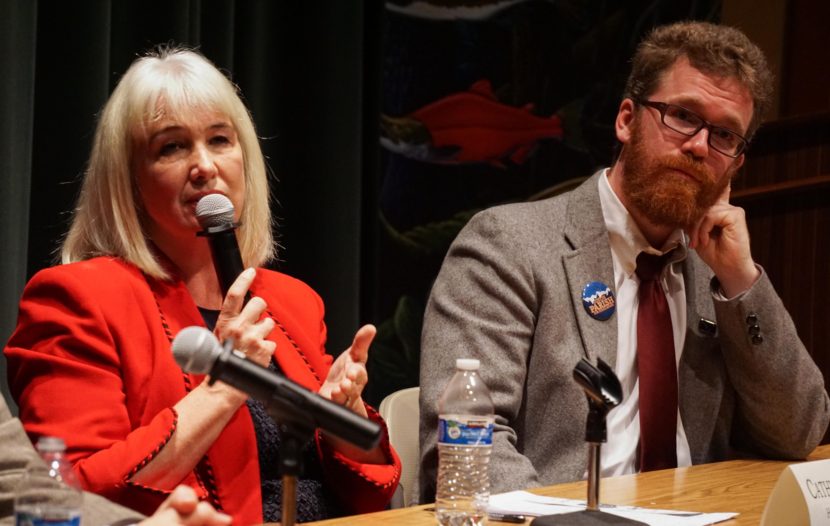 Another thing that hasn't come up is the flak she caught in August after The Juneau Empire spotlighted her correspondence to the justice system seeking leniency in sentencing for a convicted sex offender and a mother convicted of child endangerment related to sexual abuse of a child. She addressed the controversy during the October debate.
"I have acknowledged that I made a mistake," she said. "I have publicly apologized to the community and the victims, and actually, have taken this very powerful learning experience and turned it into a positive, reaching out to individuals who are on the front-lines working with victims of domestic violence and sexual assault."
She added that she's working with community members on ideas for legislation that would address gaps in the foster care, health care and criminal justice systems.
Most of the people paying a visit to her table are clearly too young to vote. But Muñoz says this is a huge part of campaigning.
"Well, then people put a face with the name. And you know, we do a lot of constituent work in my office," she said. "So it's nice to make that contact, you know, that connection in kind of a friendly format, kind of, yeah, more down to earth."
One table over at the mall, she's sponsoring free snow cones. There's been a steady line all evening.