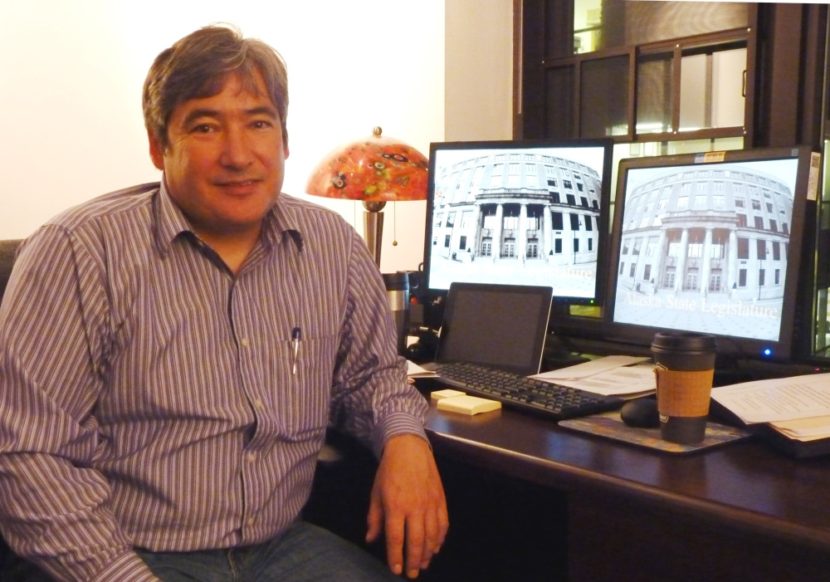 Juneau Democrat Sam Kito III is running for his second full term representing state House District 33. That includes the capital city's downtown, Douglas, Haines, Skagway, Klukwan, Excursion Inlet and Gustavus.
Kito was appointed to his House seat in 2014 after then-Rep. Beth Kerttula stepped down.
The 18-year Juneau resident, who was born in Anchorage, is a civil engineer who has worked on transportation projects around the state.
He's spent this year's election season talking about state budget issues.
During a forum at this fall's Southeast Conference meeting in Petersburg, he said that includes a variety of taxes and capping Permanent Fund dividends.
"I do appreciate the work that Gov. Walker has put into his fiscal sustainability plan, because we need to look at a lot of different sources of revenue to try and balance the money that we've lost because of low oil prices," he said.
Kito said it's important to continue essential services, such as schools, the university and the state ferry system.
He said action must be taken during the upcoming legislative session to bring in new revenue. That, he said, will help keep the state out of a recession.
"If we do have increases in oil prices down the road, and we already have a sustainable fiscal plan, then that money can be used to bolster our Permanent Fund and result in increased Permanent Fund dividends," he said.
The Juneau Democrat said any new revenue must be spent responsibly.
But reduced PFDs, new taxes and other options buy the state time.
"Balancing the budget doesn't mean providing a whole lot of extra money for state agencies to do what state agencies do, which is to provide public services through the state of Alaska to residents," he said. "It raises enough money so that we can have those discussions about whether or not we're spending adequate money on education, spending adequate money on health care or spending adequate money on transportation."
The past few years' state budget cuts have hit municipalities and school districts.
To help, Kito said the state should continue its obligation to keep the local share of public employee retirement programs reasonable.
"It's something that I think we need to honor, in order to make sure that in these financial times that are getting difficult, we're not putting excess or undue pressure on the local governments," he said.
This is Kito's second time on the ballot. He won a contested election in 2014. But this time around, he has no officially recognized opposition.
Haines Libertarian William 'Bill' McCord has announced a write-in campaign for the seat. But elections officials say those votes won't be counted, because he hasn't lived in Alaska long enough to qualify for the ballot.
Reports on other Southeast Alaska House and Senate races:
House District 36 candidates Ortiz, Sivertsen debate in Wrangell
Constitution Party's Ken Shaw runs for House District 36 seat
Campaign finance reports show outside money in Ortiz-Sivertsen race
Sitka Sen. Stedman outlines tough decisions facing next Legislature
State Senate write-in candidate Sheldon runs on protecting PFD
As election nears, House District 35 candidates Finkenbinder and Kreiss-Tomkins go on offense
State House District 34 candidates Parish and Muñoz spar at Juneau Votes debate