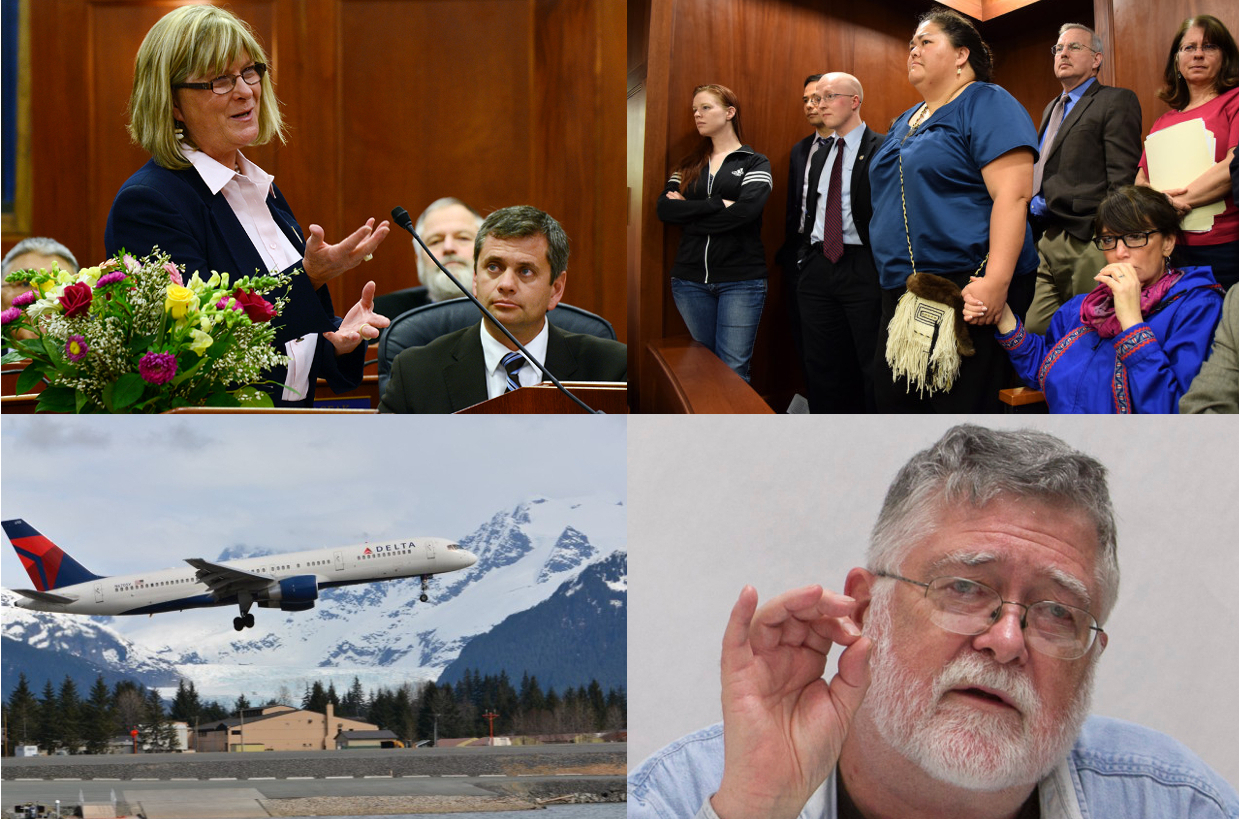 A longtime state lawmaker resigned, Alaska Native languages were recognized as official state languages, and a little competition sparked a price war for airline tickets to and from Juneau. Those were just a few of the top stories of 2014 in the capital city.
The year started with the unexpected resignation of one of the state's longest tenured politicians. After 15 years representing Juneau in the State House, Democratic Minority Leader Beth Kerttula stepped down in the first week of this year's session. She'd been chosen for an ocean policy fellowship at Stanford University. Kerttula acknowledged the timing was tough, but said it was an opportunity she couldn't pass up.
"Oceans have been part of my life for a long time and I've always had a special place in my heart for these issues," she said.
The Stanford fellowship led to Kerttula's current position as director of the National Ocean Council Office for the Obama administration. Sam Kito III was appointed to her old seat and elected in his own right this past November.
During the legislative session, Juneau residents were at the forefront as lawmakers officially recognized Alaska's indigenous languages. Supporters staged a sit-in protest at the Capitol on Easter. After the bill passed, University of Alaska Southeast Professor Lance Twitchell summed up the feeling in Tlingit.
"We succeeded, we attained," he said.
As inevitably happens every year, a handful of prominent Juneauites passed away in 2014, including Tlingit scholar and linguist Richard Dauenhauer and journalist Bob Tkacz. Hiker Sharon Buis went missing on Mt. Roberts and was never found, despite weeks of searching.
As befitting the capital city, Juneau residents figured prominently in this year's elections. Former mayor and Sealaska official Byron Mallott started out as the Democratic nominee for governor, before joining the eventual winning ticket as candidate for lieutenant governor alongside Republican-turned-Independent Bill Walker.
Facing a multimillion dollar budget shortfall, city officials sought to cut spending, but faced backlash over a proposal to close the Augustus Brown Swimming Pool. The pool stayed open, but for the first time in recent memory the Juneau Assembly opted not to fund the Juneau School District to the maximum amount allowed under state law.
There was a change at the top of the school district, with Mark Miller replacing Glenn Gelbrich as superintendent in July. In his first six months, Miller has dealt with the fallout from a high school hazing scandal and made the decision to replace four controversial elementary school texts that some found offensive to Alaska Natives and Native Americans.
A group of concerned residents formed Juneau Votes to increase turnout in the capital city. Voter participation in this year's municipal election was up 10 points over 2013.
The Assembly is majority female for the first time in city history, after Debbie White and Maria Gladziszewski were elected in October. However, for the first time in more than a decade there's no Alaska Native representation, as White and Gladziszewski replaced Randy Wanamaker and Carlton Smith.
This summer marked the first time in nearly 20 years that a major air carrier other than Alaska Airlines served Juneau International Airport. Delta provided daily service to the city from the end of May through August. The competition is good for consumers, says Alaska travel analyst Scott McMurren.
"The moment Delta's rubber hits the tarmac in Juneau, fares will be at historic lows," McMurren said.
Delta plans to return to Juneau in 2015.
Also this past summer, more than 100 volunteers helped clean up downtown Juneau. The event was organized by the Downtown Improvement Group, a coalition that formed this year to address some of the seedier elements of Juneau and make the city a more attractive place to be. The group plans to continue its efforts in 2015.