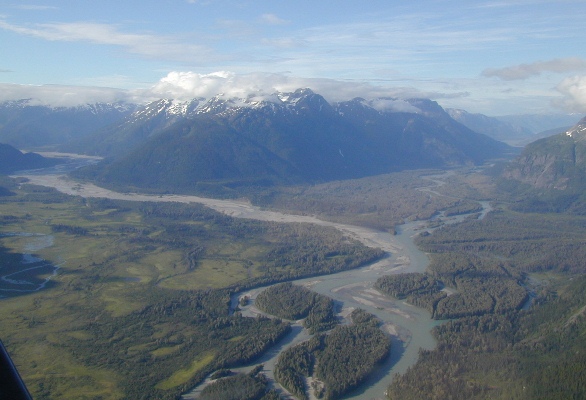 Chieftain Metals Corp. has released new details on its plan to barge supplies and minerals to and from the Tulsequah Chief Mine, up the Taku River south of Juneau.
Chieftain is trying to re-open the long closed zinc, copper and gold mine in British Columbia. The company filed an updated feasibility study with Canadian financial regulators earlier this month. It says the Taku is likely to be impassable about 23 percent of the time during the proposed barging season from May to September. Another 23 percent of the time, barges will need a tug to help navigate the river.
Chris Zimmer with the environmental organization Rivers Without Borders says the report is light on other details about the company's barging plan.
"When you look at this, you just think, 'Boy, how are they going to make this work?'" Zimmer says. "Because they've got to get concentrate out on schedule to get it on a barge and to get it down to a freighter in Seattle. And given the conditions in the river, I just can't see how they're going to be able to make this work."
According to the feasibility report, Chieftain would need four custom-built tugs and barges to make the nearly 40-mile run from the mouth of the Taku to the Tulsequah.
The company expects to ship more than 867,000 wet metric tons of concentrate to market over the proposed 11-year life of the mine. At its operational peak that would be more than 93,000 tons per year. About 17,000 tons of supplies and fuel would be shipped up the river every year as well.
Zimmer worries what will happen if Chieftain misses a few barge runs and tries to make them up when river conditions improve.
"They're probably going to try to run a lot of barges in a very short time to make up for that shortfall," he says. "And I think they'll probably push the envelope for what's safe in the river there."
Chieftain officials previously have said the mine would not be built unless there was a road leading to it from Atlin, B.C. In October, the company announced the road is no longer being considered. The Taku River Tlingit First Nation has sued to stop the project, saying B.C. officials failed to consult them about an environmental permit.
Ron Maas is the former owner of Taku Glacier Lodge, and still owns about 150 acres up the river. He's disappointed in Chieftain's plan to barge.
"I just hate to see them tear up the whole damn country for a few bucks," Maas says.
He remembers when former Tulsequah owner Redfern Resources tried barging on the Taku, and how the vessels would pass right by his property overlooking the glacier.
"It's a gorgeous, gorgeous place, and it is just a shame to have that barge coming by," he says. "You can hear it, you know, five miles away."
Lynden Logistics — one of the largest freight companies operating in Alaska — last month announced it had signed a non-binding letter of intent with Chieftain to provide barging services for the Tulsequah project. Officials with both companies have declined multiple requests for comment.
Chieftain is still seeking financing to reopen the Tulsequah. Cominco last operated the mine in 1957.
Juneau state lawmakers formed the Taku River Fact-Finding Task Force in 2011 to address local concern over renewed interest in the mine. Rep. Cathy Muñoz says the city's legislative delegation is still reviewing the updated feasibility study, and will talk about getting the task force back together early next year.
"It's a high priority," Muñoz says.