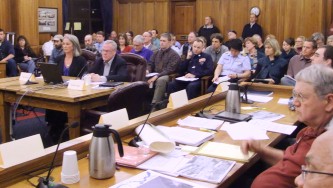 Standing room only marked Thursday night's meeting of the Taku River task force. About 45 cabin and lodge owners, commercial fishermen, charter operators and others packed the House Finance Chambers in the state capitol to hear about Taku River habitat and its abundant fish stocks.
It was the first of a series of meetings to gather facts about the transboundary river. The task force was created by Juneau legislators in response to community concerns about proposed resource development on both the U.S. and Canadian side.
The most immediate project is Tulsequah Chief Mine at the headwaters of the Taku River. Canadian company Chieftain Metals plans to re-open the mine in 2014, and is barging equipment and supplies from Juneau to the mine. Alaska has no jurisdiction over the Canadian mine, nor does the state require a permit to barge up and down the river.
The eight-member task force will be learning about the health of the river, the agencies responsible for industrial traffic and spill response, and the effectiveness of state and federal laws and regulations. The group will be writing a report to Juneau lawmakers, who will make recommendations on river protections to the state legislature.
The second meeting of the Taku River Fact-Finding Task Force is Saturday, from 9 a.m. to noon in room 519 of the state capitol.