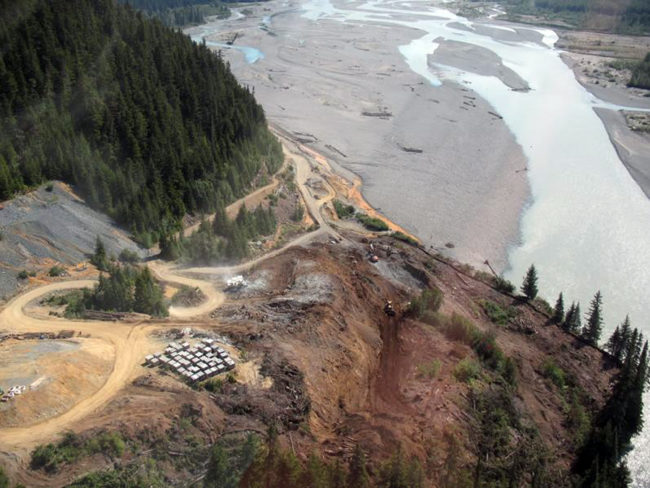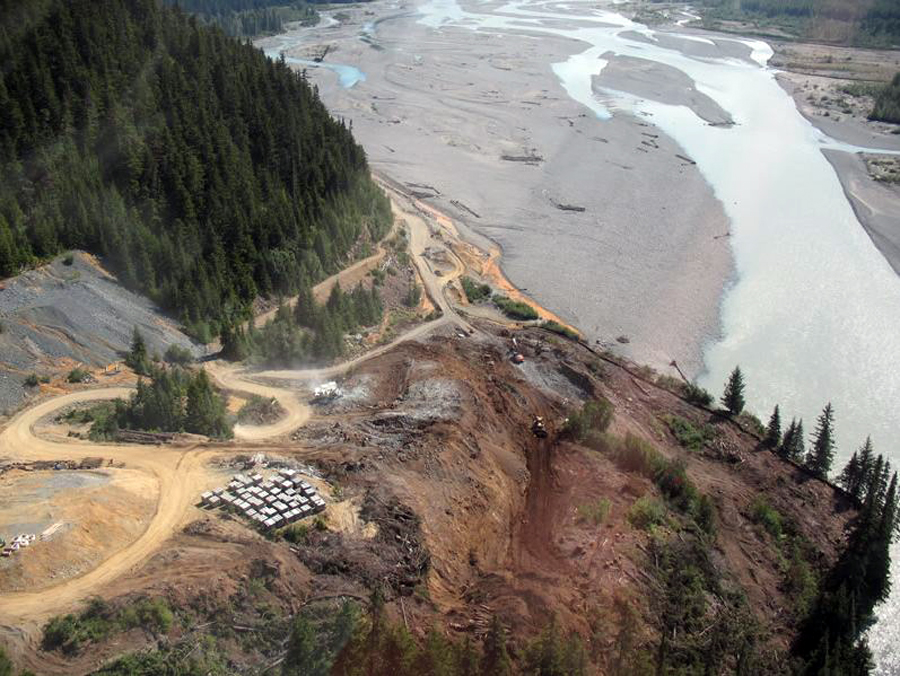 The company that's trying to reopen the Tulsequah Chief Mine at the Canadian headwaters of Taku River has apparently abandoned plans to build a road to the mine site.
Chieftain Metals announced last month that a forthcoming update to a 2012 feasibility study no longer includes the proposed 128 kilometer road from Atlin, British Columbia. Instead, the company is going back to a plan to barge supplies and concentrated minerals to and from the mine via the salmon-rich Taku, which flows out south of Juneau.
That has environmentalists and state lawmakers concerned. Chris Zimmer of Rivers Without Borders says both Chieftain and Tulsequah's previous owner, Redfern Resources, have tried barging on the Taku, and it hasn't worked.
"The Taku River is just not, it's not the Mississippi, it's not the Yukon," Zimmer says. "It's not a big, deep, easily navigated river. It's shallow, it's fast; it has ever-changing gravel bars and lots of log jams."
The new plan is to use conventional barges, not the hover barge idea once floated by Redfern.
In its Oct. 20 press release, Chieftain notes that Cominco used barges during its operations at the Tulsequah before the mine closed in 1957. The company says barging would only occur five months of the year, and improvements are planned to protect the shore at the barge landing area.
But Zimmer says the risks of conventional barging are well documented.
"The potential for spills, you know, all the diesel fuel, all the cyanide and other mining chemicals are going to be going up river on these barges," he says. "And also between May and September, that's when the river is heavily used. You have an entire gillnet fleet out there."
Zimmer says he's surprised Chieftain is no longer pursuing a road to the Tulsequah, especially given past statements by company officials that ground access is critical to reopening the mine. Juneau state Sen. Dennis Egan feels the same way.
"I'm really concerned about Chieftain itself," Egan says. "I just am concerned about assurances that were given to us earlier that never materialized."
Egan says one of those assurances was that the company would restart a water treatment plant to mitigate small amounts of acid rock drainage that had been leeching into the Tulsequah River for decades.
"We had the head of Chieftain talking to us, and everything was rosy, and they were going to do this and going to do that for environmental controls – they didn't do any of it," Egan says.
In 2011, Juneau's legislative delegation formed the Taku River Task Force in part to address concerns over the Tulsequah Mine. Egan hopes to convene the group to discuss this latest development.
The press release from Chieftain says the full mine feasibility study will be released in early December. Juneau state Rep. Cathy Muñoz shares the same reservations as Egan and Zimmer, but says it's important to wait for the full report to be released.
"We have a vital commercial fishery that benefits from the five species of salmon that originate in the Taku watershed, and so, yes, it's a great concern," Muñoz says. "I do believe that we have a key role in this project, even though we're a separate jurisdiction, a separate country."
Chieftain Metals President and CEO Victor Wyprysky did not return messages left at his Toronto office. The company estimates the mine would have an 11 year lifespan, and produce about 47 million pounds of zinc annually. The Tulsequah also has copper and gold reserves.
Earlier this year the Taku River Tlingit First Nation sued to stop the project, arguing British Columbia officials failed to consult them before issuing an environmental permit.