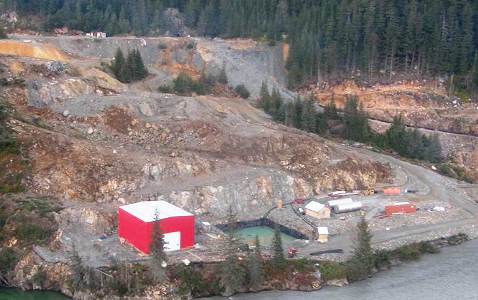 The company building a mine at the headwaters of the transboundary Taku River expects a new road to be completed by the end of next year. That will allow year round access to the Tulsequah Chief Mine.
The Taku is the most abundant salmon-producing river in Southeast Alaska. But on Saturday Chieftain Metals tried to reassure members of the Taku River Fact-Finding Task Force that barging would soon cease.  
[Files relating to the task force are posted on the legislature's committee hearing web site
here
. Click on the folder icon.]
Chieftain Metals' Chief Operating Officer Keith Boyle paints an aggressive timeline for the multi-metals mine under construction in British Columbia, 40 miles northeast of Juneau. And it hinges on a proposed road.
"The mine won't go without the road," Boyle told skeptical task force members.
Boyle was speaking by teleconference from Toronto, Ontario, headquarters for the Canadian-owned company. He said the company expects to have a B.C. government permit for the road by the middle of this year.
Chieftain Metals purchased the Tulsequah Chief Mine and adjoining properties in 2010 after former owner Redfern Resources went bankrupt.
Juneau has terrible memories of Redfern: The number of times Redfern barges hit bottom in the Taku River; Redfern's proposal for a hover barge towed by an amphibious vehicle; its years of promises to clean up acid mine drainage from the defunct mine.
The company nixed the hover barge idea soon after it acquired the Tulsequah. And mine cleanup is underway. As KTOO previously reported, a water treatment plant has been installed and is treating mine effluent.
When Chieftain took ownership, it acquired Redfern's permits from B.C. regulatory agencies, except a permit for a road through Taku River Tlingit First Nation territory. The company has been negotiating a new route to the mine with the tribe, which has historically opposed any overland route.
"This past summer, we jointly hired an engineer, this engineer looked at different options, we evaluated the different options and Chieftain has now submitted an application for an amended permit," Boyle said.
The 130 kilometer road (approximately 81 miles) would go from Atlin, B.C. to the mine site, still through some First Nation territory. It's now up to the B.C. government to get First Nations to agree.
Months ago Chieftain Metals said barging equipment, supplies and concentrate up and down the Taku River is not an option for two reasons: It's a difficult river to navigate, especially with its fluctuating water levels, and bankers want to know the product is getting to market.
"What were the parameters to make that decision? And secondarily to that were some of those parameters run timing in terms of the salmon run?" asked Task Force member and commercial fisherman Len Peterson.
"It had nothing to do with the salmon runs, it had everything to do with sitting in front of the bankers and saying, 'you know we want to build a mine,' and they looked at us and said, 'if you think you're going to do it with hover barges we're not giving you any money,' " Boyle responded.
Before the road is built, Boyle said the company expects to haul fifteen to twenty 100-ton barge loads from Juneau up the Taku River to the mine beginning in late May. Chieftain Metals will contract with tug and barge company Wainwright Marine Services out of Prince Rupert, B.C.
"Any material, equipment, what not, it's got to fit within 15 trips up the river," Boyle said. "We're contingency planning – we're trying to figure out what it is, but you know 15 to 20 trips for the entire summer."
Some of those loads will be road construction equipment. Boyle says construction will start simultaneously from Atlin and the mine site.
The Juneau legislative delegation created the Taku River Fact-Finding Task Force in response to concerns about mine development on both the U.S. and Canadian side of the river. Alaska has no jurisdiction over the Tulsequah Chief project, or barging up the river.
After two three-hour meetings with state and federal agencies and Chieftain, the eight-member task force seems to have more questions than answers.
It will meet again on Friday, Jan 13.