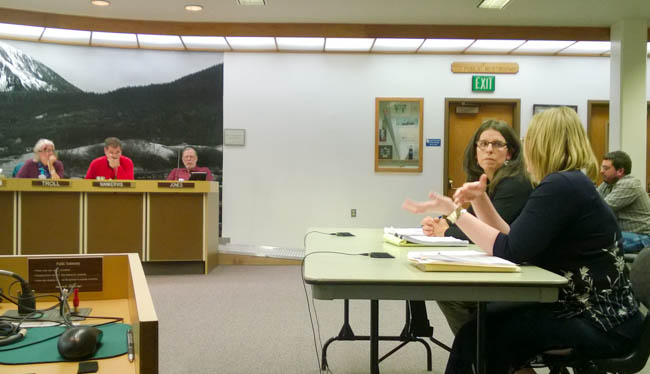 The way the City and Borough of Juneau disposes of its sewage sludge isn't sustainable, and the long-term solution consultants are recommending will be expensive.
"I don't know that I have any good news for you in all this," City Engineering Director Rorie Watt told the Assembly last night.
Hired consultants recommended in September that the city build a 7,100 square foot facility at the Juneau-Douglas Wastewater Treatment Plant off Thane Road. The new facility would dry sewage sludge, burn it as fuel in a furnace, then feed heat back into the drying process. The only waste would be an inert ash.
The consultants estimated such a facility would cost $28.7 million to build. Meanwhile, the city is bracing for another year of budget deficits.
Mayor Merrill Sanford pointed out that the city plans to request some $22 million in grant money from the state for the project, "Which is probably not necessarily feasible, or not necessarily … going to happen with the shortage of funds at the state level, too," Sanford said.
The Juneau Assembly Finance Committee intends to hear from the city's sustainability and planning commissions about the proposal, and examine options for paying for the new facility. The finance committee's next meeting is Nov. 12.
For now, Waste Management is shipping the sewage sludge to a landfill it owns in Oregon under a tenuous 5-year contract.
"We, as efficiently as possible, want to drive towards moving forward to not loading shipping containers full of sludge for lots of obvious reasons," Watt said. "We really need to move beyond our current solution."
In a memo, "perilous" was the word Wastewater Utility Superintendent Samantha Stoughtenger and Engineering Project Manager Michele Elfers used to describe the status quo.
Waste Management was reluctant to be in the sewage sludge business after its last contract ended in 2013. The stopgap worked out earlier this year left Waste Management with the option to walk away at any time without consequence.