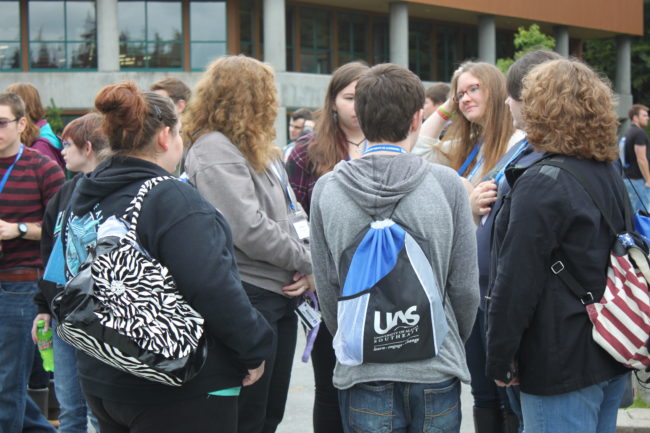 If you're a student, faculty or staff member of the University of Alaska, you may receive a survey in your email this month asking questions about sexual assault on campus.
The survey follows campus visits by federal investigators looking into how the college handles sexual assault complaints and violations.
This is the first time the University of Alaska is conducting a campus climate survey.
"We want to have an understanding and ground truth how people feel sexual assault's being dealt with on our campuses, and it's a way to determine if there are areas of concern that we're unaware of," says Michael O'Brien, university attorney.
This is also the first year the White House has recommended that schools around the country conduct campus climate surveys.
The university's Statewide Institutional Research and Budget department is conducting the survey with help from the University of Alaska Anchorage's Justice Center. The roughly 50 multiple choice questions are modeled after sample ones provided by the federal government.
O'Brien warns the language of the survey is explicit.
"Because we don't all share the same definitions of sexual assault, it has to go through a lot of explaining. Like you wouldn't want someone to say, 'No, I've never been sexually assaulted. I mean, every once in a while, I'll drink too much and my boyfriend will have sex with me when I'm passed out. But I've never been sexually assaulted.' That is also sexual assault," says O'Brien.
Students, faculty and staff at University of Alaska have already been notified of the survey. O'Brien says around 18,000 will be randomly selected to participate and all of them will get resources for counseling and reporting sexual assault.
"We anticipate that when people are confronted with this sort of information, it often triggers a response. That's not the goal of it. We're not trying to trigger responses or draw out victims, but we realize that that could happen," O'Brien says.
The survey is confidential and voluntary. O'Brien says results are anticipated before the end of the year. He doesn't know if they'll be made public.
Lori Klein, student conduct administrator at the University of Alaska Southeast, says the university is also looking at how to reach and engage students who aren't on a campus.
"A big portion of our population are distance students and they don't necessarily have a campus climate to speak to, but they could be anywhere. They could be accessing buildings across our state that are in partnership with the university to provide students with space to access our classes. We care about those climates," says Klein.
As part of an ongoing examination, federal investigators visited four campuses of the University of Alaska last week hoping to hear from students. At the UAS Juneau campus, only two attended the women's focus group, but an investigator says other campus sessions drew up to 25 students.
O'Brien says the federal investigation continues and won't likely be resolved for another several months. After that, he says the university can expect years of monitoring.
Related stories:
Feds investigate University of Alaska for how it deals with sexual assault
For UAS freshmen, lesson on sexual consent comes first
As part of investigation, feds will hear from UAS students about sexual assault