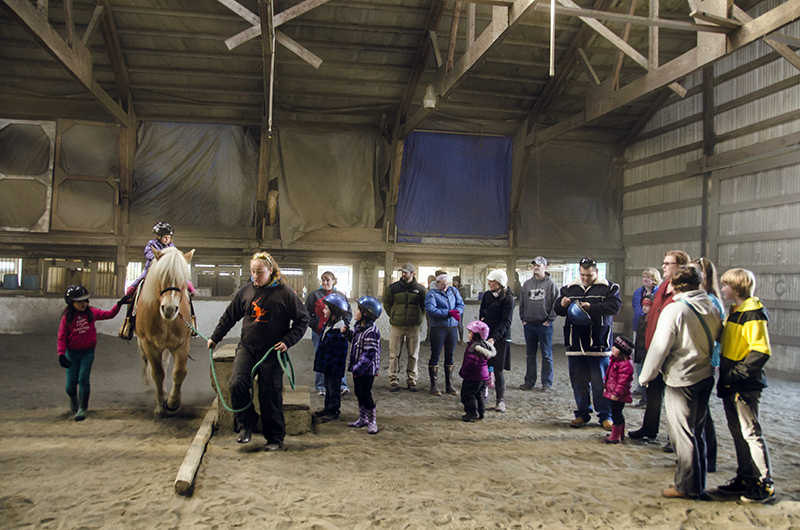 Horses are popular in this rainforest community, especially among young girls.
A 2011 All Things Considered story explored how many girls go through a horse phase when they are looking for escape and control. Some children turn that fleeing passion into a lasting lifestyle.
A new 4-H equestrian club in Juneau links riders at Fairweather stables to the Southeast 4-H community. Juneau has a variety of 4-H clubs for activities from shooting sports to tracking and GPS.
The sun filters into the Fairweather arena through horse-kicked dust as temperatures hover around freezing. Children line up in winter jackets for the chance to ride a horse for a few laps. Six-year-old  Citabria DeMuth got to ride and now she wants a horse of her own.
"I like to ride them by myself because I know how to control a horse," DeMuth says.
Honnalee Elkan steps away from leading a horse around the arena.
"I'm one of the owners down here at Fairweather barn. I have my own little horse who will be one of the pony ride horses here as well and we just started our first 4-H chapter for the barn here because we really wanted to get more kids involved and we have a lot of kids that are here as part of parents who have horses or also are part of the horse owners and we haven't exactly settled on a name yet so any suggestions out there would be appreciated," Elkan says.
Elkan says funds from the pony ride will go toward club member jackets and a new arena for the horses. The club aims to teach children how to care for horses.
[quote]"They are very intelligent creatures who remember everything," Elkan says.[/quote]
The non-profit Fairweather Equestrian Center has been around for nearly 50 years. Elkan says horse-owning isn't cheap, especially in Juneau.              
"This is certainly a labor of love. It's kind of like owning a boat, it's a hole you pour more money into, but for the love of it," Elkan says.
Shelly Smith is another 4-H organizer. Her daughter Bella led small children on horses around the arena throughout the day. Smith says horse owners and their parents have talked about starting a new 4-H chapter for a couple of months.
"We know the kids are interested and 3 out of the 4 program leaders grew up in 4-H and so they were a huge part of making this happen," Smith says.
13-year old Tamara Campbell walks around the stable helping with the horses. She has a horse named Dora.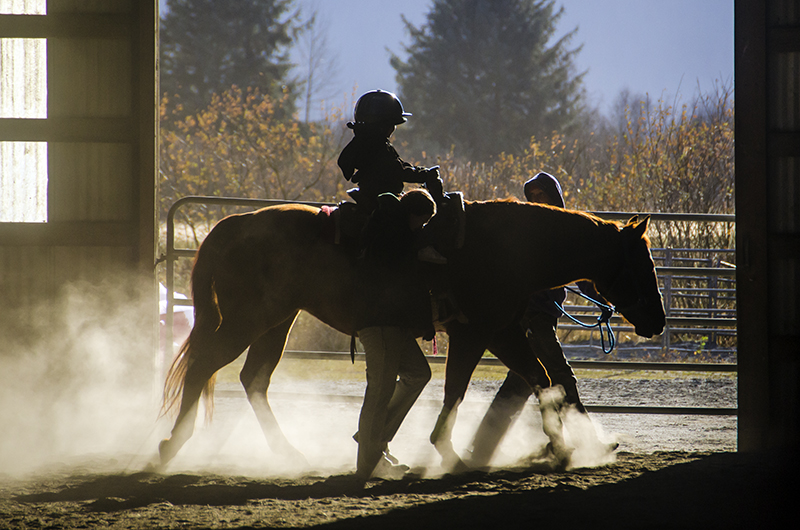 "I take care of my horse every day. I've been sidewalking so the kids don't fall off if the horse gets scared," Campbell says.
She is a member of both the new Fairweather 4-H club and the older Thunder Mountain 4-H. Thunder Mountain is based out of Swampy Acres. Southeast 4-H President Darren Snyder says the two horse clubs are healthy and growing. He says Fairweather is an opportunity for children based out of that barn to get involved.
"Where they keep their horses will sometimes influence where clubs develop and to be based in the barn there it makes sense," Snyder says.
Elkan hopes to pair horse owners like Tamara Campbell with children who don't have a horse of their own.
"And that way they can have a horse that they ride along with their buddy who is one of the other little kids who has the horse. To be able to meet together and ride together because they're so close in age, they'll have a lot more fun," Elkan says.
Snyder says both Juneau horse clubs try to get everyone involved.
"It's reflecting a little bit of a shift to intentionally be inclusive of people who don't have horses to have the opportunity to experience horse care," Snyder says.
The new 4-H club meets at the Fairweather stables on Saturdays at 10 a.m.  The next pony ride will be November 24.