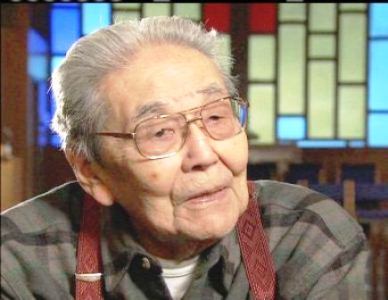 The Rev. Dr. Walter Soboleff has died. He was 102 years old. He passed away Sunday morning at his home in Juneau with his family around him.
The Tlingit Presbyterian has always described his more than 70 years as a pastor and teacher as a "happy ministry."
He was the first Alaska Native pastor in Juneau during segregation — but his church was open to all.
While Walter Soboleff has often been called the spiritual and cultural standard bearer of the Tlingit people, his influence went well beyond.
"He spoke to the whole world," said his youngest son, Ross Soboleff. "He happened to be Tlingit, but he really always spoke to the whole world, as selflessly as you can do that."
Dr. Soboleff is survived by four children and several grandchildren. Services are pending.
He reflected on his life on his 101st and 102nd birthdays.
In his more than a century of life, the Rev. Dr. Walter Soboleff saw two world wars and numerous other military conflicts.
As a boy he watched young Tlingit men leave their families to go off to World War I. As a pastor he nurtured parents whose sons were fighting in other wars. And now it's the war on terrorism.
"I wish the fathers and mothers would rise up and say, no more wars. We lose our children," he said on 102nd birthday.
Walter Soboleff was born Nov. 14, 1908 in Killisnoo, a Tlingit-Russian community on Admiralty Island that no longer exists. His family moved to Tenakee, and when his father passed away, he was sent to the Russian Orthodox Bishop School in Sitka then went on to Sheldon Jackson, the Presbyterian mission school.
It was there that he first heard Christian sermons in English, and became a Presbyterian. Years later, on a full scholarship to the University of Dubuque in Iowa, he earned a bachelor's degree in education and went on to divinity school.
In 1940, he was ordained and became pastor at Memorial Presbyterian in Juneau, a church created by the National Presbyterian denomination to serve a Tlingit congregation. At the time Juneau was a segregated town.
"And early I said to the leaders in the church, 'wouldn't it be a good idea to let the world know that this church was not only for the Tlingit people of Juneau?' And they said, 'that's a good idea,'" he recalled. "The word went out and non-Natives started to come. And the church was just growing."
Memorial Presbyterian was the first racially mixed congregation in town.
Soboleff also had a radio ministry, both in English and Tlingit.
"We had a half an hour, 11:30 to 12. The choir came on and there was a short sermon, not that long, and then a closing hymn and benediction. I often felt people just don't like long sermons so I made short ones. I cut the baloney in half," he said, with a laugh.
After 22 years, Memorial Presbyterian Church was closed. Soboleff boarded the Presbyterian Mission boats, the Princeton Hall and Anna Jackman, to take the gospel to remote Southeast Alaska villages, logging camps and Coast Guard light houses.
"I'd go up the dock with a packsack on my back, Bibles, and I'd visit with the Coast Guardsmen – four or five men, remote. Every boat going by never stopped, (but) we did," Soboleff said. "The fellas liked it. I visited with them and had short devotions. And I gave a Bible to one fella and he said, 'Now I have time to read the Bible.' I'll never forget that. Such good visits, such good visits."
When he retired from full-time ministry, he created the first Alaska Native studies program at the University of Alaska Fairbanks. While classes were small in those days, Professor Soboleff always had 50 to 60 students enrolled.
"The biggest classes on the campus. It was what the youth wanted," he said. "What seems to draw them is to appreciate to learn who they are. It seems to have a stabilizing effect."
Dr. Soboleff bridged more than a century of change. In Alaska, he saw the development of the Alaska Native Brotherhood and Sisterhood, Alaska statehood, the Alaska Native Claims Settlement Act and the creation of Native corporations, as well as the integration of an Alaskan society that once discriminated against his people.
Soboleff said advancements in education were among the most important changes he witnessed in 102 years; he believed aviation and the telephone were the most critical technological changes.
"Part of his legacy comes not from how long he's been alive, but the different eras he's lived through," says the Rev. Dr. David Dobler, pastor of the Presbytery of Alaska. The organization serves Presbyterian churches throughout the Southeast region.
"When I met him in the 1980s, he was due to retire, and was seemingly known and knew everybody in the state and beyond," Dobler says. "He had this remarkable gift and attitude of holding, I think, every person as though they were in a state of grace. I've never heard him be angry with somebody."
Dr. Soboleff often said his vision for longevity was simple: "Be living and enjoying and sharing, and that's how God made us to be — sharing the good that he has shared with you."
His wonderful sense of humor also contributed to that longevity. He never completely retired from the clergy and always described his 70 years in the pastorate as a happy ministry.
He outlived two wives. Genevieve and Walter had four children, who live in Juneau. Genevieve died in 1986. When he was 90, he married Stella, who passed away in 2009.
On his 100th birthday, Dr. Soboleff advised the youth at the convention of the Alaska Federation of Natives.
"I was in the fifth grade and the teacher said, 'Take care, take care of the old person you're going to become.' And I thought what a funny talk to give us. But I never forgot it. It was one of the best messages I've ever heard. Take care of the old person you're going to become. Here I am."