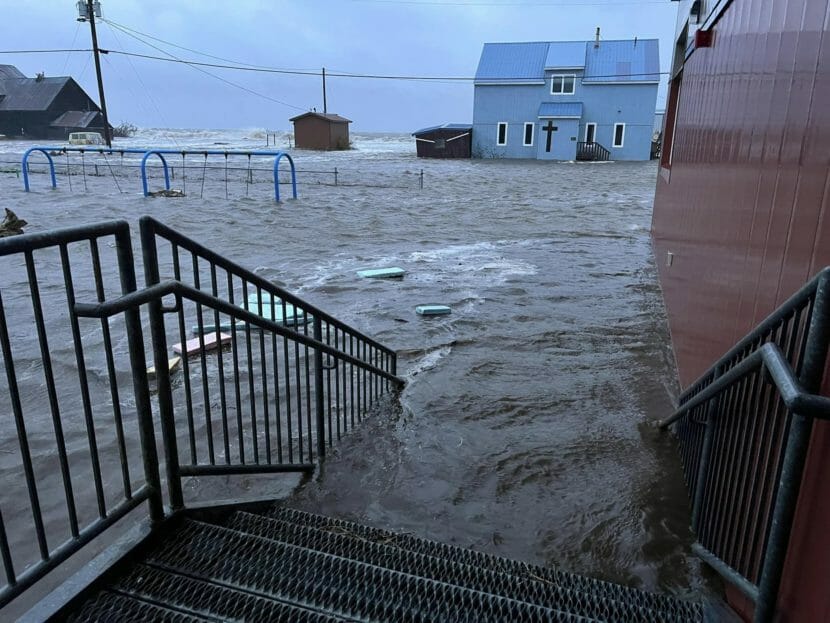 A powerful storm is slamming Western Alaska, with reports of major flooding, high winds and widespread damage in numerous coastal communities.
Gov. Mike Dunleavy declared a disaster for the communities impacted by the storm Saturday morning. By Saturday evening, the state said it had received no reports of injuries or deaths related to the storm.
But damage had torn across hundreds of miles of Alaska's coastline impacting communities all along the way. Alaskans described water flooding homes and roads. Wind tore off roofs. Houses floated off their foundations. Boats sank.
The water has begun receding in many areas, but further north, the peak of the storm surge is forecast to hit later Saturday night. As levels drop, more damage will be revealed.
Worst storm in living memory
In Hooper Bay, 110 people were sheltering at the school on Saturday morning, according to Vice Principal Brittany Taraba.
Tribal Chief Edgar Tall said at least three houses had moved off their foundations. He said he's never seen a storm like this.
"Not in my whole life," Tall said. "Some people that are older than me, since they were children."
In a video recorded Friday in Hooper Bay, 63-year-old Judy Bunyon also said it was the worst storm she'd seen since childhood. The video showed water flooding homes and wind tearing off roofs. 
In Golovin, Josephine Daniels said she and many other residents were forced from their homes as waters rose Friday evening.
"The storm started to get halfway up the beach around 6 p.m. last night," Daniels said. "So we moved to the school. Then when we woke up, the water was covering some of the steps at the school — the school is in the center of the village downtown."
Late Saturday morning, Daniels said the water had stopped rising. The school and everyone inside appeared to be safe, but the building was "still surrounded by water."
In Chevak, City Administrator Dennis James said the community had lost most of its fishing fleet.
"There are multiple boats and motors that sunk and these are our livelihood — equipment for the livelihood of the people," he said. "It's pretty devastating to witness something like this."
More than 15 families had sought emergency shelter overnight. No injuries were reported locally, but a third of the village had lost power amid extensive damage.
"We're situated on a bluff, and that's probably the only saving grace for our community," James said. "I've seen it flooded over to where it looked like we're on an island, but I've never seen the water this high before."
In Newtok, part of the town is flooded and dozens of people are staying at the school. Joseph John, who works at the town store, said about nine or 10 houses had flooded, and the riverbank eroded between 10 and 20 feet overnight.
Erosion has long threatened Newtok. For decades, the community has been laying plans and securing funds to relocate the entire village to more stable ground.
About a third of the community has relocated to Mertarvik, a new village site nine river miles upstream from Newtok. The rest of the community is expected to move there in the coming years as more homes are built.
John's main concern now is how much water is going to come back in with the next high tide.
"This is the worst we've had in years," John said.
National Weather Service hydrologist Johnse Ostman said Kuskokwim Delta villages are seeing are also seeing flooding, including Napakiak, Oscarville and Napaskiak. In Bethel, Brown's Slough has flooded parts of the east side of the city.
Ostman said the National Weather Service also believes there has been flooding in Lower Yukon Delta communities. 
He said that most communities in the Yukon-Kuskokwim Delta should see water begin to recede, but coastal communities can still expect to see high surf.
But Ostman said people should be cautious even as high water recedes. Some places will experience ponding of deeper water, and sinkholes could form under water that appears to be shallow.
'We're not done'
University of Alaska Fairbanks climatologist Rick Thoman said Saturday morning that reported damage from the storm was both widespread and intense.
"Nome has just – the water level there has just gone to 10.3 feet, which now makes us the highest water level in Nome since the Great 1974 Storm," he said. "Obviously, just tremendous damage in Golovin."
With water levels still rising Saturday in the northern Bering Sea, Thoman warned that "we're not done" with the storm, with further flooding expected in Shishmaref and Kotzebue along the Chukchi Sea — and in Nome, as water keeps moving east into Norton Sound.
Thoman said that one of the more striking aspects of the storm, from a climate perspective, was its arrival so early during Alaska's winter storm season.
"It's not that storms this strong don't happen, but they occur later when there's larger temperature differences across the region," he said. And that's a function in part of this being ex-Typhoon Merbok."
Early Saturday afternoon, the National Weather Service said the storm was continuing its trajectory up the western coast of Alaska, and the center of the storm was now above the Diomede Islands in the Bering Strait.
Ostman said this storm has been historic in Alaska because of how far north Typhoon Merbok developed.
"These tropical cyclones typically are further south," Ostman said. "This one developed much higher and was able to track further north."
Forecasters' worst-case scenario
National Weather Service climatologist Brian Brettschneider said the reality was like forecasters' "worst-case scenario." 
"All those ingredients really did come together this time to create just the unique set of circumstances to maximize the amount of damage," Brettschneider said. "So not only the strength of the storm, but the trajectory and what we call the fetch, how long the winds are blowing at just the right direction to push water right into vulnerable coastal locations."
Brettschneider said the scale of the affected region is massive. And the storm slowed as it approached Alaska, intensifying the surges of water it drove ashore.
"High water will be our problem for much of the day," he said.
Brettschneider said forecasters were able to provide detailed warnings of the storm's impact in the days leading up to Friday due to remarkably accurate computer modeling of Typhoon Merbok's collapse during the past week.
"It's really kind of an impressive display of computational power that it was able to get the strength, the intensity, the direction and the potential impacts several days in advance," he said. "In this case, you know, the storm is exactly where we thought it was going to be several days ago."
This is a developing story. For the latest, visit AlaskaPublic.org. 
Editor's note: If you live in a community impacted by the historic storm, we'd like to hear from you. If you're interested in speaking with a reporter, please reach out: news@alaskapublic.org or 907-550-8444. Thank you.