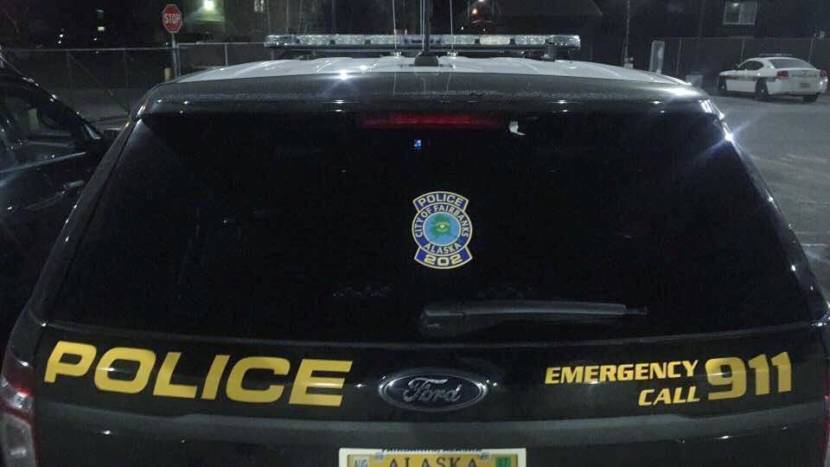 Update — Monday, Nov. 8, 3:05 p.m.:
A 41-year-old man has been arrested and charged with first-degree murder in the Sunday shooting outside of a Safeway grocery store in Fairbanks, according to police.
Fairbanks police identified the man as Joshua Eric Butcher.
Police say Butcher turned himself in around 6:53 p.m., roughly 11 minutes after officers first received reports of shots fired.
Butcher was arrested at the police department and said he would not answer questions without a lawyer, according to police. He was in possession of an empty gun holster and empty magazine holders, said police.
Butcher was taken to the Fairbanks Correctional Center.
Police have not yet identified the person killed or the person injured in the shooting. The person injured has been released from the hospital, police said on Monday.
Police say security camera footage shows the suspect approaching an entrance of the Safeway and shooting a person in the abdomen.
"The suspect then continued into Safeway and can be seen holding the firearm in his hand as he walked behind the registers heading north, before turning around and heading back out the entrance that he came in," according to police.
At the scene, officers found multiple firearm magazines and multiple spent and unspent bullet rounds.
Police say they've yet to determine a motive.
Original story:
One person was killed and another injured in a shooting at a Fairbanks grocery store Sunday night, according to police.
Fairbanks police reported they received several 911 calls before 7 p.m. about shots being fired at a Safeway store on Airport Way. Fairbanks police and other area law enforcement officers responded.
"At the scene, they found two victims that had been shot. Both were adult males," said City of Fairbanks spokesperson Teal Soden. "They were both transported to Fairbanks Memorial Hospital. One of the males was unfortunately pronounced deceased, and the other male is expected to survive."
The name of the man who died will be released after next of kin are notified, she said. A suspect is in custody.
"Shortly after the shooting, an adult male suspect turned himself in to Fairbanks Police Department, where he asked for an attorney," Soden said.
The suspect's name will be released if and when charges are filed, she said. She would not comment on a motive for the shootings.
"This is still really early in this situation, and there's a lot of investigating to be done, but we will try to give the community an update as soon as possible," she said.
There were other people in the store when the shooting happened.
"There are several witnesses. Fortunately, many, most of them that were there were able to get out of the area," she said.
Soden said there have been no reports of anyone else being injured. The public was asked to stay away from the area near the store last night as police worked the crime scene.
Alaska Public Media's Wesley Early contributed to this story.