Updated | Sunday, 1:00 p.m.
The City and Borough of Juneau elections staff counted an additional 1,950 ballots on Saturday. Update totals are posted on the city's website.
None of the race outcomes changed with Saturday's results. The city has received more than 11,000 of the 27,000 mailed out to registered voters in September. The city will count again on Friday.
Updated | 6:15 p.m.
Unofficial results are in from Juneau's first by-mail election. 
The first round of ballot processing took place at the Anchorage Election Center today. City Clerk Beth McEwen says 8,000 ballots were processed so far
So with about a quarter of the votes still left to count, here are the unofficial results: 
Alicia Hughes-Skandijs is in the lead in District 1 with 4,635 votes. Kenny Solomon-Gross trails behind with 3,226 votes. 

In the four-way District 2 race, Christine Woll is in the lead with 3,675 votes, followed by Robert Shoemake with 1,814, Derek Dzinich with 1,338 and Lacey Derr with 739. 

In the uncontested areawide Assembly race, Maria Gladziszewski won re-election with 6,158 votes. 

The Juneau School Board race was also uncontested. Board President Brian Holst was re-elected with 5,759 votes and newcomer Martin Stepetin received 4,819 votes. 
Ballot proposition 1, related to forming a commission to review the city charter, failed to pass by 2,283 votes. Ballot proposition 2, related to bond measures for city infrastructure, passed with 4,967 "yes" votes. 
All of the Assembly and school board races are for three-year terms. Assembly member Rob Edwardson, who did not run for re-election, currently holds the District 2 seat.
McEwen acknowledged that there may be mistakes with the spreadsheet used to total votes, so some results will change. This is the city's first time conducting an election by mail and much of the equipment used was new to city staff. 
At least another 4,000 ballots still need to be processed. Elections staff will do another round of processing tomorrow, with updated totals posted to the city website. 
And they're still verifying signatures. Voters whose signatures on file with the state Division of Elections do not match the signature on their ballots will receive a signature cure letter. They have until Oct. 15 to reply. 
For those who find that their signatures don't match, Deputy Clerk Diane Cathcart suggested referring to their driver's license signature as it's likely to be one the state has on file. 
"Please feel free to stop in or give the Clerk's office a call," Cathcart said during a Zoom call announcing Friday's unofficial results. "We're happy to review it and then send it off so that your vote does get counted."
Original story
Election workers from Anchorage and Juneau are hard at work processing ballots from Juneau's local election.
Initial results are expected around 5 p.m. on Friday when City Clerk Beth McEwen plans to go live on Zoom and Facebook Live from the Anchorage Election Center.
Juneau partnered with Anchorage this year to hold its first-ever by mail election. Voting ended Tuesday. McEwen flew in Thursday to use Anchorage's vote-by-mail equipment.
That includes scanners that take pictures of ballot signatures to aid election workers in the signature verification process. Voters whose signatures don't match the one on file with the state Division of Elections will get a letter in the mail giving them the chance to correct their ballots.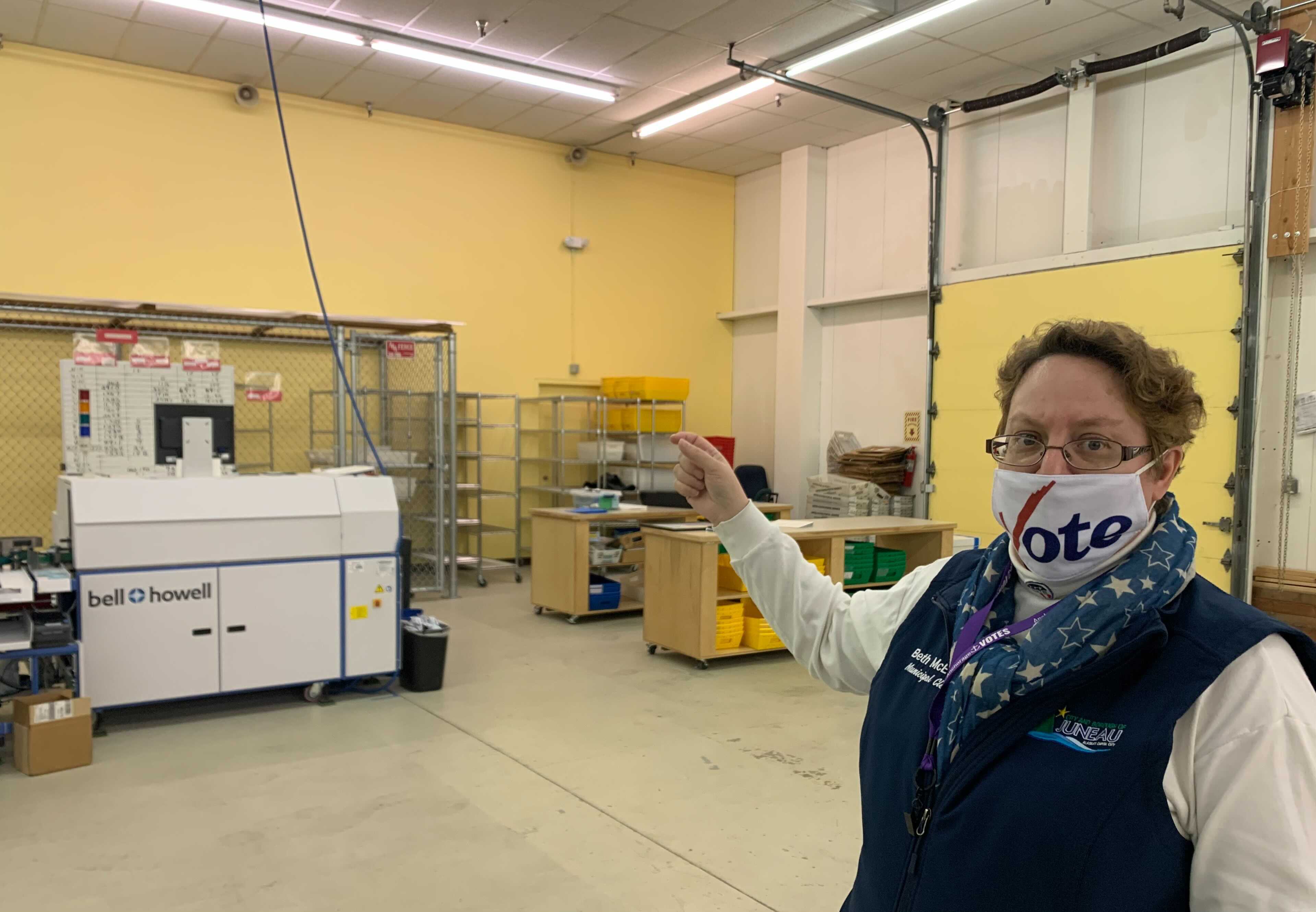 "On the signature verification process, there's approximately 4% that we're having to send a letter in, saying 'this signature is not matching exactly what's on the envelope on your ballot, and we need to do some additional follow up before we can count that ballot,'" McEwen said.
According to the letter voters receive, they'll have until Oct. 15 to correct the error.
Friday's results are unofficial. Ballots returned by mail are still arriving at the election center.
They'll process ballots again Saturday and on Oct. 16. They'll certify the election Oct. 20.
Check ktoo.org/elections for results later in the day.