Updated at 7 p.m. — This story was written by Alaska Public Media's Mayowa Aina. 
Gov. Mike Dunleavy said the state will pay Permanent Fund Dividends on July 1st, three months ahead of schedule. 
The announcement comes just hours after the Alaska Legislature approved the spending of more than a billion dollars in federal coronavirus relief aid. 
"We're in extraordinary times," Dunleavy said. "We need to make sure that people in Alaska have cash in their hands to help with this economy, I can't think of a better time to do it than now."
Dunleavy made the announcement at the end of a Wednesday press briefing that primarily focused on education and plans for reopening the state's schools in the fall. 
University of Alaska President Jim Johnsen presented a framework for creating a fall plan. He said each of the system's campuses will be able to adapt the framework to local conditions. 
Johnsen said that the framework is more conservative than other institutions in the state because campuses are at a high risk for transmission because of things like group housing, mass gatherings in lecture halls, extensive travel by students and teachers, and a younger population that is more likely to be asymptomatic. 
Johnsen said summer classes are currently underway and the university system is preparing for the fall semester.  
Education Commissioner Michael Johnson also presented a framework for developing a plan for the state's K-12 schools. It includes a list of considerations and scenarios schools should think about when planning for the 2020-2021 school year. 
Johnson said the framework can be customized to each district's needs. 
When asked how the state will ensure an equitable education across districts, Johnson said the flexibility of the framework will be key. 
"The best way to make sure that we have equitable educational services is to plan for it and that's exactly what's supposed to be happening right now," he said.   
Johnson said there is not a set deadline yet for when district's must submit plans for the fall but, should a district request a waiver to change its  school calendar, there must be a plan in place before the waiver can be granted. 
"What we want to make sure is that regardless of the situation next year, that teachers are teaching and students are learning. We want to pandemic-proof our school year, he said."  
Original story – This preview was written by KTOO's Rashah McChesney. 
Gov. Mike Dunleavy's latest COVID-19 press conference is scheduled for 5 p.m. today.
He'll be joined by Department of Education and Early Development Commissioner Michael Johnson and University of Alaska President Jim Johnsen. The three will discuss plans to reopen the state's K-12 and higher education system later this year.
The University of Alaska system has a plan that can be found here. 
"It is not a linear path to reopening, in part because our universities were never closed," Johnsen wrote in a letter to the UA Community on Wednesday. "In addition, it is very likely that we will move back and forth among the phases as the incidence of COVID-19 ebbs and flows in our state and communities."
In partnership with the state health department, the state department of education is drafting a framework that will help schools decide whether and how to reopen schools. It includes a list of considerations and scenarios schools should think about when planning for the 2020-2021 school year.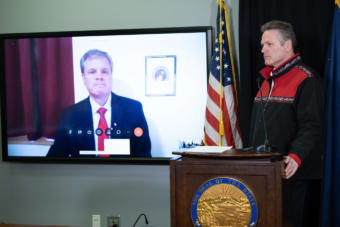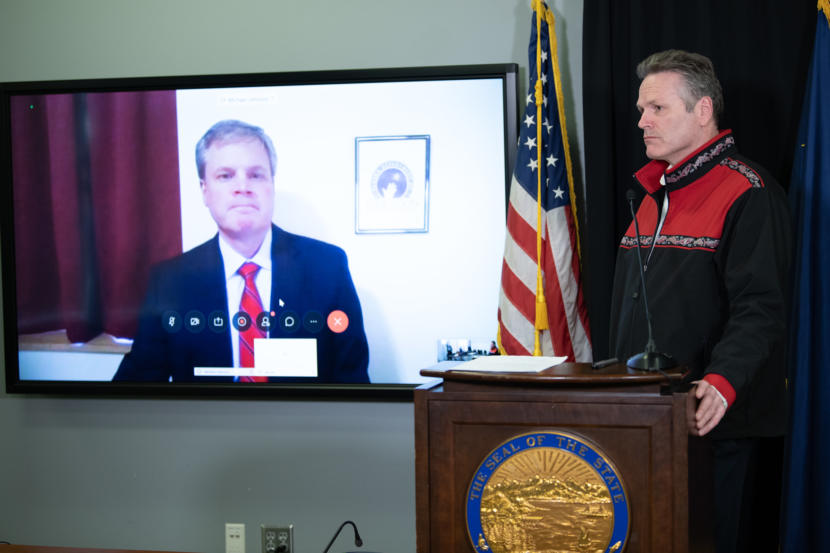 The governor has been holding these briefings almost daily since March 10.
Members of his administration have shared updates on the number of people in the state with confirmed cases, announced public health mandates, and explained the administration's strategy and rationale.
They've imposed several public health mandates that have reshaped daily life across Alaska to combat the spread of the virus. Those mandates and other Alaska-specific COVID-19 resources and information are available at coronavirus.alaska.gov.
You can watch today's press conference live on this post, the governor's Facebook or Livestream pages, or on 360 North television.