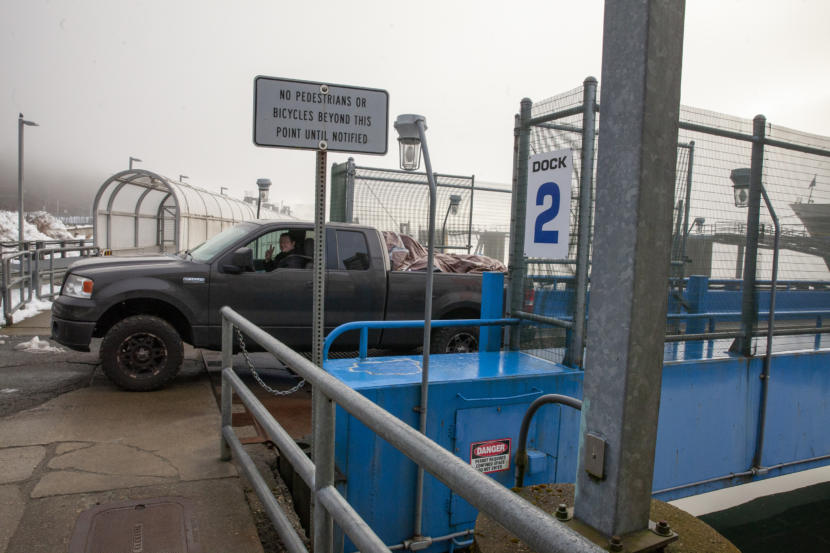 The remaining 20 passengers stranded for almost two weeks aboard the Matanuska left Friday.
The state plans to send the boat from Juneau to Ketchikan for repairs, leaving the state without regional ferry service until March.
In the engine room of the Matanuska, substitute Capt. Gabriel Baylous pointed to a long, mesh-covered pipe lying on the floor with other parts.
"This is the suspected culprit right here," he said, motioning to the cooling tube.
The ferry's mechanical problems came to a head as it was sailing from Petersburg to Juneau in late January.
"You can see when the oil got contaminated, it caused the oil to get really hot, and the steel actually warped from the heat," Baylous said. "So all these components need to be replaced."
He added that these parts are supposed to last for years before showing signs of wear. They've only been in service since the fall, when the Matanuska went back online after an overhaul.
Luckily, that means they're under warranty.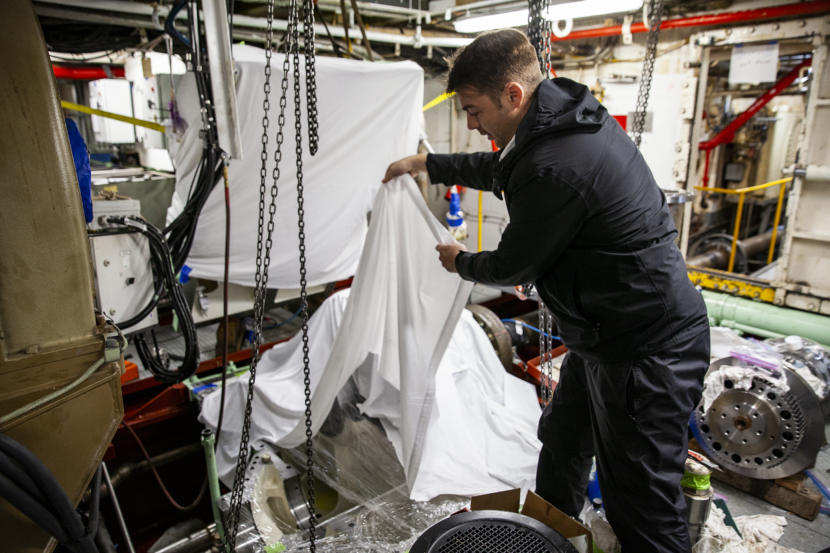 Baylous is a lifelong Alaskan who started with the Alaska Marine Highway System as a cadet. He eventually worked his way up to captain.
"It's been a great job. I really love it," he said. "It's hard to rise above the politics, but we try out here."
In 16 years with the Alaska Marine Highway, Baylous has had to deal with his fair share of mechanical problems on board. But there was always another ferry to pick up the slack.
Not this time.
"In this case, all of the boats are either in layup or they're undergoing repairs down in Ketchikan, or renewing certificates of inspection or whatever," said Alaska Department of Transportation and Public Facilities spokesperson Sam Dapcevich.
The state estimates the Matanuska won't be back online until March 2. Only the Lituya remains in service running between Ketchikan and Metlakatla.
That leaves passengers like Rex Lauber on their own. The Palmer resident has been waiting on board since the Matanuska broke down on his way home from Ketchikan.
Earlier in the week, the state let him and the other remaining passengers know they needed to be off the ferry by the end of the day Friday.
Lauber wasn't pleased.
"I got two options. I can either be homeless in my car in Juneau, or I can put it on the barge today and pick it up in Haines on Tuesday, hopefully," Lauber said Friday, as he prepared to drive off the boat to go to the Alaska Marine Lines dock. He also had a plane ticket to Haines for that afternoon.
Lauber was just about the last passenger on board. The state chartered a private boat to get passengers without cars to Haines last week.
Everyone else camped out in complimentary staterooms on board while they waited for the ship to get underway.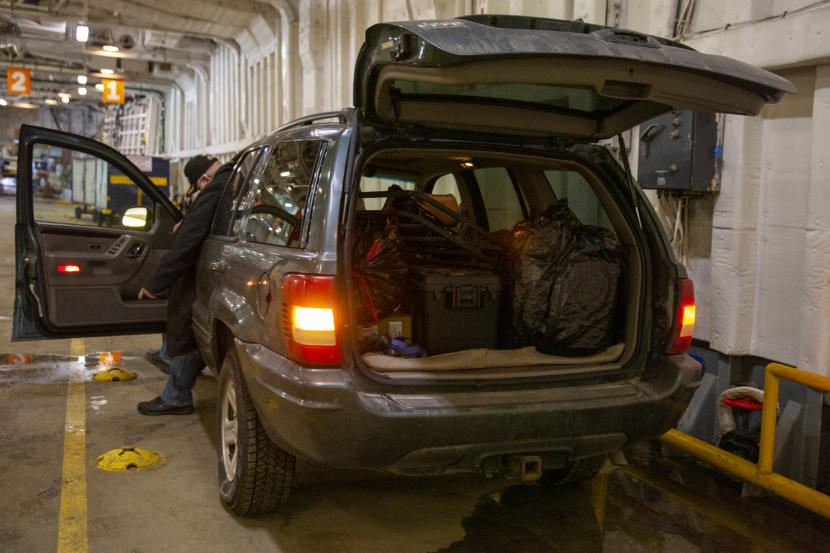 The state reimbursed the trapped passengers the full price of their tickets. Dapcevich said that should cover the cost of getting their cars on the barges and flights to Haines.
But the barge doesn't leave until Monday, so passengers will need to pay for hotel rooms and meals while they wait for their vehicles.
"This little jaunt here is costing me real close to the round trip (ferry ticket) cost," Lauber said.
Lauber doesn't expect to get home until late Tuesday night after the 13-hour drive from Haines.
Still, he said he doesn't plan to swear off ferries.
His 91-year-old mother lives in Ketchikan, and he makes multiple trips each year to visit and take care of her. Plus, he hates flying.
But the lack of reliable service does have other people reexamining their options.
Baylous moved to Olympia, Washington, last year.
"I thought it would be a better future for my children," Baylous said. "We were about to build a large house in Haines. But with the present climate, I didn't think it was a good idea to invest in a town that doesn't have good ferry system service."
As Lauber packed up his car, Baylous thanked him for being a good sport about the whole thing.
"The way you know you're having an adventure is when you'd rather be home talking about it," Lauber told him.
"Oh yeah, it's gonna be a great story," Baylous said.
"And I'm going to tell lots of people," Lauber replied.
The state hasn't made a final decision yet as to whether the Matanuska will be towed or run on its own power down to Ketchikan.
Correction: A previous version of this story misidentified the Matanuska's reduction gear as the engine block in a photo caption.