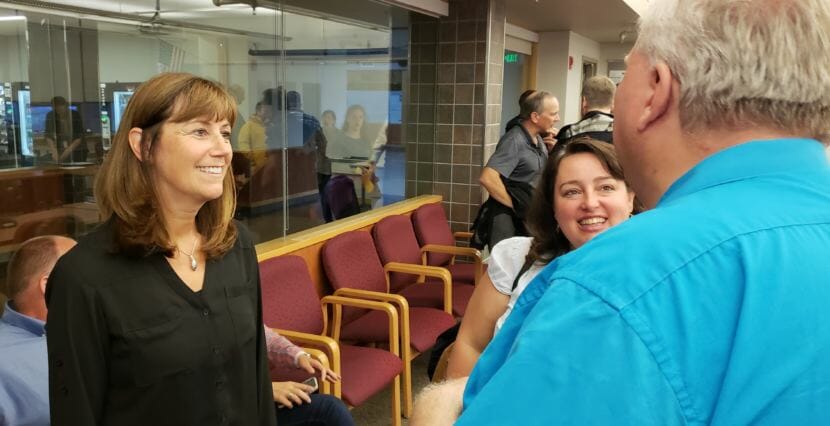 At its first meeting of the new year, the Juneau School District Board of Education voted unanimously to appoint Bridget Weiss as permanent superintendent of the Juneau School District.
Before the vote, members of the board and the public voiced their support of Weiss.
"It's clear this is more than just a job for you," said board member Steve Whitney.
Whitney described the school board's choice to appoint Weiss as the will of the people: "We got so many letters, and they all said the same thing from so many different sources. It just kind of drives it home in a big way."
He says he's hopeful about the direction the district is headed in, although challenges will remain.
"It's gonna be hard just because money is so short. So many things are just barely being held together by shoestrings," Whitney said. "Given that, I'm thankful that she's here right now at this point in time."
Laura Mulgrew is president of the Juneau Education Association, the teachers' union. She spoke in support of Weiss before the vote and was happy with how it turned out.
"As a union, we've had a very positive working relationship [with Weiss]," she said. "Even through difficult times and conversations, we still manage to end on such a positive note on a regular basis. And we are achieving that needed to get done that have not been addressed."
Mulgrew also noted Weiss' commitment, noting she's frequently seen in the schools and at events, even serving as a substitute teacher when needed.
Weiss called the support "overwhelming." She has served as interim superintendent since August, when her predecessor left to take a job in California after four years in the position. Much of the feedback the school board received throughout the selection process called for a local leader.
Weiss is a graduate of Juneau-Douglas High School.
"I feel so grateful to be in a position where I can serve this place, my home of homes," she said.
Becoming superintendent of Juneau School District "was not on my original chart," said Weiss. "I would not have even known to hope for this."
The appointment of Weiss earned the night's second standing ovation. The first, minutes earlier, was in response to the school board's acceptance of the gift of a Tlingit name, Yadaa.at Kalé, for Juneau-Douglas High School.
Note: This story was expanded to include more information on Jan. 9, 2019.