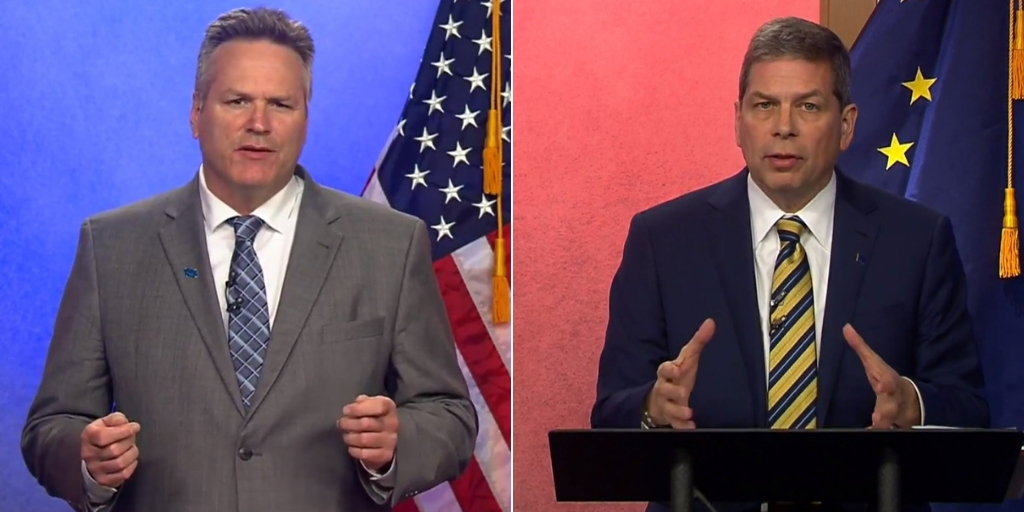 How to address the problem of rising crime in Alaska has become a central point of contention in the closing days of the race to be governor.
Recent debates have focused on the criminal justice overhaul passed two years ago, known as Senate Bill 91.
SB 91 drew from research that suggests that reduced criminal sentences can actually lead to reduced crime. The law allowed some low-risk offenders to avoid jail time. It also changed sentencing, bail, and probation, and it funded drug treatment.
But it's prompted a fierce backlash from residents and police alike, who are upset over rising crime. The Legislature has passed two major laws to scale back the overhaul.
Republican candidate Mike Dunleavy said during a debate hosted by Alaska Public Media and KTUU Channel 2 that despite the changes to the bill, he still opposes it.
"I would repeal it, because the people of Alaska have lost trust in this bill and I believe we can do better," he said. "I believe that we can fill in the holes that are in 91 and … restore that trust with the people of Alaska."
Democratic candidate Mark Begich said during another debate – on KTVA — that he'd "clear the deck" of what's left of SB 91. But he'd replace it with what he described as a comprehensive plan.
"If you just get wrapped around 91, you're missing the big picture – which is fighting crime in this state," he said.
His plan includes more treatment, as well as more state aid to municipalities to hire police officers. To fill vacant trooper, corrections and prosecutor positions, Begich said he'd expand recruitment and training, while offering defined-benefit pensions to compete with the Lower 48.
Dunleavy said public safety would be the highest priority for the state budget.
"That's the primary purpose of a state – of any government – is provide safety for its citizens," he said. "The last four years, we've all changed our behaviors. I don't think there's any of us that know of anyone that's not been impacted by crime – either directly or indirectly."
Dunleavy said he would fund his public safety initiatives by reducing the number of state government jobs that are budgeted for but aren't filled.
There might not be much money available. The state budget accounts for the assumption that the state won't have to spend money for a certain number of positions that become vacant throughout the year.
Begich emphasized that of the positions the state does fund but hasn't filled, many are in public safety – where the state has struggled to successfully recruit and retain troopers.
He said that if unspent money was available, conservative lawmakers would have found it during the fiscal crisis.
"Because I guarantee you, the Senate – especially with (Republican Senate President) Pete Kelly at the lead – would have found that money and used it in some way without having to worry about dealing with taking the Permanent Fund," Begich said.
Dunleavy wants to hire more officers and prosecutors, with a goal of arresting and jailing more people who commit crimes.
"We have to get the right number of troopers in place," Dunleavy said. "We have to get the right number of prosecuting attorneys to move our cases through. We have to open up the courts Friday afternoon instead of closing Friday afternoon. And we have to look at corrections, to make sure we have the right number of folks there, because there will be a bit of an increase in folks going to prison."
Begich also supports increasing the number of troopers and prosecutors. But in response to rising drug-related crime, Begich also emphasized drug treatment and using wellness courts, which divert offenders into treatment programs.
"Eighty percent of our folks in corrections need the treatment necessary – those that want to have it. Wellness courts are another great investment," he said. "I've seen the turnaround: Ninety percent of the people who go through wellness courts do not re-offend. It's the right kind of investment to have a long-term impact."
Begich also said tribal courts could be expanded in Alaska Native communities, with a similar goal of reducing recidivism.
Begich added that he wants to fix a gap in the drug treatment system. People who leave prison have 28 days of medication to treat their addiction, but Medicaid coverage only begins after 30 days.
Dunleavy also said treatment is a priority.
Voters will decide on Tuesday.