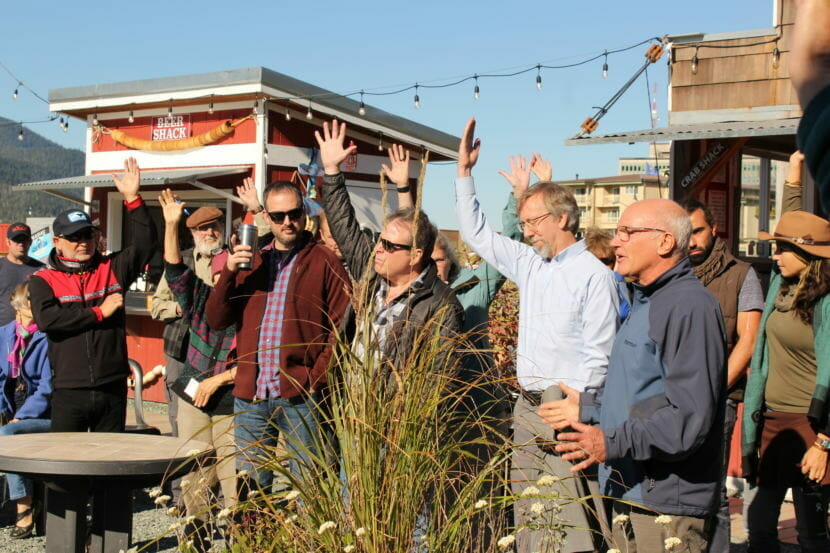 More than two years after it was put on the market, the future development of a downtown waterfront property remains undecided.
The Alaska Mental Health Trust owns the parcel, and now the state entity has contracted a team of real estate experts to help them decide what to do with it. But the City and Borough of Juneau and would-be developers are losing patience.
A panel of professionals from the Urban Land Institute, an international organization that advises on land use management, met with community members on Tuesday morning at Tracy's Crab Shack off Egan Drive. The panel was in town to help the Alaska Mental Health Trust Authority decide what to do with this property.
"In the end, they do come up with a report that helps us at the Trust Land Office understand, what are different scenarios of what could be used on the property?" Wyn Menefee, executive director of the Trust Land Office, told the crowd.
About 10 percent of Alaskans are beneficiaries of the trust, which funds services for people with mental illness, developmental disabilities, traumatic brain injuries and memory loss.
To do that, the trust invests revenue from a variety of land holdings in and outside of Alaska. One of those properties is a vacant lot known as the subport.
Not everyone is happy to hear the trust has contracted outside consultants.
Bob Janes is president of the non-profit Alaska Ocean Center, one of the groups hoping to develop the land. He said he was not invited to speak to the panel and only heard about the informational meeting at the last minute.
"Actually I had a trip planned to Glacier Bay and I flew back today just to be here for it," Janes said, "because I think it's important for these consultants to understand the point of view of the community."
The Alaska Ocean Center wants to build a marine education and research center on Juneau's waterfront.
They partnered with local developer Doug Trucano, who made an above-market offer to buy the subport property for $3.2 million in 2016. He plans to build a small cruise ship harbor on the site as well.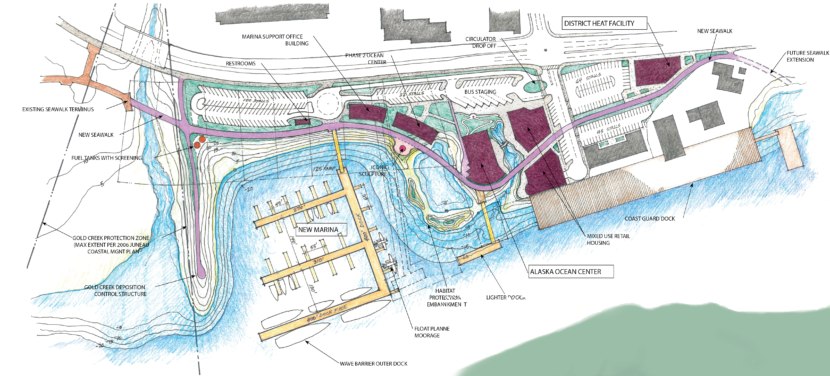 "So we're working together. But our offer has been with the Mental Health for two and a half years, as has his," Janes said.
The trust's Executive Director Mike Abbott said the trust does not have a deadline for determining what to do with the subport. While he wants to see the land developed soon, he said they also want to explore every option.
"If there's a longer term strategy that makes more sense and that will be more lucrative for the trust in the long term, then we can wait for that as well," Abbott said.
The trust has been dealing with the outcome of a legislative audit that found it violated state statute by investing in commercial real estate and operating with a lack of transparency.
At Monday's Juneau Assembly meeting, City manager Rorie Watt put it plainly.
"There's a strong case that they have been a poor manager of their public mission, and I don't say that lightly," Watt said.
The city has tried repeatedly to encourage the trust to sell the land.
Watt said the city will send a letter this week urging it not to draw the sale out any longer.
"It befuddles me that an organization that is a land trust, that's mission is to raise funds for the social service programs, has gone to such great length to avoid sale of a parcel of land at above market value," Watt said.
Abbott said he knows there's strong local support for the Alaska Ocean Center and that people don't want to see the process drawn out for years. He also said he's spent more time working on this particular site since he started a year ago than any of the trust's other land holdings across the state.
"We're going to be very transparent with the community about what we're considering and why we're considering it," Abbott said. "But we will be making a decision that is looking out for the interest of our trust beneficiaries."
Abbott said they expect the Urban Land Institute panel to give the trust preliminary feedback at the end of the week. Their written recommendation is expected five to six weeks after that.
Editor's note: This story has been updated to correct the first name of developer Doug Trucano. An earlier version of the story incorrectly identified him as Bob Trucano.