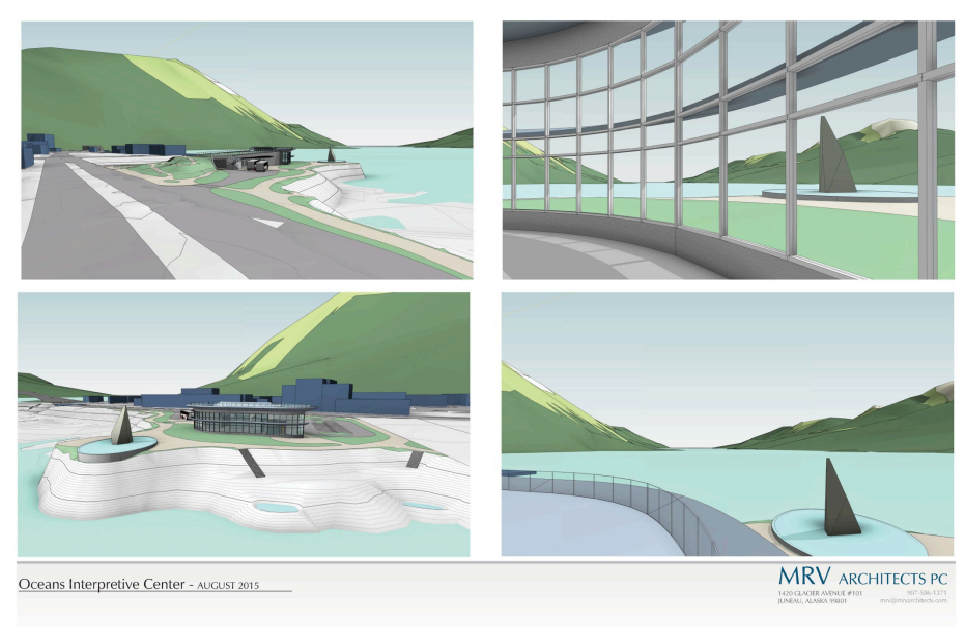 Plans for a whale park were suspended recently after contractor bids came in millions of dollars over budget. Now a new project called the Juneau Ocean Center wants to offer the whale a different home and provide a hub for marine science.
The Juneau Ocean Center could be a space to hear lectures on marine mammals and climate change, relax and eat lunch or take in an IMAX movie on whales.
In the design plans, the glossy 7,000-square-foot building overlooks the Gastineau Channel from Egan Drive.
"The front is two stories of windows looking out at the channel and roof is actually a sod roof, a green roof rather, that's a park," said Linda Nicklin. She's one of the organizers for the $12 million project proposed on Alaska Mental Health Trust land.
The center will be open year-round and geared toward "citizen scientists" and tourists.
"We're going to have an electric powered boat … (to bring) people in the summer to the cruise ship piers so that we're reducing congestion and bus traffic in downtown," she said
Not too far away from Nicklin's proposed center is the future site of Bridge Park. The park recently hit a development snag. The contractor bids came back way over budget — more than 25 percent over the city engineer's estimate.
That park, near the Douglas Bridge, is supposed to be the home to a lifesize bronze whale statue. Bids are slated to go back out, but Nicklin says the ocean center might be a better spot for the whale.
"The sculpture and the ocean center are a great pairing. I think that both would benefit for being in the same location," she said.
Nicklin and other organizers presented the plan to the Juneau Assembly Monday.
Assemblymember Mary Becker asked why the ocean center couldn't be built at Bridge Park, where the permitting is already complete. Organizer Bob Janes said it comes down to location.
"I've looked at that property right on the edge of the water, looked down the channel," Janes said. "Unfortunately it does not have all the stuff and that's why we're not interested in that property. And I think that will be a failure with the whale placed down there as well."
Organizers hope to fund the ocean center with a national campaign kicking off in the spring, when the humpback whale comes off the endangered species list. Cruise ships passenger fees could supply another source of funding.
As for the whale statue, they say they want to move forward with or without it.