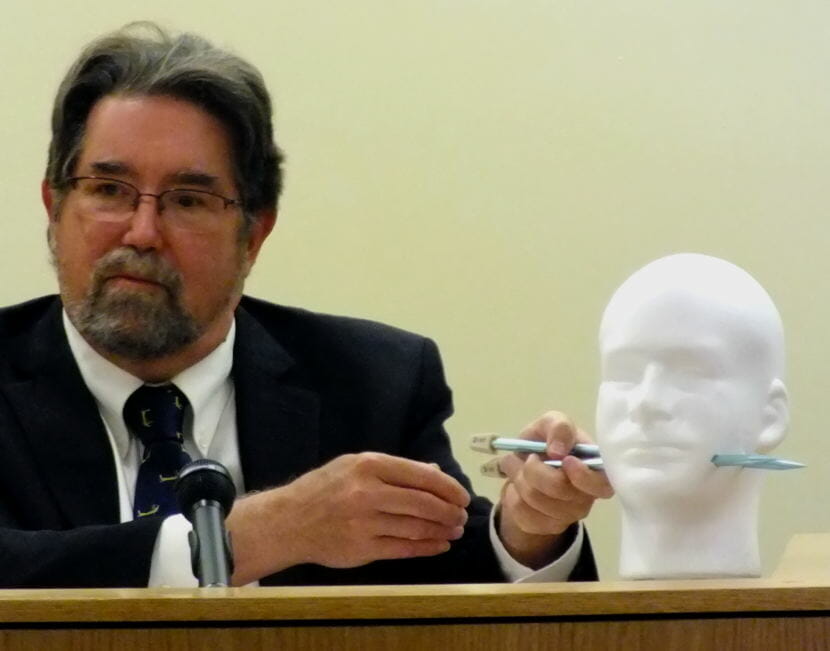 The defense's first witness took the stand Monday in the Mark DeSimone homicide trial.
Dr. Todd Grey, a retired forensic pathologist and medical examiner from Utah, presented a model he constructed with a Styrofoam head and pair of knitting needles.
Grey believes it shows how DeSimone shot Tony Rosales from behind while the victim sat on a bench and taking off his boots.
"Basically, it's demonstrative to show that the two wounds have very, very similar and parallel tracks," Grey testified.

"And what is the significance of that?" Assistant Public Defender Deborah Macaulay asked.

"To me, that would be indicative of a very…"

Grey quickly knocks twice on the witness stand.

"…rapid sequence between the two shots," Grey said.

"How do you draw that conclusion?" Macaulay asked.

"Because there's just very little change in orientation between the muzzle of the weapon and the victim's head," Grey answered.
Grey testified the model would look very different with a longer period of 1- or 2-seconds between shots.
Assistant District Attorney Amy Paige questioned Grey about the inaccuracy of the knitting needle placement and the head's size and shape.
It wasn't meant to be a perfect replica of Rosales' head, Grey said.
Grey also testified it is unclear how close DeSimone was when he fired two shots at Rosales.
Stippling or gun powder residue "tattooing" was found on the back of Rosales' head. That usually shows up when a firearm is fired at very close range.
State firearm examiners did not do any live fire testing of the .41 single-action revolver to figure out how close DeSimone really was.
At least two more defense witnesses will testify Tuesday before closing arguments. Then, the case goes to the jury for deliberations.