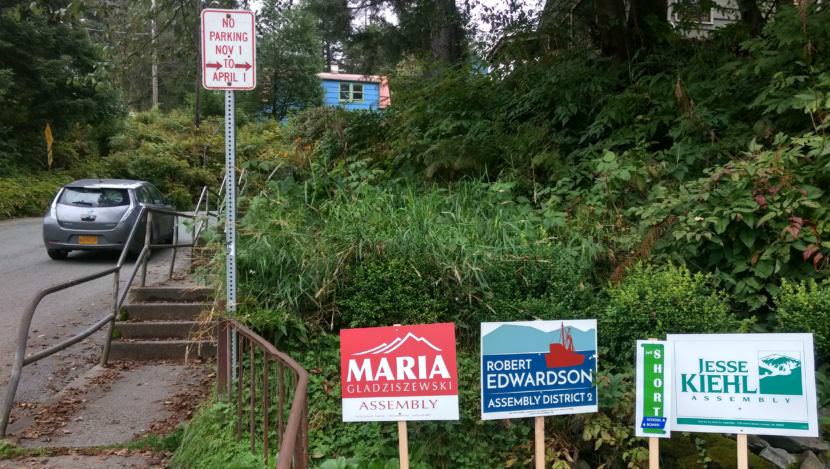 As next month's municipal election nears, candidates for Juneau Assembly are picking up endorsements and support from special interest groups.
Special interest groups are required to register with the Alaska Public Offices Commission. There are 16 groups registered for Juneau's local election, although not all are active.
The newest entry is a group calling itself Juneau Seniors Supporting Seniors, which wants to restore the capital city's blanket exemption from city sales tax that was rolled back by the Assembly in 2015.
"We've been out going door-to-door talking with people, that's predominately what we've done," said Tom Boutin, one of the organizers.
Seniors currently enjoy a sales tax exemption on essential items like food, electricity and heating fuel. A rebate is offered to seniors below a certain income level.
But his group wants to return to the full exemption that was put in place in the 1980s. The group says it recently earned assurances from Assembly hopefuls Chuck Collins, Rob Edwardson and write-in candidate Andy Hughes of their support.
He said his group is candidates "running for Assembly who would restore the senior sales tax exemption, and those three candidates stated that they would."
City Finance Director Bob Bartholomew said the full exemption would be difficult to sustain.
"The loss in revenue to go back to the exemption as it was is about $1.8 million a year and then that will continue to grow at about $250,000 a year," he said.
The most cash-rich special interest group is the Alaska REALTORS Political Action Committee. It's only raised about $1,500 this summer statewide but ended last month with more than $211,000 cash on hand and has registered in 10 local races, including Juneau.
Juneau candidates met with local representatives of the group this week in an invite-only forum. But it's unclear if real estate interests will be aiding any candidates.
The Realtors PAC declined to comment.
Meanwhile, labor unions have been working to vet candidates for endorsements and lobby for specific issues.
"We've been big advocates for the road, I know that's a touchy subject for people," said Chris Dimond, a political organizer with the Pacific Northwest Regional Council of Carpenters.
His union has endorsed Assembly incumbents Jesse Kiehl and Debbie White.
"We've offered up campaign support for Jesse and Debbie, if they need door-knocking," Dimond said. "We helped Jesse put out some signs this last weekend, so it's kind of up to the candidate to let us know what they would like to see from us and we would try to provide some assistance there."
Incumbents Jesse Kiehl and Debbie White have starkly different voting records.
Kiehl is skeptical of the Juneau Access Project, the proposed road's current incarnation. But Dimond said both Kiehl and White are strong supporters of collective bargaining rights.
The Juneau Central Labor Council, the umbrella group of all AFL-CIO affiliated unions in Juneau, decided Wednesday to endorse all three incumbents: Jesse Kiehl, Debbie White and Maria Gladziszewski.
That now opens the door for affiliated unions to mobilize in support of the three incumbents.
"Each of the participating unions can offer themselves up their volunteer time to campaign for the selected candidates," said Central Labor Council President Nadine Lefebvre. "Each union in turn can then make contributions, political contributions. We can help them in any way we can and follow up with these endorsements."
Groups focused on social issues also are vetting candidates.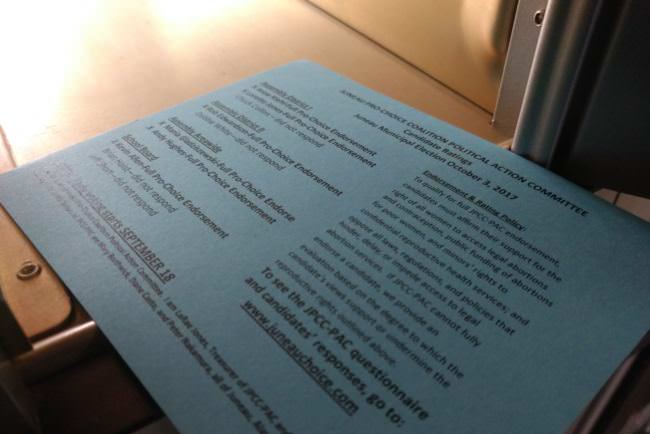 The Juneau Pro-Choice Coalition Political Action Committee has a 25-year history for lobbying for reproductive rights.
This month, the committee sent a questionnaire to each candidate.
"We were very pleased this time that we have a lot of pro-choice candidates," committee treasurer LaRae Jones said.
It reported raising about $4,400 this summer, mostly from individual donors from Juneau giving $100 or less. She said Maria Gladziszewski, Loretto Jones, Jesse Kiehl, Rob Edwardson and write-in candidate Andy Hughes all satisfied the group's concerns.
"Eeverybody who returned their questionnaire was 100 percent pro-choice," she said.
Those that didn't respond?
"We don't know, but we assume they're not," Jones said.
Public filings also give a glimpse of candidates' finances.
As of the end of last month, Jesse Kiehl reported raising the most, more than $24,000. He then spent less than $5,400 giving him considerable cash on hand.
The second-best fundraiser was Debbie White who raised more than $9,700 and closed out with about $5,900 cash on hand.
The remaining candidates closed out the period with less than half that.