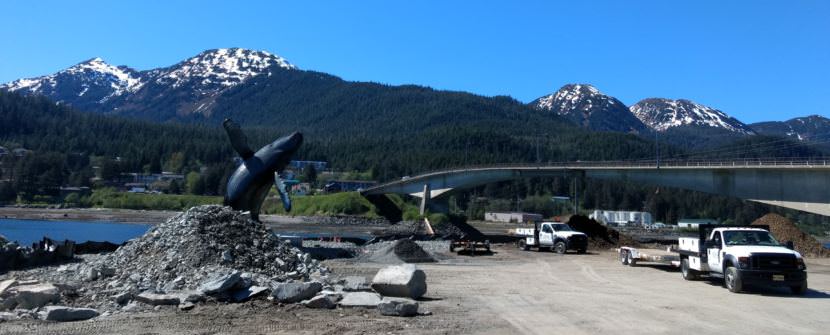 Aaron Woodrow is a commercial fisherman in Juneau. Often he can be found selling fresh seafood off the side of his 38-foot boat in Harris Harbor.
"I drive up and down the channel a lot fishing and so I see the whale as I go by and when I'm coming in, you can't really see it with the naked eye until you're just about to it," Woodrow said.
Which led the mariner to wonder why the city chose to put the new bronze whale sculpture in a location that only seems visible from the Douglas Bridge or the Breeze Inn parking lot in West Juneau.
"I think most people seem to think it was going to go up on the island that was being constructed where it would've been visible from the highway. Unless you have binoculars coming up the channel, you wouldn't even know it was there."


Curious Juneau stars you and your questions. Every episode we help you find an answer. Catch up on past episodes, or ask your own question on the Curious Juneau page.
Listen to the podcast version here:
To try and answer Mr. Woodrow's question I paid a visit to the city's engineering department.
"Well, there's always a lot of questions and obviously how it ended up there was a long process," said Skye Stekoll, a city engineer.
The original whale committee had proposed the sculpture to be downtown in Marine Park. But the whale park isn't just a 6-ton piece of bronze that towers 25 feet skyward. There will also be a pool of water around it.
So engineers pushed back.
"One of the problems we came to when we tried to look at the downtown area like Marine Park is you know, the size of the whale – sure if it was just the whale by itself it could fit in – but with the pool infrastructure it became large enough that essentially it'd be the entire Marine Park and it wouldn't have a lot of usable space," Stekoll said.
So how about down near where the cruise ships dock?
"Those areas are already dominated by seasonal tourism and that would not be good location for Juneau citizens," said City Manager Rorie Watt, who headed the engineering department back then.
A whale park could get cluttered amid T-shirt shops. The whale committee looked further north.
"The other areas on the waterfront are controlled by the Mental Health Trust, so we didn't control the land, or they are city tidelands that are not filled and would take a long time to develop," Watt said. "The bridge park really was the best location."
And the artificial island? There are no utilities out there. Running power and water out there would get expensive. Not to mention it would need more permits from the U.S. Army Corps of Engineers.
It turns out there isn't as much free space on Juneau's waterfront as one might imagine.
Artist R.T. "Skip" Wallen is the guy who sculpted the whale.
"I think it's a good site. … This sculpture requires some room. Because it's so tall," Wallen said, speaking from his studio in Florida. "It requires space enough around it so that people can get back a bit from it. So it can't really be shoehorned into a small space."
Then there's another consideration: lighting.
"Because the sun arcs over Douglas Island, items on the waterfront tend to be backlighted," Wallen said. "In its current site in the early morning and again in the late afternoon, the whale gets some light on its front face – the side that most people will be viewing."
The city is being sued by the cruise ship industry over its use of marine passenger fees for the seawalk and whale park. That's still playing out in federal court.
The whale park site is still mostly a muddy building site. Work is progressing slowly around the solitary humpback whale sculpture.
Portions of the seawalk should be opening in coming weeks, though the whole park with its elaborate water features won't be ready until next spring.
No public funds went into the whale sculpture – it was paid for through donations.
There is sales tax and marine passenger fee money going into the infrastructure around it, so Juneau taxpayers and cruise ship passengers are paying for much of the project.
I press Aaron Woodrow a bit to see if he's just a whale hater.
"But you do like the sculpture itself, though?" I asked.
"I think the whale sculpture is awesome," Woodrow said. "I don't think anyone would deny that it's a pretty amazing piece of art. But I think they could've chosen a better location for it."
The city's staff is appealing for patience for when it's finally done.
"I think when we're finished, people are really going to enjoy it and they'll forget there ever was a controversy," Watt said.
Optimistic talk from a city manager. We'll check back in a year's time.