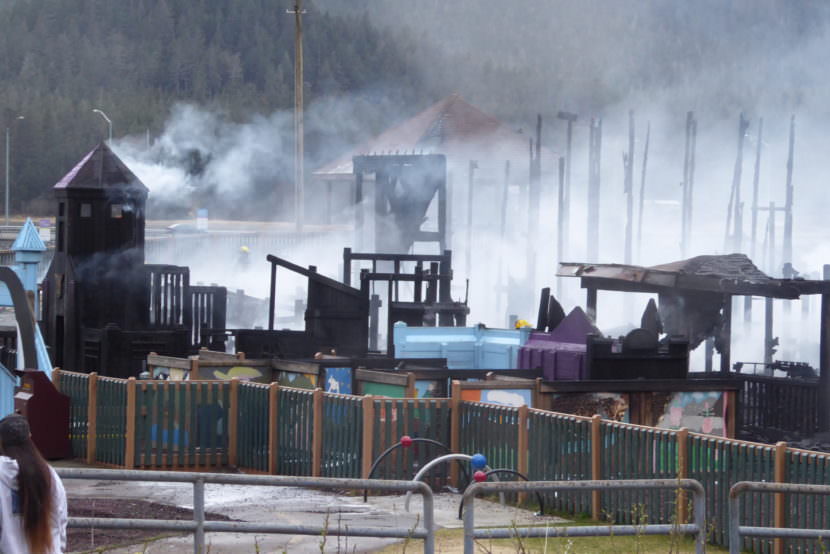 In what could only be described as an ironic and tragic coincidence, last week's playground fire at Twin Lakes happened on the very first day of a statewide conference in Juneau of Alaska fire and arson investigators.
Juneau Fire Marshal Dan Jager organized the conference that drew 40 students from the North Slope Borough to Ketchikan. Half a dozen instructors from Alaska and the Lower 48 conducted the five-day training session.
After Jager finished investigating the April 24 fire at Twin Lakes, he said a few of the conference's participants came by to check out the scene and provide another set of eyes.
"It was just basically us having a conversation with them and saying, 'This is what we're looking at. What do you see?' Just kind of comparing some notes," Jager remembered. "There were just mental notes and observations that they had noticed. The big thing was just kind of having as a peer review. This is what we're thinking. 'Does this make sense?' And, 'Do you see the patterns that we're seeing?'"
Jager determined that two 13-year-old boys started the fire that ignited the rubber chip ground cover and eventually consumed the whole playground.
"A couple of us did go out looking at the fire scene — that team concept there, that task force concept — which basically made things a little bit easier for them to go over there and investigate that fire and gather the information that was needed," said instructor and Salcha Fire Chief Ernie Misewicz. "So, even though it wasn't planned as part of the seminar, it was a very informative side trip, if you would, for us to be able to see that."
Jager said the playground fire was just the latest in a string of five fires in April.
"While it seems like it's unusual because we had especially the first four in four days, it's not necessarily meaning that it's unusual," Jager said.
The first fire in April at the Art Sutch Photography store was determined not to be intentional. But Jager said they're still investigating three other fires as intentionally set: an outdoor storage shed on Moraine Way, a fence and gazebo on Steep Place, and a dug out bench at the Savikko ball fields.
So far, there doesn't appear to be a connection between the fires.
"They were different parts of town, different times of day and night," Jager said. "Typically, if there was going to be some sort of connection, there's common source of ignition, there's a common description of a person that people might have seen, there's a specific time frame, usually."
After the Twin Lakes fire, Jager credits the community for quickly coming forward with information that helped his office and Juneau police find the two boys responsible within hours.
"I really can't emphasize enough the importance of the community's involvement because they see things from different points of view," Jager said. "Obviously, we can't be everywhere at once. Just different photos brings a different perspective and helps us."
Jager said fires usually come in waves. Spring and summer fires are usually started by unsupervised kids getting out of school and playing with fire. Winter fires are usually related to heating issues like misusing heat tape for pipes, boiler or chimney problems, or a space heater igniting a blanket or clothing.