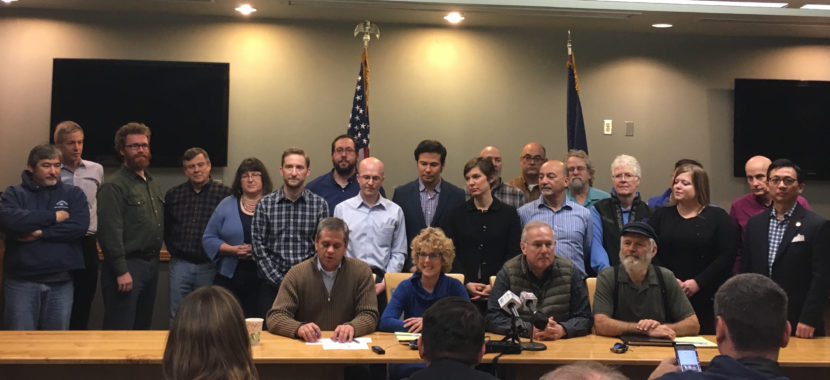 For the first time in 24 years, the House will have a Democratic speaker: Dillingham Rep. Bryce Edgmon.
Edgmon is one of five people who's moving from the Republican-led majority to a new, predominantly Democratic majority. Ben Grussendorf was the last Democratic speaker, in 1992.
The new majority caucus formed in the House after Tuesday's election. Edgmon said the need to address the state's fiscal crisis brought the caucus together.
"Everybody — I think I could speak for virtually every legislator — wants to preserve the basic services that we provide to our communities and our constituents," Edgmon said. "How do we go forward and get that done, is something that we all need to work together and resolve."
The other caucus switchers will be in leadership: Homer Republican Paul Seaton and Nome Democrat Neal Foster will be the House Finance Committee co-chairmen. Kodiak Republican Louise Stutes will be the majority whip, and Anchorage Republican Gabrielle LeDoux will be the House Rules Committee chairwoman.
Current Minority Leader Chris Tuck, D-Anchorage, will be the majority leader.
The new majority was made possible by the only two changes from Tuesday's election: Juneau Democrat Justin Parish defeated incumbent Republican Cathy Muñoz, and Anchorage independent Jason Grenn defeated incumbent Republican Liz Vazquez. Parish and Grenn joined the new majority, which has 17 Democrats, three Republicans and two independents. The minority will have 18 Republicans.
It remains to be seen how the new House caucus will work with the continuing Republican-led Senate majority. One challenge is that the House has a slim majority caucus. With only 22 members, they won't be able to afford to lose more than one member to pass bills.
Edgmon said they're united in wanting a comprehensive fiscal plan. And he said they know they'll have to cooperate closely with minority Republicans and the Senate majority.
Finance co-chair Seaton said they'll look to include at least four pieces of a fiscal solution:
further budget cuts,
making an annual draw from Permanent Fund earnings to support the budget,
introducing a broad-based tax, such as an income or sales tax,
and limiting the Permanent Fund dividend.
"And it needs to go this year," Seaton said of a fiscal plan. "We don't want to wait until next year. We'd be out of money first of all. And the second thing is, then you'd be getting into another election season."
Changes in the Senate changes also are significant. Senate Finance Committee Co-chairman Pete Kelly, R-Fairbanks, moves up to become the Senate president. Current President Kevin Meyer, R-Anchorage, becomes Senate Rules Committee chairman. Peter Micciche, a Soldotna Republican, becomes majority leader. And Anna MacKinnon of Eagle River will be joined by Bethel Democrat Lyman Hoffman as the finance co-chairs.
There's one change in the Senate caucuses – Golovin Democrat Donny Olson, who joined the Republican-led majority in the middle of the session, is back with the minority Democrats.
None of the 10 Senate seats changed parties in the election.
It's possible the new House majority will add one member. Democrat Pat Higgins, who's trailing Rep. Charisse Millett by 45 votes in the current count, attended the press conference Wednesday announcing the new majority.