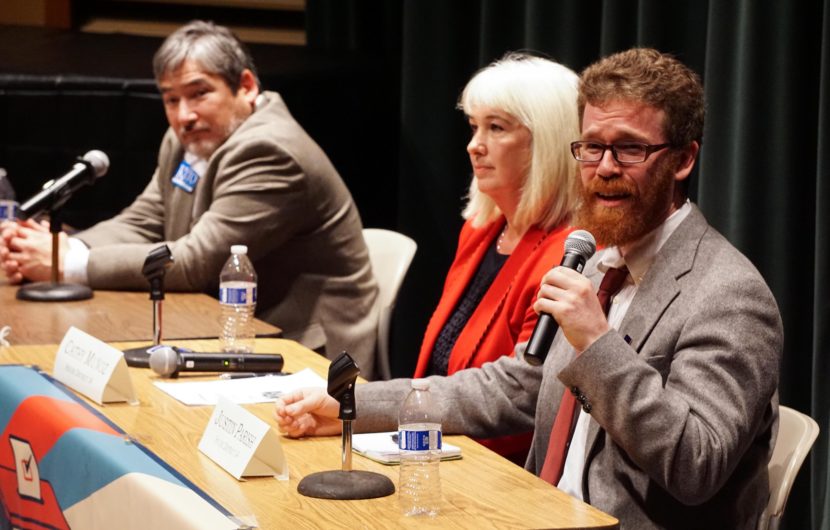 In a statehouse candidate debate Thursday over House District 34, Juneau Democrat Justin Parish peppered incumbent Republican Rep. Cathy Muñoz with jab after jab. The challenger's criticism was mostly over the last legislature's failure to adopt a sustainable fiscal plan amid multibillion dollar revenue shortfalls and Muñoz's membership in the Republican-led House majority.
Parish's first jab came during the opening statements.
"We need a balanced fiscal plan, yes. We need a legislature that works for us, and I haven't seen that with the current majority, which my opponent has upheld," Parish said.
Muñoz countered repeatedly with a mix of the legislative record and her role in it.
Her explanation for why Gov. Bill Walker's cornerstone budget legislation failed was characteristic of the night. Senate Bill 128 tried to divert a big chunk of the Permanent Fund's investment earnings to government operations. It would have significantly reduced the state's revenue shortfall, but also reduce the value of Permanent Fund dividends.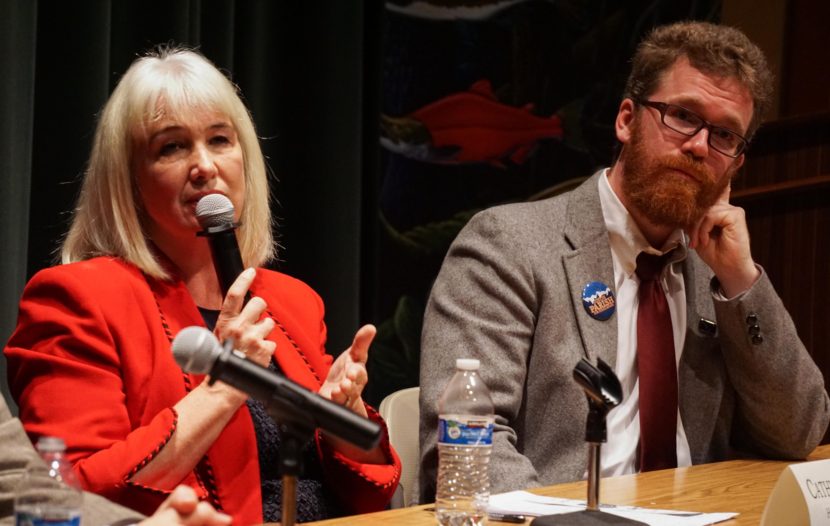 "It passed the Senate, it came to the House," Muñoz said. "It was in House Finance. There were five of us who supported it, six did not. Two Democrats, four Republicans. You know, that was a failure on six legislators not to vote in favor of moving that legislation. It was a key piece of the fiscal plan, it needed to go forward."
Here's an abridged version of the feistiest exchange of the night.
Parish: I'd like to observe the majority to which you've belonged for the last few years has been pretty willing to throw Juneau under the bus. From 2009 to 2015, we had more than a hundred state jobs move from Juneau to Anchorage. We had how many tens of millions spent on the legislative information office in Anchorage? And then, buying the Wells Fargo building once that lease was declared illegal. … I'm confident that if you elect me and a few others like me, we will have a pragmatic majority in the state which will be bipartisan.

Muñoz: First of all, it's just not true. I mean, look at all of the great projects that we have gotten funded. The state capitol renovation, that's a major investment in the community of Juneau and the state capitol. The Fish & Game building in Douglas. The Father Kashevaroff facility, that's a $135 million project. I mean, we couldn't have done it without the support of the majority.
Muñoz added that earlier this year, there were rumors that the head of the Alaska Department of Education wanted to move her office to Anchorage. Muñoz said she worked with the other Juneau legislators and the governor to "turn it around."
The biggest audience reaction of the night came when moderator and Juneau Empire statehouse reporter James Brooks asked, "Who do you support for president?" The crowd of more than 100 laughed and applauded before either candidate even began to answer.
Muñoz said she supports Gov. Mike Pence, Donald Trump's vice presidential running mate. The crowd reacted with a mix of ominous "oohs" and applause.
Parish said he had supported Sen. Bernie Sanders, and he now supports Secretary of State Hillary Clinton. His answer drew a smattering of applause.
Parish and Muñoz did agree on several major policy points. Both said establishing a sustainable budget was a top priority. Both said they would support establishing a state income tax. Both expressed support for maintaining and upgrading the Alaska Marine Highway System.
The debate was put together by Juneau Votes, KTOO and the Juneau Empire, and held at the University of Alaska Southeast.
You can watch video of the debate here, or listen to it on KTOO at 7 p.m. Thursday, Oct. 20.