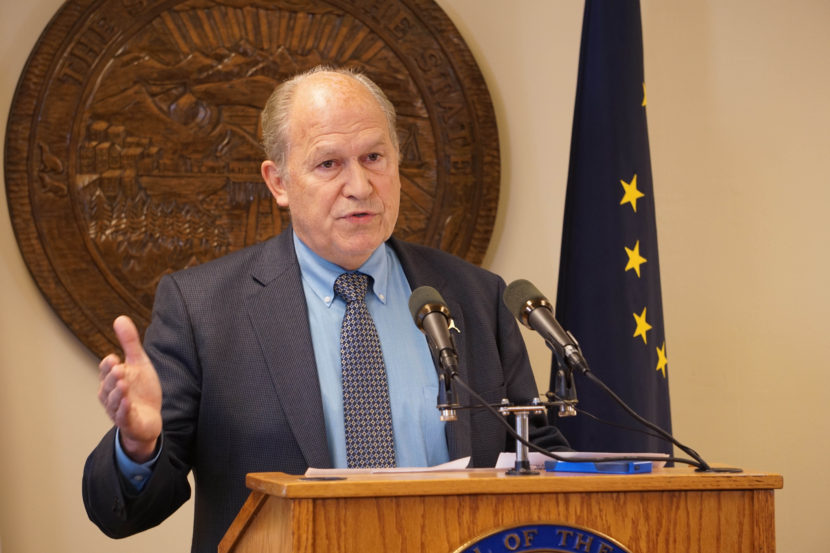 Gov. Bill Walker vetoed two bills this week that would have allowed legislators to serve on the board overseeing gas pipeline development, and insurers to use credit scores to adjust rates.
The gas line bill would have added three legislators as non-voting Alaska Gasline Development Corp. board members.
Senate Bill 125 sponsor Sen. Mia Costello, an Anchorage Republican, said Walker missed an opportunity to be transparent.
"This is the most important project that the state of Alaska will face in our future," Costello said. "And as a lifelong Alaskan and a parent of young children, I'm very concerned that the legislature is being told that we're shut out of listening in to discussions."
But Walker said in a letter that the Alaska Constitution prohibits legislators from serving on the AGDC board. He said that's because legislators can't hold multiple offices — and it would violate the separation of powers between the executive and legislative branches.
Acting Attorney General James Cantor said in a formal opinion that he found legislators sitting as non-voting members on four other state boards – in a way that runs counter to the constitution.
These boards oversee the Alaska Aerospace Corp., Knik Arm Bridge and Toll Authority, the Alaska Seafood Marketing Institute, and the Alaska Commission on Postsecondary Education.
Walker spokeswoman Grace Jang said it's too soon to say what, if any, actions he will take regarding these boards in response to Cantor's opinion.
A lawyer for the legislature wrote in a memo that the bill – and lawmakers' role as non-voting board members — may not violate the Constitution.
Senate President Kevin Meyer, an Anchorage Republican, said the $45 billion to $65 billion project would benefit from legislative involvement.
"With the governor now talking about going alone on the gas pipeline, certainly you would want the appropriating body – the body that's holding the purse – as involved and in the know as possible," Meyer said.
Separately, the insurance bill the governor vetoed would have ended Alaska's status as the only state that forbids insurers from considering members' credit histories when they renew their car or homeowners insurance policies.
Supporters said Senate Bill 127 would benefit most people in the state.
But Walker said the credit ratings are notoriously unreliable and would hurt consumers, especially low-income ones. He also said those who've experienced unemployment or identity theft face hurdles in seeking protection from the bill's effect.
These vetoes were Walker's third and fourth ever, other than partial budget vetoes.
(Corrected the number of legislators that would've served as non-voting Alaska Gasline Development Corp. board members to three.)