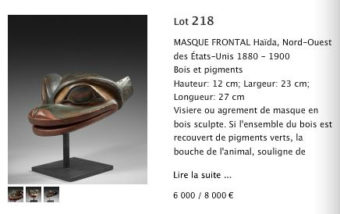 The Paris auction, orchestrated by the company Eve, wasn't just about selling old relics. Members of the tribes whose ancestors made these artifacts say they are living beings and the spirits of their ancestors are inside of them.
Crystal Kaakeeyáa Worl was in Paris selling her own artwork when she heard about the auction. Worl, her brother and the owners of the gallery hosting them joined a crowd of about 20 people at the auction house to protest.
Worl said she was allowed to sit in on the auction but was warned she would be removed if she made trouble. She said she wouldn't and sat down.
"For me to be in that room and see the items, I couldn't get up close to them, I couldn't touch them, but to see them from a distance and to let them know that I was there before they went into these private collectors' homes  — that was meaningful."
Worl said these sacred objects were made to identify clans and to document their history; they're still used in special ceremonies today. She believes they are living people.
"Specifically, the Tlingit people, we don't have a word for art. For our objects that were used for ceremony and objects that were sacred we called at.óow, which is our sacred objects, which the auction was selling a lot of those items," Worl explained.
Chuck Smythe is the director of the Culture and History Department at the Sealaska Heritage Institute. He found about 10 Tlingit and Haida artifacts that were put on the auction block. A Tlingit piece was near the top of his stack of printouts. Smythe said it's a shaman's rattle.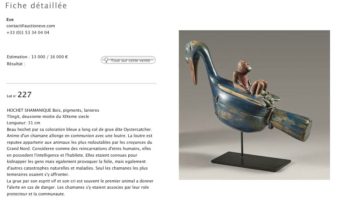 "It's item number 227," Smythe said. "It was used in the past and continues to be used today as items which brings spirits to ceremonies, particularly helping spirits that benefit people."
Smythe said, at auction, objects like the rattle typically sell anywhere between tens of thousands and hundreds of thousands of dollars. He's heard of a war helmet that sold for just under $3 million. These objects may be sacred to Worl and tribes throughout America but, Smythe said, to collectors they're just pieces of history, and the tribes who made them are dead and gone.
"They're not aware of the living cultural communities that still use these items and have used them continuously," Smythe said.
Smythe said, he remembers one instance when a foundation bought a number of Native American artifacts at auction in Paris and then returned them to the tribes. But, he said that was "highly unusual."
As for international repatriation, he said the United Nations' Universal Declaration of Human Rights has provisions to protect cultural property. But he said it is weak on enforcement.
In the United States, it's illegal for federally funded museums, agencies and schools to sell sacred Native American objects. The Native American Graves Protection and Repatriation Act or NAGPRA requires sacred objects be returned to the tribes when they ask for them. The law doesn't apply to private collectors and it doesn't mean anything in France.
"What I learned in France is the only way we could withdraw or stall an item from being auctioned is to provide some kind of hard evidence for them that the item was stolen," Worl said.
Worl said an Acoma Pueblo war shield was proven to have possibly been stolen and it was removed from the auction. As for the Tlingit at.óow, the fact they were in Paris was all the proof she needed.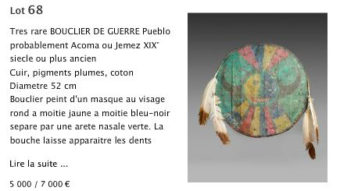 "We would never sell an object like that. That is evidence that these were stolen items," Worl said.
But that argument probably wouldn't fly in French court. Worl said the auction house never responded to requests from around the U.S. to halt the auction and it didn't acknowledge the protesters.
She believes the best way to prevent more Native artifacts from being sold abroad is to teach people about Native culture and explain how important their sacred objects are to them. She said that's one of the reasons she protested.
"Maybe one of the buyers that was there that saw us, maybe they will decide to return the item they bought to the right community," Worl said.