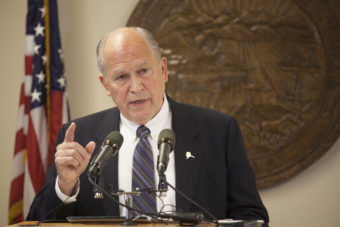 Gov. Bill Walker said the legislature's work is a long way from being over. While lawmakers stopped pink slips from being sent to state workers by passing a state budget Tuesday, Walker said the legislature must act now to prevent a replay in the future.
"Do we have to go broke before we fix Alaska?" Walker said. "I guess that's my question to the legislature: Do we actually have to do that?"
The budget relies on a $3.2 billion draw from the Constitutional Budget Reserve to pay for spending.
Walker is urging the legislature to pass his fiscal plan. A central portion of the plan is reductions to oil and gas tax credits. In addition, the plan would restructure Permanent Fund earnings to pay for the budget and reduce dividend payments. Walker also introduced a personal income tax and proposed raising other taxes.
In a news conference Wednesday, a visibly frustrated Walker replied to a question about whether he'd veto portions of the budget; he said there would be consequences for the budget if the legislature doesn't do more.
Some legislators are calling on Walker to be more involved in advocating for his bills.
House Majority Leader Charisse Millett said the governor should do more.
"He has to talk to our constituents," Millett said. "I mean, this is something that he needs to have a conversation with Alaska about what this means for our economy, how each one individually affects the economy, what the overall plan will be. I think that's something very important."
Walker rejected the idea that he and his administration haven't been involved enough in advocating for his plan.
"Those that say we haven't done enough — I'm pushing back on that," he said. "I'm very offended by that. That's unjustified and it's an insult — not to me — it's an insult to my staff. Our directors, our cabinet members that have given up, you know, a lot of their personal time to travel this great state to do that."
And while legislative leaders said they were happy to have bipartisan support to fund the budget, Walker said the legislature must continue its work. He said without new revenue, the state will be in the same position next year. But it won't have the same savings to draw from to pay for the budget.
"That's why we were elected. To come and make these decisions," Walker said. "I've heard lots of discussion of, 'Let's just get through this next election. We'll do it after the election.' You know, (it's) time we stop talking about the upcoming election, or the re-election — and start making decisions about what's best for Alaska right now. "
Republican majority leaders have said that some bills will come up for votes, although committee chairs may block others. But Walker said it's not enough to vote on bills. The governor said the state must pass them to prevent uncertainty that will slow the state's economy and downgrade the state's credit ratings.