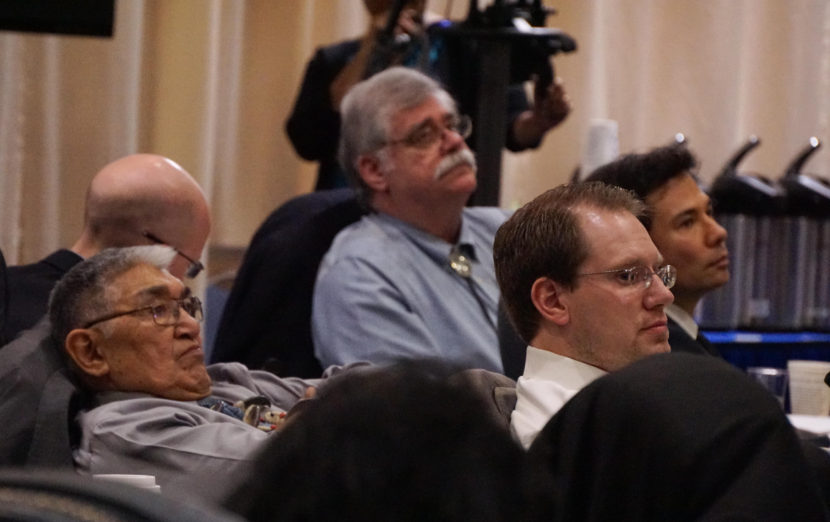 The legislature passed a state budget that prevents layoff notices going out to state workers Wednesday. But that budget could draw $3.2 billion from the state's piggy bank, the Constitutional Budget Reserve. It's not clear how Gov. Bill Walker will respond to a spending plan that doesn't address Alaska's long-term state fiscal imbalance.
After weeks of quiet, behind-closed-doors negotiations, the legislative conference committee on the budget passed a funding plan for the fiscal year that starts July 1. That action set the stage for both the House and Senate to vote on the budget Tuesday. The vote came ahead of a Wednesday deadline, preventing thousands of layoff notices from being sent to state workers.
Conference committee chairman Sen. Pete Kelly, R-Fairbanks, said this session will provide lasting budget savings, due to overhauls of Medicaid and criminal justice. Under the proposed budget, total spending – including federal funds – would fall from $9.3 billion this year to $8.8 billion in the coming year.
"Our goal was to cut somewhere (around) $400 million, $500 million," Kelly said. "We're over a $400 million reduction. And as we said before, those reductions will continue into the future, because of the reform bills."
House Minority Leader Chris Tuck, D-Anchorage, highlighted money that was restored to the budget, including funds for senior benefits, early education, the University of Alaska, and the Alaska Marine Highway.
House Minority members have supported changes to the oil and gas tax system that would cut subsidies to producers. But Tuck said the top priority was preventing layoff notices.
"Now that we got this off the table – now that we're no longer threatening state employees – it's time to get to work and fix Alaska's future," Tuck said.
Rep. Les Gara, D-Anchorage, said it wouldn't have been appropriate to use the budget as leverage to pass oil and gas tax changes.
"You can't leverage other peoples' votes by saying, 'I'm going to shut down government if you don't give me the oil tax bill I want,'" Gara said. "Those things have to be decided on their merits."
But the lack of progress on reaching a comprehensive fiscal plan to stabilize the state budget for future years is a concern for many residents. That's according to Rasmuson Foundation President and CEO Diane Kaplan. Foundation surveys found Alaskans want the legislature to adopt a comprehensive plan this year.
Walker has proposed a series of new taxes and tax increases, as well as cuts to oil and gas tax credits. Kaplan says Alaskans would like to see the legislature do more than pass the budget.
"In the long-term, nothing is being done this session – other than the modest budget cuts – that puts us in a good position to have a bright economic future for any Alaskans …," Kaplan said. "This is not a sustainable way to operate the state of Alaska – using reserves."
The potential $3.2 billion Constitutional Budget Reserve draw would be more than 40 percent of the entire $7.75 billion fund. And it would be nearly a fifth of all savings that the state can spend, including the Permanent Fund earnings reserve.
One party that will be keeping a close eye on what the state government does in the coming weeks is the bond-rating firms. Standard and Poor's analysts have said negative pressure on the state's credit rating could intensify if the legislature doesn't make structural changes.
San Francisco-based S&P analyst Gabe Petek said his firm is watching for what happens next.
"We have not viewed the state's fiscal structure as sustainable over the longer term," Petek said. "And so, we've been watching to see if the legislature could reach an agreement on some package of reforms that would put the state's finances on a more sustainable trajectory."
While Majority Caucus legislators have said they would bring pieces of Walker's fiscal plan up for votes, it's not clear whether any will pass.