There's a debate in Alaska over how to provide health insurance to the family members of law enforcement officers and firefighters who die in the line of duty.
Three families of state troopers who died in the past three years have been covered under orders issued by Governors Sean Parnell and Bill Walker, but a future administration could change this.
The families are looking for a permanent solution that will cover themselves and other survivors in the future.
When Nikki Toll's husband, Alaska State Trooper Tage Toll, died in a helicopter crash in 2013, she quickly found out that health coverage for her and their three sons was ending.
"His body hadn't even been positively identified yet and we were without insurance," Nikki Toll said.
She was able to purchase coverage through the Public Employee Retirement System, but she paid extra for it due to paperwork problems with her husband's death certificate. She only received relief a year later. That's when the shooting deaths of Trooper Sergeant Patrick "Scott" Johnson and Trooper Gabe Rich led Parnell to order that the survivors' families receive health benefits.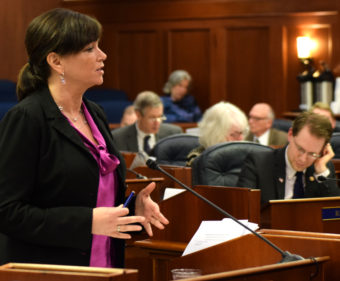 Rep. Charisse Millett, R-Anchorage, introduced House Bill 66 to permanently provide these benefits to survivors.
But the bill stalled after it was referred to the House Labor and Commerce Committee.
Committee Chairman Kurt Olson, R-Soldotna, said the proposal needs to be considered more.
He says it's not clear whether the federal law that regulates state-provided insurance allows for survivors to be covered. He also questioned whether it's legally appropriate to cover some survivors of public workers and not others. He noted that workers with duties other than public safety die while performing their duties.
Olson also said it may be more appropriate for troopers' families to be covered through labor contracts, rather than changes in state law.
"If each of the bargaining units are looking for something like that, it should be something that will be negotiated," Olson said. "And there are other ways that it could be addressed — for example, life insurance or annuities."
Majority Leader Millett tried to insert the legislation as an amendment to the wide-ranging criminal justice bill that's advancing in the Legislature. But House Speaker Mike Chenault of Nikiski ruled the amendment out of order, saying that it violates the rule that state laws must pertain to a single subject.
Chenault also said survivors should be covered, but he's unsure about the best way to do that. He added that the state shouldn't require local governments to cover their law enforcement officers and firefighters, like the proposed bill would.
While others legislators expressed support for covering survivors, they said it may take more time. Rep. Mark Neuman, R-Big Lake, said the Legislature should take up the issue next session.
"I know that myself,  the majority leader and others have focused to make this a very high priority when we come back next year," Neuman said during the floor debate on the criminal justice legislation, Senate Bill 91.
For her part, Millett conceded that survivor benefits wouldn't be included in the criminal justice bill. But she vowed to continue to fight for it, "to assure that those folks that are watching and reaching out to us via email and phone calls and through Facebook messages that it's not over."
Nikki Toll says it's been difficult to see the bill's progress stop.
"To be told repeatedly over and over again you're going to be taken care, this is the right thing to do, that why hasn't this already been done, and then to not even get heard (is) intensely frustrating," she said.
Toll wants action this year. She said Trooper Sergeant Johnson's widow faces the end of her coverage in December — which Toll sees as a deadline for the state to act.
"We need to be able to say to future families, 'You genuinely are taken care of.' Right now, that's an offensive, disrespectful lie and it needs to get done," Toll said.
There are no hearings scheduled on the bill.