Every year, legislators take a break from their work at the Capitol and head to the gun range. Lawmakers, their staff, and members of the Alaska Correctional Officers Association recently participated in the 19th Annual Legislative Team Shoot at the Juneau Gun Club and Juneau Hunter Education Shooting Complex.
"It is an event that brings together the House, the Senate, the corrections officers, and it just brings some awareness to shooting sports," said Wasilla Rep. Cathy Tilton, who participates in the legislative shoot every year.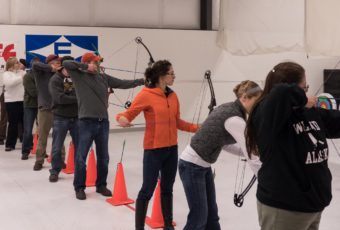 Participants compete in teams of three, moving at their own pace between four events — archery, handguns, rifles and trap shooting. Instructors are available at each station for those who need a refresher, something Tilton is grateful for when it comes to archery.
"My experience with archery is not nearly as good as my experience with shooting," she said.
The instructor demonstrates proper form and soon the arrows are flying, most of them into the target.
After the shots are scored and the arrows collected, the team moves on. Next up, Tilton moves on to the handgun range, where she picks out a .40-caliber Glock.
"I feel pretty good about the pistol event," she said as she waited for her turn on the pistol range. "I've been practicing my pistol shooting at another range whenever I have had time, and hopefully, I'll do OK. This target's a little small, so it's gonna take a little bit of skill."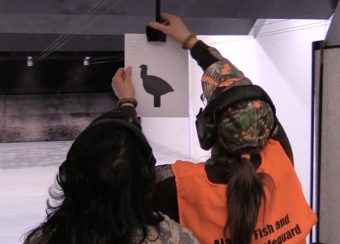 The target does look small and it looks even smaller when it's hung up about 50 feet down the pistol range. After two minutes to prepare, Tilton loads her gun. Her long, manicured fingernails make it a little difficult to load cartridges into the magazine.
Out of five shots, three hit the paper but only one in the target area.
After handguns, Tilton moves on to the outdoor range, where she competes with a .22-caliber rifle and, finally, trap shooting with a shotgun. At the end of the day, she says it's about more than competing or hitting the target.
"As you know, when we're in the legislature we can have differences of opinion on policy and things like that," she said. "But it's always good to get together, to have some camaraderie with each other and just do something where you're just let your hair down and (are) able to communicate with each other — doing something that's not in stressful situation."
As for the competition, Tilton says improvement is the key – she's happy to report that her team did better than they did last year.