Update | 4:11 p.m.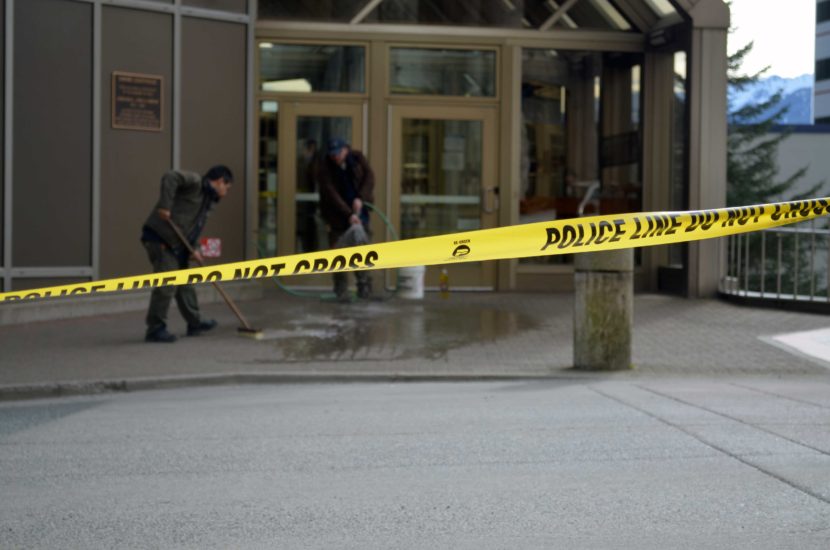 Juneau police have identified the woman who shot herself this morning as 34-year-old Miranda Ellen Davison.
Davison was in the news last year after taking a hatchet to flat screen televisions at Juneau's Wal-Mart.
At a related court hearing in May, prosecuting attorney James Scott spoke to her state of mind. The Juneau Empire reported Scott said,
"The state feels as though it is highly likely that Ms. Davison's … alleged actions were caused because she suffers from an emotional or psychiatric disorder."
Court records show Davison's public defender asked for a competency evaluation. That evaluation is confidential.
Davison eventually pleaded guilty to one misdemeanor charge in the case.
Her body will be sent to the State Medical Examiner Office in Anchorage for an autopsy.
Original story | 12:56 p.m.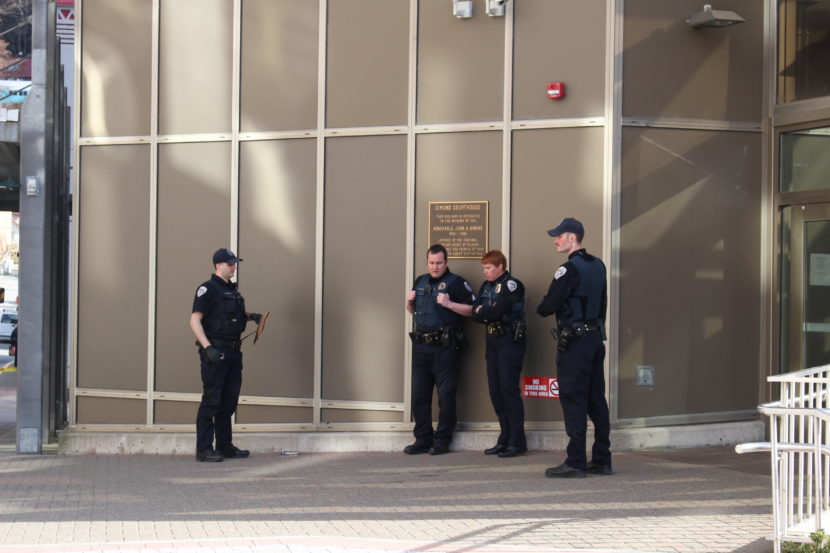 A gunshot that rang outside the Dimond Courthouse late this morning has left one woman dead and rattled nerves in the heart of the Capital City.
Reports of the shooting came in just after 11 a.m. today. Police think the woman, who they've yet to identify beyond middle-aged and white, shot herself in the chest with a handgun. No one else was hurt.
Several first responders performed what appeared to be chest compressions on the woman.
At the scene this morning, Sgt. Chris Gifford said it appeared a single gunshot was fired.
"We don't know who it is. And so we're trying to talk to everybody that saw this and do as thorough an investigation as possible. … And we get more information out there as soon as we know," Gifford said.
The courthouse, which has a security checkpoint and a metal detector at its public entrance, took additional security measures after the shooting. Across the street in the Capitol, lawmakers in the House cleared their chambers as the news spread. Several nearby schools also took additional security measures.
Authorities cordoned off Fourth Street between the Dimond Courthouse and the Alaska Capitol after reaching the scene. The street was reopened before noon.

After the woman was taken to the hospital, blood was visible just outside the main doors to the courthouse.
Police are seeking eyewitnesses to help with the investigation. Contact the Juneau Police Department at 586-0600.
Alaska's Careline at 1-877-266-4357 provides round-the-clock crisis counseling.
Elizabeth Jenkins, Andrew Kitchenman, Jennifer Canfield, Matt Miller and Jeremy Hsieh contributed to this report. This is a developing story, check back for updates.