The bidding process for construction of an estimated $11 million seawalk, island and park near the Douglas bridge could begin in the next few weeks–creating a home for a major Juneau landmark.
New York City has the Statue of Liberty. Seattle has the Space Needle.
"A lifesize breaching humpback whale will become iconic to Juneau," says former mayor Bruce Botelho. He's the vice president of The Whale Project, a nonprofit dedicated to the completion of the nearly $1.5 million bronze sculpture, designed by Skip Wallen.
Most of the money has been raised through private donors and grants, but the organization is still asking for funds. In 2012, the statue was gifted to the city of Juneau with the understanding it would find a place for it; now it seems it has.
"Oh, it's exciting. I'll feel a lot better once it's actually in place but we're moving quickly towards that," Botelho says.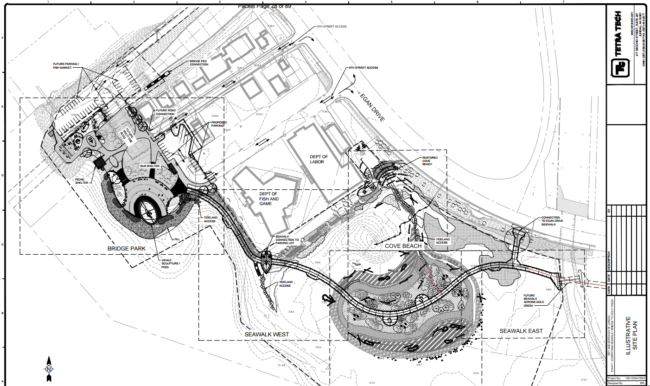 The statue will be part of a new waterfront park and seawalk that will eventually connect all the way to the cruise ship docks about a mile away. It will cross over to an artificial island, lush with native plants.
Skye Stekoll, an engineer with the city of Juneau, says the island will mitigate some of the ecological damage done to Gold Creek and its delta. The Army Corps of Engineers has already signed off.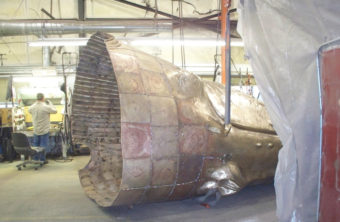 "So a habitat island is trying to replace some of the riparian habitat that may have been there in a natural state," Stekoll says.
In June, the Assembly gave its final approval to move ahead. Cruise ship passenger fees and sales tax will fund the construction. A mixed-use plaza is in the plans and Juneau Docks and Harbors is considered opening a fish market on the other side of the bridge.
After more than a decade of discussion, disagreements about where the park should be built and concerns over funding, the only thing left to do is open the bidding process, which Stekoll says could happen in the next few weeks.
"Yeah, for the most part we are now ready to go."
Bids then go before the assembly for final approval. Construction could start as early as October and be completed next fall.
Editor's note: A reference to the Juneau-Douglas Bridge has been corrected. It's the Douglas Bridge.