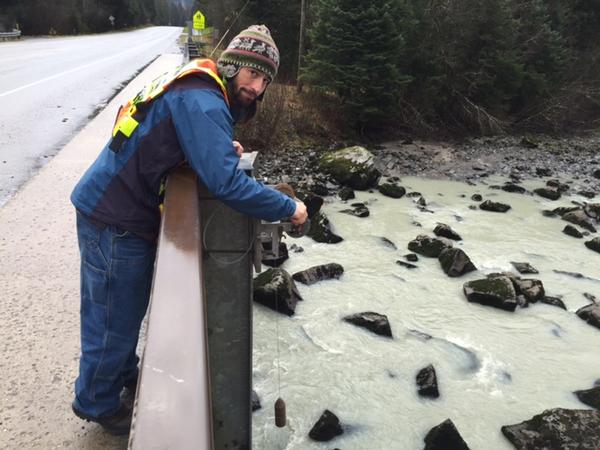 The National Weather Service is changing the way it forecasts the water level in Juneau's Mendenhall River.
The agency said Friday that it has stopped taking manual readings of the river level at the Mendenhall Loop Bridge. Instead, river level observations and flood forecasts will be based on an automated gauge located in Mendenhall Lake.
"We found that during the last couple jökulhlaups, especially at extreme high conditions, that the correlation between the lake and the river readings wasn't so close anymore," says Tom Ainsworth, meteorologist in charge at the National Weather Service in Juneau.
Jökulhlaup is an Icelandic term for a glacier outburst flood. Every summer since 2011, water from a basin located near the Mendenhall Glacier has drained, causing the lake and river to flood. When that happens, residents along the river rely on the weather service to provide them with flood warnings.
Ainsworth says there's usually a strong correlation between the automated gauge located at the lake and the manual gauge at the Mendenhall Loop Bridge, except during those big floods.
"It's hard to manually measure the river level when it's really ripping," Ainsworth says. "You've probably seen it during those last couple jökulhlaups out there. You know, it's high, big waves, the instrument hits a wave crest and it starts swaying. So, it's just not as accurate."
He says using the lake gauge to predict how high the water will be downstream at the bridge should provide property owners near the river with more precise information. The lake level can be found on the weather service website, along with information about what happens to the river level at various stages of lake flooding.
Ainsworth says the weather service has already informed residents near the river of the change, as well as tour companies that offer Mendenhall River rafting trips.