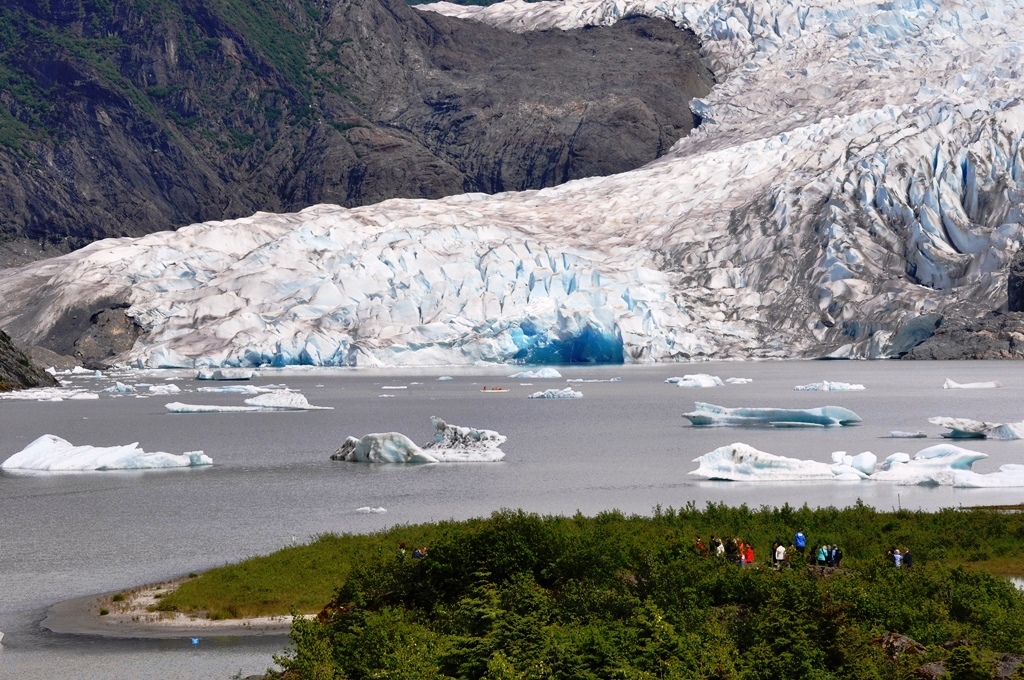 Juneau officials met Monday to plan their response to a possible glacial outburst flood in the area around Mendenhall Lake this summer.
Capital City Fire and Rescue Chief Rich Etheridge says the goal is to be prepared for a range of potential flood responses, from closing foot bridges to the use of water rescue boats.
"With the water levels rising in Suicide Basin we just want to be prepared for when it releases, so that we're not trying to play catch up," Etheridge says. "People kind of have their tasks lined out, who's in charge of what items and where resources are, so we can have a very systematic, well-thought out, planned response to it."
Some flooding has occurred the last three years when an ice dam burst from Suicide Basin on the Mendenhall Glacier. The glacial outburst is known by the Icelandic term jökulhlaup.
In 2012, a sensor was installed in the basin to show when it starts draining. But University of Alaska Southeast hydrologist Eran Hood says it's impossible to predict the amount of water to be released. Volume also depends on how the ice dam breaks.
"We don't know how much ice is in the basin and we don't know how much ice is being lost year to year, so we don't know how much water is in there, basically," Hood says. "In other words, if it filled up to the same level every year, because the amount of ice in the basin is changing so much, the amount of water would be different for the same level on that pressure sensor."

Hood believes a moderate-size flood is likely this summer.
The Suicide Basin sensor shows water levels steadily climbing. Mendenhall Lake levels are expected to increase over the next few days.
Fire Chief Etheridge says it's nearly impossible to predict where the water will breach the Mendenhall River. But keeping an eye on the gauge will help time the response.
"If we see the water level in Suicide Basin start dropping we can give people some notice, because it takes a little bit of time for it to leave the basin and actually hit the river, so they should have a little bit time to prepare," he says.

City officials on Friday issued a flood watch and warned people to use caution while recreating in the area. Rafters and kayakers should stay away from the face of Mendenhall Glacier, due to possible calving. Hikers also should watch for waves from calving and be careful at the terminus of Nugget Falls.
If there is a sudden outflow from the glacier, Etheridge warns people stay away from the riverbank, since flood waters can abruptly undercut it.