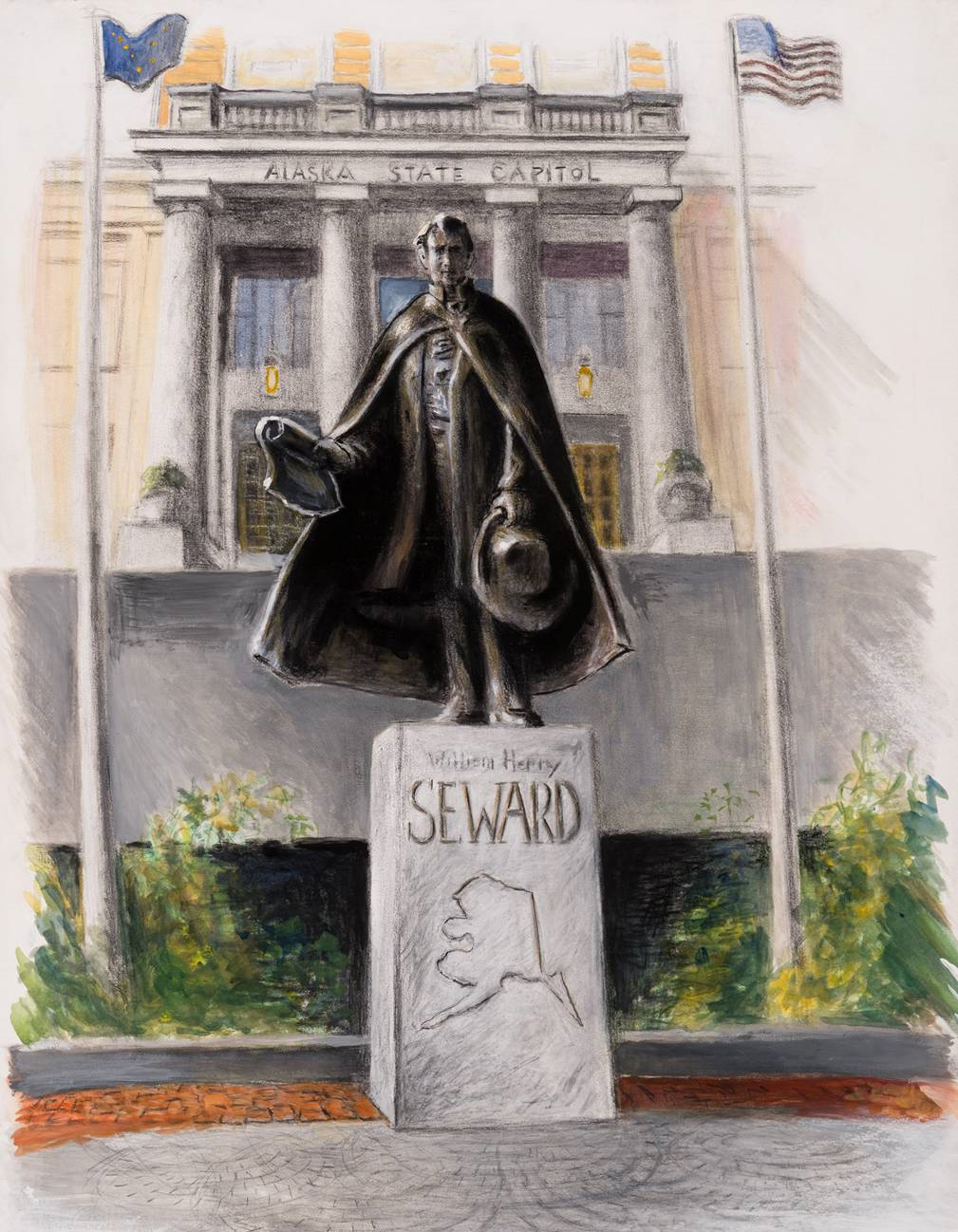 An effort to create a statue honoring the architect of the Alaska purchase received a boost with the Juneau Assembly recently committing funds to the project.
U.S. Secretary of State William Henry Seward negotiated the purchase of the Russian America territory for $7.2 million on March 30, 1867. The purchase is commemorated with Seward's Day, a state holiday every March 30. Alaska Day on October 18 marks the day in 1867 when the United States formally took possession of the territory.
At its March 16 meeting, the CBJ Assembly committed to using $25,000 from the Parks and Recreation Department's capital improvement budget for a proposed statue of Seward. Public and private donations are expected to cover the $120,000 estimated total cost for the statue's creation and installation.
The bronze statue will feature a more-than-life-size Seward wearing his cape, and holding his hat and a set of purchase documents.
Architect Wayne Jensen is one of the co-chairs of the Seward Statue Committee. He believes there's still time to have the statue constructed and erected in time for what he calls the sesquicentennial of Seward's Folly.
"2017 will be the 150th anniversary of the purchase," Jensen says. "So, we started planning some event that would commemorate that date."
As Jensen tells it, Russia was interested in selling the far flung Russian America territory to the United States, one of its closest allies at the time, as early as 1850. Russia had expenses from losing the Crimean War and Russian America was hard to control. The abolitionist Seward was preoccupied with preventing European countries from recognizing the Confederate States of America as a legitimate government. Once the Civil War ended, though, Seward resumed pursuing the major expansionist doctrine of the 19th century.
"He was a person that believed in Manifest Destiny," Jensen says. "He would like to have seen the United States include all of North America."
Seward negotiated the purchase of Russian America sight unseen, but he visited the territory two years later and then died about three years after that.
Ketchikan artist David Rubin will create the bronze sculpture of Seward.
"He suggested that the base of the statue be Tokeen marble from Prince of Wales Island, which is the same marble that's used for the columns at the front of the Capitol," Jensen says.
Rubin is currently working on the design and he'll acquire the marble for the pedestal this spring. A clay model may be completed by this fall and a foundry in New York will do the casting.
Jensen says they would like to dedicate and install the statue in the round plaza in front of the Dimond Courthouse, just across the street from the Alaska State Capitol, in July 2017. The statue could become another point of interest for tourists on the downtown walking tour.