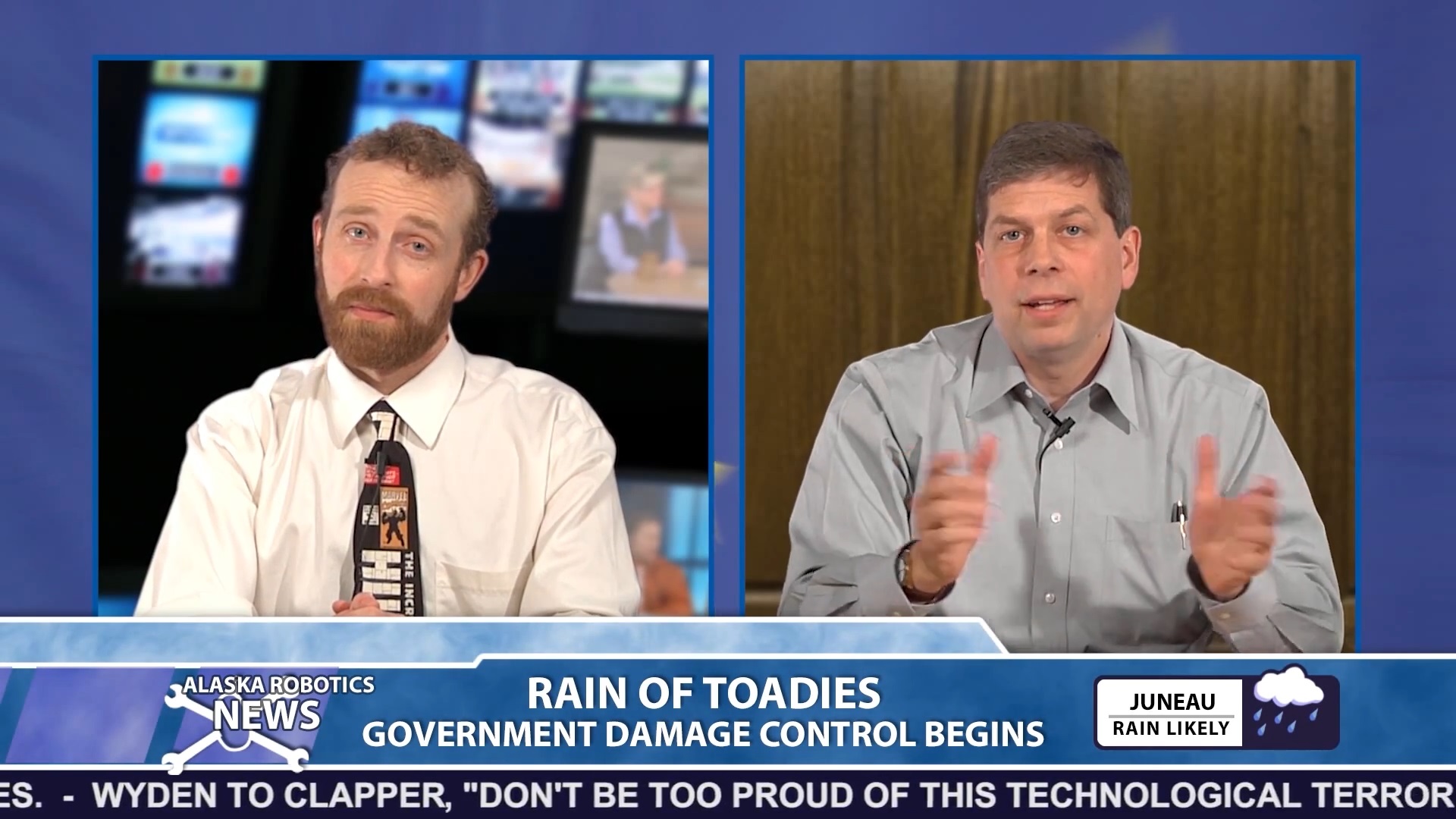 Juneau-based video collective Alaska Robotics is once again raising money for its satirical series Alaska Robotics News.
This year, the series poked fun at the Alaska Legislature and the 2014 midterm elections, thanks to more than $8,000 raised on Kickstarter.
But because of Kickstarter's all-or-nothing fundraising requirement, the second season of Alaska Robotics News might not happen.
Not only do Pat Race and his team design websites, create art, and run a comic shop and gallery on the side – they also make videos.
After years of doing periodic, political comedy videos, Alaska Robotics News debuted during this year's legislative session.
"We produced over 70 minutes of satire news," Race says. "It resulted in five episodes and six short episodes that were focused on the election."
Monday is the Kickstarter deadline for next year's series, and as of Thursday they were $5,700 short of their $8,000 goal.
"Last year fundraising began a little bit earlier than this year and fundraising this year is not going great and I think it's maybe because of our timing," says Race. "But it's also maybe because it's the second time we've tried to do this, and so maybe the enthusiasm isn't quite as high."
The way Kickstarter works is it's all or nothing when it comes to fundraising.
"You pledge to donate a certain amount and if the overall goal is not met, then no one has to donate anything and the project just doesn't happen," Race says.
He hopes Alaska Robotics can still pull it together at the last minute.
"Some of the people who donated last year have donated again and I've had a lot of people stop me on the street and be like 'Oh, your thing's happening, your fundraising's going on, I need to contribute to that and I haven't. I need to sit down and do that,'" says Race. "So we've got a lot of those people floating around out there."
One of those people is Nolan Davis. The Juneau dentist says he was out of town and just got an email about the fundraiser. He donated $1,000 last year and says he'll wait until the end of the drive to see how close they are to their goal.
"I might be influenced to donate more if they've just got a little bit more to go," Davis says.
He says he likes Alaska Robotics News because it's fun, but also informative. He says politics can be pretty boring and one way to make it interesting to a younger audience is to make fun of it.
"It's kind of become the national norm at least for the age groups from say, 19 to 30," Davis says. "What I've read, I think 25 percent of that age group gets their daily political news from shows like The Daily Show and The Colbert Report."
Race says the series has built an audience around the state, but most of the people who have donated to the Kickstarter campaign live in Juneau. If they don't make their goal, Race says Alaska Robotics will find another project.