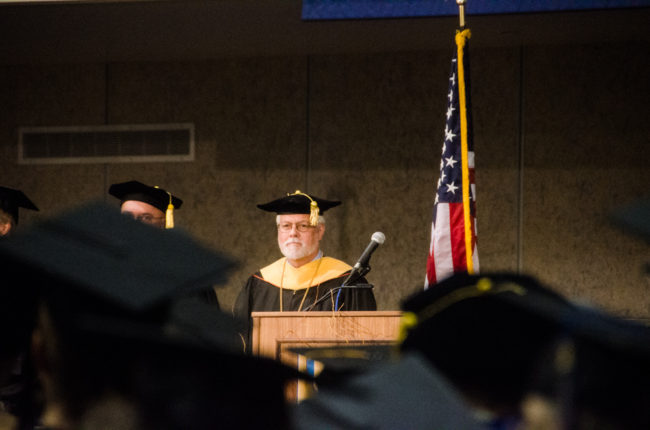 University of Alaska Southeast Chancellor John Pugh will retire in May. He announced his retirement Monday in an email to Southeast campus councils and the UAS Alumni Board of Directors.
Pugh has overseen several major changes at the Juneau campus during his tenure, including the construction of the Egan Classroom Wing, the recreation facility and the freshman residence hall. Pugh said two things he knows will be on the next chancellor's list of priorities will be to increase recruitment and continue to improve graduation rates.
"We have not been where we would like to be," Pugh said.
"We have had great improvements in our retention rates but we need to continue to work on our program completion rates–that part we are still lagging behind our peers and averages nationally–and we can do that."
UAS, which also oversees campuses in Ketchikan and Sitka, currently has two years left to implement their seven year strategic plan. Pugh said leadership at the university has made great progress on the plan and it's something the new chancellor will also get to be a part of.
"We really do have remarkable leadership right now at UAS and it's good timing because I think they will carry on," Pugh said. "Obviously anybody new comes in might have some different vision, but we're in a seven year strategic plan and we're committed to completing it. I think everybody here has been a part of that and pretty committed to it, so I think that will continue."
Carla Beam, vice president of university relations, said that University of Alaska President Pat Gamble will travel to Juneau in the next few weeks to meet with faculty and community members.
"President Gamble does anticipate that this will be a collaborative process and we expect it to go very smoothly," Beam said. "We've got quite a few months yet to look, but we will want to get community input and then map out the process as we know a little bit more."
Pugh was first hired by UAS in 1987; he became chancellor in 1999. He has also served as dean of the School of Arts and Sciences and dean of faculty. Before joining the university, Pugh served as commissioner of the state's Department of Health and Social Services from 1983 until 1986.