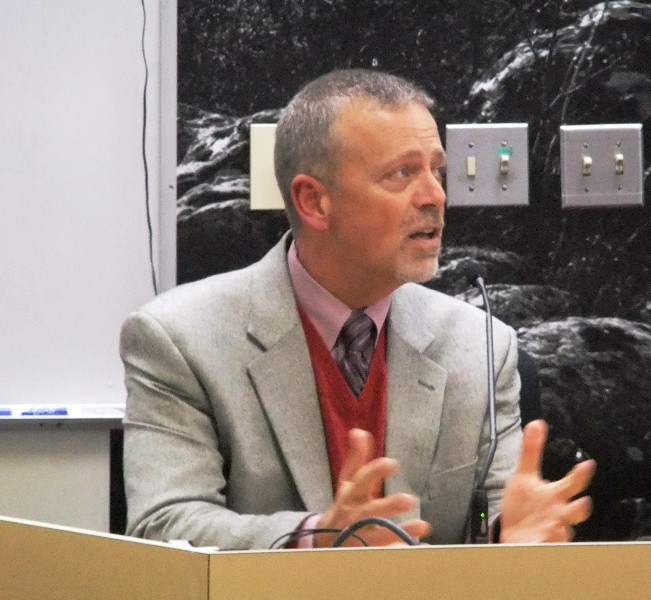 Bartlett Regional Hospital interim CEO says the hospital will easily keep moving forward while the board looks for a permanent head.
Jeff Egbert has been in Juneau just a week and told the Assembly Monday night  he's still in "learning mode."
He was hired late last month after CEO Chris Harff suddenly resigned, following allegations of a hostile work environment created by senior management. The hospital personnel director also resigned, and CBJ human resources director Mila Cosgrove stepped in.
Egbert comes from Arizona, where he has been CEO of mid-size and larger hospitals, including others that have been in turmoil.
 When I interviewed with Mila and the board the discussion was to come, keep the hospital moving forward while they find a permanent CEO. And I think that will be an easy task,  because the hospital isn't standing still, it is moving forward and progressing very nicely.  Just with the right direction and help in some key areas I think you've got a lot you can be proud of currently in that hospital.
The city-owned hospital has been going through change for at least three years, when some personnel started voicing concern about a "culture of fear."  Then long-time manager Quorum Health Resources was replaced with a CEO hired by the board of directors.  Harff was in the  job for only 13 months, and now Egbert is interim CEO.
Egbert says he understands the issues and is comfortable in working in what he calls "turn-around hospitals."
It's not the toughest hospital I've come to from a culture or a financial perspective.  The good news is the hospital is operating profitably currently.  You just have some challengers with leadership and employee relations.
Egbert describes Bartlett as wanting for leadership, wanting for trust and more open communication.
Board president Linda Thomas has said the board would like to hire a permanent CEO within six months.