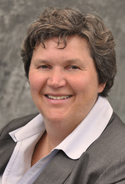 Chris Harff is stepping down as Chief Executive Officer of Juneau's Bartlett Regional Hospital after thirteen months on the job.
Bartlett Spokesman Jim Strader said in a statement that Harff announced her resignation in an executive session with the hospital's board of directors Tuesday night. Her last day is anticipated to be Friday October 18th.
"Harff expressed deep admiration and respect for the hospital employees and medical staff, but feels her professional expertise and the needs of the Juneau community are not a good fit," Strader said.
In a statement to hospital employees, BRH board President Linda Thomas said the board is disappointed, but hopes to build upon the work accomplished while Harff was CEO.
The board plans to announce an interim CEO within the next month, before embarking on a search for a long-term replacement for Harff.
Thomas called this "a very challenging year" for the hospital. In August, the board directed Harff to address allegations of a hostile work environment created by senior management officials. Harff also came under scrutiny for a plan to reduce the hospital's staff by 15 positions this year.
Harff is the second member of Bartlett's leadership team to announce plans to step down in recent weeks. Human Resources Director Norma Adams' resignation was announced September 16th. Her last day will be Monday September 30th. Adams joined the Bartlett leadership team in May 2012.
Harff came to Bartlett in August 2012 from a medical center in Thief River Falls, Minnesota. She was the first permanent CEO hired after the Bartlett board of directors decision to sever ties with the hospital's longtime management company, Quorum Health Resources. At the time board members said the move would give the hospital greater local control.
BRH is owned by the City and Borough of Juneau and operates largely on patient fees.
Harff and Thomas did not respond to requests for comment on Wednesday.