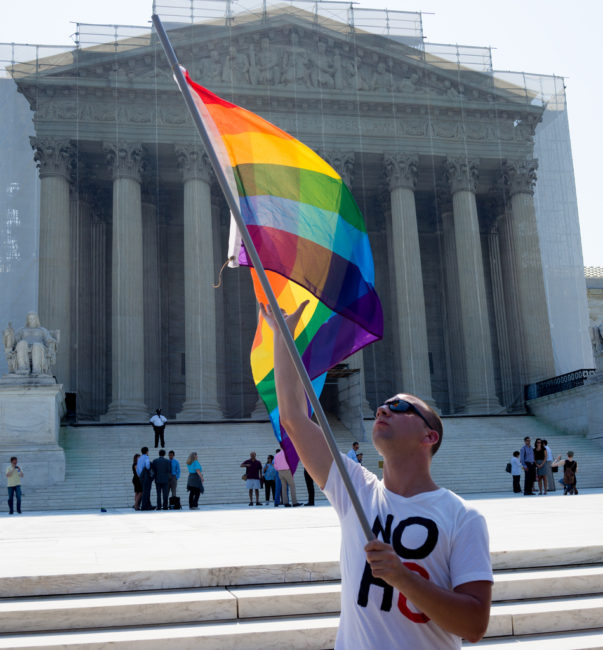 Update: June 26 – 10:54 a.m.
Senator Mark Begich is calling the ruling a "victory for individual rights."
His office sent out a press release with this statement:
"Today's decision is a victory for individual rights and Alaskans who are fed up of government intrusion. I have said all along that I do not support discrimination of any kind and that is why I believe same sex couples should be able to marry and have the same rights, benefits, privileges and responsibilities as any other married couple. While we still have a long way to go, today, the Supreme Court confirmed that the government needs to step aside, leave the decision to states and churches, and stay out of our private lives and daily business."
Update: June 26 – 7:22 a.m.
Senator Lisa Murkowksi has released a statement on the ruling:
"I welcome today's Supreme Court decision to strike down the Defense of Marriage Act because the federal government should empower households, respect the decisions of states and otherwise get out of the way.  This ruling represents victories for states' rights and equal treatment under the law."
Original Story: June 26 – 7:04 a.m.
The Defense of Marriage Act has been ruled unconstitutional by the U.S. Supreme Court.
This morning the court issued an opinion saying that DOMA deprives people of equal liberty as protected by the Fifth Amendment.
The opinion was issued by Justice Kennedy joined by Justices Ginsburg, Breyer, Sotomayer and Kagen.
Same sex couples who are legally married will be entitled to equal treatment under federal law.
Juneau residents Fabienne Peter-Contesse and Aimee Olejasz welcome the ruling. The same-sex couple is heading to Washington state this fall to be married.
After reading the ruling this morning, Peter-Contesse says it's surprisingly more powerful than she expected.
"It's indescribable. Not something I expected to experience in my life…and about damn time too."
Olejasz was following the decision online but says she had a hard time believing what she was reading.
"I think my mind interpreted the words, but my emotions wouldn't let me go there. I understood the words, but I kept saying 'is this really true, is this really true. I don't know.' '"
The ruling means when the couple gets married in Washington, a state where same-sex marriage is legal, their marriage will be recognized under federal law.
"Our marriage [will be] on the same par as everyone else's marriage which is a bigger deal than I expected it to be. It's definitely a very emotional time this morning."
The court found there was no standing to rule on Hollingsworth v. Perry and the case was sent back to the Ninth Circuit Court with instructions to dismiss the appeal because it lacks jurisdiction.
This is a developing story, check back for more details from the ruling.
Related Stories:
Still no Supreme Court ruling on DOMA, Prop 8 cases
Alaska couples await Supreme Court decision on DOMA, Prop 8