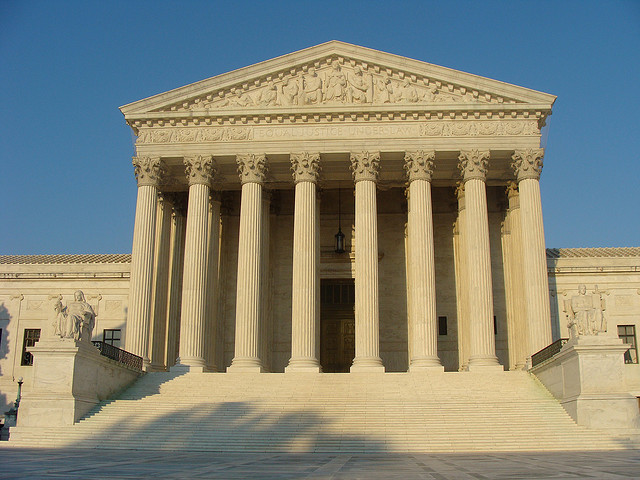 Update: June 25 – 8:07 a.m.
The Supreme Court has ruled that DOMA is unconstitutional. The court did not rule on Prop 8 (Hollingsworth v. Perry) saying there was not standing and sent the case back to the Ninth Circuit Court. Read the full story here.
Update: June 24 – 7:07 a.m.
The Supreme Court again did not issue rulings in either of the two cases.
Update: June 20 – 6: 24 a.m.
The Supreme Court did not issue rulings in either the DOMA (United States v. Windsor) or Prop 8 (Hollingsworth v. Perry) cases on Thursday. The only remaining scheduled day for opinions is Monday, or the court may add an additional day.
Additional Coverage: Alaska couples await Supreme Court decision on DOMA, Prop 8
Original Story: June 17 – 7:10 a.m.
With only two possible days for decisions from the Supreme Court left in this session, rulings in two cases have both sides of the same sex marriage issue on the edge of their seats.
Two cases currently before the Supreme Court could have an impact on same sex marriage laws and whether the federal government will recognize same sex marriage. The Supreme Court did not rule on either case this morning. The next possible days for the ruling are Thursday and next Monday.
The Supreme Court heard arguments in both cases back in March.
The first case, Hollingsworth versus Perry, has a complex legal history, but basically the court will rule on whether it was unconstitutional for California to have banned same sex marriage after having allowed it.
The second case, United States versus Windsor, is about whether the Defense of Marriage Act violates the right of equal protection under the law. DOMA defines marriage as between one man and one woman for the purpose of Federal marriage benefits. DOMA's definition of what constitutes a marriage prevents married same sex couples from receiving any federal marriage benefits.
"There are over 1,000 federal laws and programs that confer some right or benefit or privilege to married couples who are of opposite sex," says Jason Brandeis, a professor at the Justice Center at UAA. Brandeis teaches and researches constitutional law and civil liberties.
He thinks that it's unlikely we'll see a sweeping judgment from the court that decides the issue once and for all.
"The court is supposed to take the path of least resistance, issue a decision that is on the narrowest grounds possible. Generally, the court does not issue broad sweeping decisions that will make major changes. They will issue a ruling that is on the facts in front of them. And often times that decision will have a larger impact. For example, Brown versus Board of Education. Brown versus Board of Education dealt with segregation in public schools. It did not deal with all forms of segregation and racial discrimination. But the impact of the case was to establish the constitution does not look favorably upon certain types of racial discrimination and that paved the way for lots of other changes."
What does this mean for Alaska?
Alaska banned same sex marriage through a constitutional amendment in 1998.
Unless the court issues a ruling that says all bans on same sex marriage are unconstitutional, the ruling won't have an immediate impact on Alaska's constitutional ban.
However, Brandeis says it's likely the decision the court issues will have language that can be used in future court cases dealing with same sex marriage.
We'll continue to follow this story as we wait for the ruling.