About 3.4 million Filipinos live in the U.S.; 25,ooo  in Alaska.  The Ambassador of the Philippines to the United States says it's continually growing.
More than 3,000 Filipinos live in Juneau, "roughly 10 percent of the Juneau population," says  Jennifer Ruth Gomez Strickler.  As KTOO reported, Strickler was sworn into office Monday night as the first Honorary Consul of the Republic of the Philippines to Alaska.
Most people know her as Jenny, but once you're appointed to a government position, complete names are required as well as "all kinds of background checks. And I swear that now the Philippine government knows more about me and my family than anybody else," she says.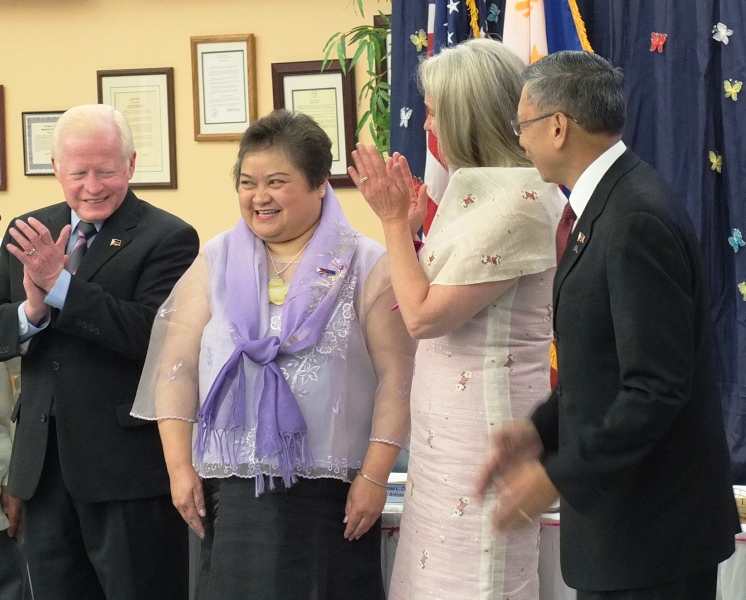 Strickler knows Juneau's Filipino community well; she served as vice president then president of the incorporated group for a decade.
She will serve a three-year term as Honorary Consul to Alaska.
Raphael Castanos worked on the project for two  years.
"We tried so many years ago but we were not successful," he says.
Castanos credits Connie McKenzie, a former aide to Congressman Don Young for planting the seed this time around, when she asked why Juneau had no honorary consul.
The Philippine government operates ten consulates across the country.  The San Francisco Consul General has jurisdiction over Alaska  and seven other states as well as Northern California and Northern Nevada.
San Francisco is a long and expensive trip from Alaska for passport or other document services, so years ago the San Francisco Consul began visiting Anchorage.  Now he also visits Fairbanks, Kodiak, and in 2010 started coming to Juneau once a year.
Strickler will handle many of the paperwork issues Juneau Filipinos and visitors may encounter.
"It's very much like a liaison between the Filipinos here and the San Francisco office," she says.
Marciano Paynor is San Francisco General Consul.  He says as Juneau's  honorary consul, "she'll be able to do visas, do legal documents that need to go to the Philippines, authenticate signatures, and the most important thing that she will be doing is what we call assistance to nationals. So any Filipino or Filipino American can seek help from her."
But that's just the paperwork.  Philippine Ambassador to the U.S., Jose Cuisia, is looking forward to economic ties between the state and the Republic.
Strickler joined Juneau Rep. Cathy Munoz and Bethel Rep. Bob Herron last fall on the  first official Alaska legislative mission to the Philippines. The Ambassador calls it a good first step.
"They're also talking about establishing a sister-city agreement between Kalibo, Aklan.  It's one of the cities that's very tourism oriented, similar to Juneau," he says.
The University of Alaska Southeast and Aklan State University are looking at a faculty exchange in fisheries. Strickler says a  seafood festival between the Philippines and Alaska is at the top of her list.
She is retired from the Alaska Department of Commerce, Community and Economic Development, has written grants for the Juneau Filipino Community, "and one of the things that really excite me is I can facilitate projects between state of Alaska and the Philippines," she says.
Paynor also is looking to her to help establish a Filipino emergency management team in Alaska, in the event of crisis "so that we can immediately respond or help people throughout the state". she says.
As Honorary Consul to Alaska, Strickler is truly an honorary employee. That is, she's a  volunteer, though Paynor says she will be able to keep 50 percent of the fees she collects for document services to operate her office in the Juneau Filipino Community Hall.
He flashes a wry smile as he explains.
"Basically it's a volunteer job.  So we thank her a lot for volunteering for this job."