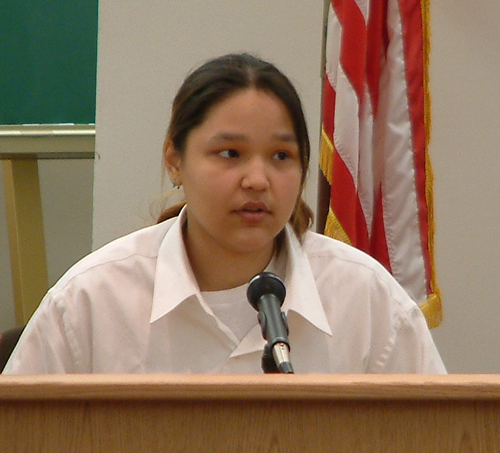 A Juneau woman convicted for climbing the fence at Adair-Kennedy Memorial Park and vandalizing the facilities remains out of custody as her attorney argues for less jail time.
Ashley Rae Johnston, now 19-years old, was convicted by a jury in February of criminal mischief and criminal trespass. But she was acquitted of arson in connection with last June's incident that included the destruction of supplies and equipment to lay new artificial turf at the field.
During a sentencing hearing on Tuesday, Johnston was ordered to serve 120 days in jail for the criminal mischief charge and serve thirty days for criminal trespass. The time will be served concurrently.
She also received three years suspended imposition of sentence, or essentially three years of probation. She could face more jail time if she gets into trouble again or does not satisfy conditions like completing alcohol treatment or getting her GED.
Because Johnston was barely 18 years old when the fire occurred, public defender Timothy Ayer argued for a three-year SIS with no time to serve in jail for the mischief charge, and suspended time for the trespass charge.
I don't think that there needs to be any incarceration quite yet. That's something with the suspended imposition of sentence that can be dealt with down the road. If it's borne out that she didn't get it and she either violates probation or commits another crime, (then) the court can find that, you know what, 'We gave you the chance and you proved that it wasn't just youth. You proved that, even with the added context of having being through the system, you'll still commit crimes.' And then give her a sentence of record."
Ayer also asked for mitigators to her sentence because she may have played a minor role in the arson. He also suggested that Johnston was a youthful offender who may have been easily influenced by Ryan Martin and Dillon West, or men as much as six-years her senior who may have promised or provided the alcohol that she wanted.
Assistant District Attorney Amy Williams said Johnston initially was not very forthcoming about her involvement in damaging the recreational facility.
So, from the very beginning, Ms. Johnston was strategizing in order to protect herself."
Williams asked for thirty-six months in jail with thirty months suspended for the criminal mischief charge.
It was a significant incident and you can't downplay it because it was done by young people."
She also requested three years supervised probation, payment of restitution, and a letter of apology to the CBJ. Since Johnston has a juvenile record of a minor consuming alcohol, Williams also argued for inpatient treatment and a prohibition of any consumption of controlled substances. Williams also asked that Johnston to serve an additional thirty days in jail for the trespass charge.
Johnston herself did not say anything during the hearing, although Ayer did read a portion of a short note that she wrote on the first day of trial.
She said that 'I was an alcoholic before this happened. Whether I did do it or not, I'm glad that I quit drinking finally. But not happy the field got burned down in order to see what I may or may not be capable of. The drinking just got worse after my grandma's death.'"
Just before handing down the sentence, Superior Court Judge Philip Pallenberg said that he didn't think there was clear and convincing evidence for the sentence mitigators as proposed by Ayer.
He called the vandalism a crime against the whole community.
I think there's a body of research that things like vandalism bring the whole level of the community down when acts of vandalism beget other acts of vandalism because they influence other kids to do other foolish things."
Ayer announced at the end of Tuesday's sentencing hearing that he intended to file a motion to stay, or put on hold, any jail time pending an appeal based on what he called 'shock incarceration.'
As a result, Johnston was ordered to report to Lemon Creek Correction Center next Tuesday, April 23rd.
Electronic court records indicate that Ayer filed his expected motion on Wednesday. Williams, who initially opposed the motion, is likely to file a reply.
Johnston was also expected to immediately start her three-year probationary term, and ordered to pay restitution with an amount to be determined in 90 days.
She is not to associate with co-defendants Ryan Martin and Dillon West. They're both scheduled to stand trial in mid-July on charges related to the arson at Adair-Kennedy Memorial Park.