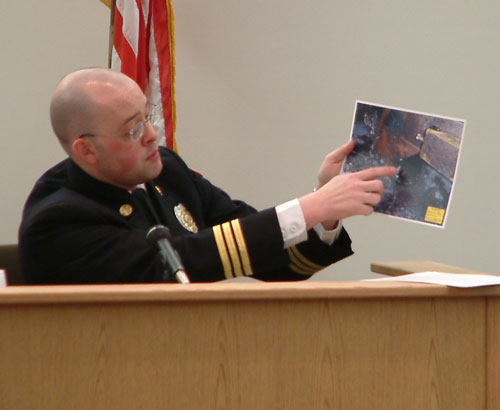 The defense of an accused arsonist is suggesting that investigators went easy on another defendant because he is the son of a veteran police officer.
Ashley Johnston, 19, is standing trial this week on felony arson and criminal mischief charges, and a misdemeanor criminal trespass charge.
She's accused of hopping a fence surrounding the field at Adair-Kennedy Memorial Park last June and starting the fire that destroyed equipment and supplies for the laying of new turf. She's also accused of vandalizing an announcer's booth at the field that included the discharge of a fire extinguisher.
Ryan Martin, 24, and Dillon West, 24, are expected to stand trial April 1st on charges related to the arson.
After the jury had been excused for the day on Wednesday, Johnston's attorney, public defender Timothy Ayer, said he wanted to question the Juneau Police Department's lead investigator in the case about possible bias that favored Martin.
Martin is the son of Detective Kim Horn. He was read his rights during an in-custody interview at the police station and a search warrant was served at his home. Johnston was not Mirandized during an interview at a neutral location and her backpack, in plain view of officers, was simply seized. Detective Horn was interviewed by a department colleague who was one level above her immediate supervisor.
Assistant District Attorney Amy Williams suggested that questioning the investigator's bias on the stand would eventually require the jury to hear earlier interviews with both Martin and Johnston as a comparison.
Superior Court Judge Philip Pallenberg said there isn't enough objective evidence of any bias which has any real relevance to the case.
"The fact is that Mr. Martin has been charged with essentially the same crimes as Miss Johnston," Judge Pallenberg said.
If there was some favoritism, it certainly has not been manifested in the nature of the charges."
Judge Pallenberg indicated he might be willing to revisit the issue after hearing testimony from the investigator in the case.
Ayer tried to bring it up during opening arguments on Wednesday morning, but Williams objected before he could continue describing the relationship to the jury.
During her turn at inital arguments, Williams said that Johnston changed her story about the fire as much as six times in conversations with investigators.
So, we go from 'I wasn't even there, not even there,' to 'OK, maybe I did. But I don't know because I was not myself that night.'"
But Ayer said Johnston's comments that she made to investigators were not an admission. He said there was no video of her starting the fire or discharging the fire extinguisher.
There's actually no hard evidence to point to Miss Johnston as the one who started the fire."
Some of the first witnesses on Wednesday included Deputy Fire Marshall Sven Pearson and Fire Marshall Dan Jager of Capital City Fire and Rescue. Pearson described the scene and Jager described the investigation process. Jager testified about ruling out mechanical, electrical, and natural causes – like lightning – for the fire. What was left, as a process of elimination, was that the fire was intentionally set.
A small tractor was damaged. A pallet of containers of adhesive, and a small trailer – towed behind the tractor – used in laying the turf were destroyed in the June 19th fire. Damages were estimated at least $20,000.
Another witness included Donny Haynes, Jr. who delivers papers for the Juneau Empire. He said he saw black smoke near Floyd Dryden Middle School, reported the fire to emergency responders, and talked to a girl on a bike leaving the scene.
I told her that if she didn't want to talk to anybody, then she better get out of here. And not to say anything to me because I don't want to know."
When asked, Haynes said he did know the girl, and said Johnston – as she appeared in the courtroom with mostly black hair – probably was not her.
"I would have to say no," answered Haynes when asked if he recognized her in the courtroom. He said he only noticed the girl's bike and her blond frizzy hair. But, just as Haynes left the stand, Johnston took a moment to flip and readjust her apparently-bleached ponytail in plain view of the jury.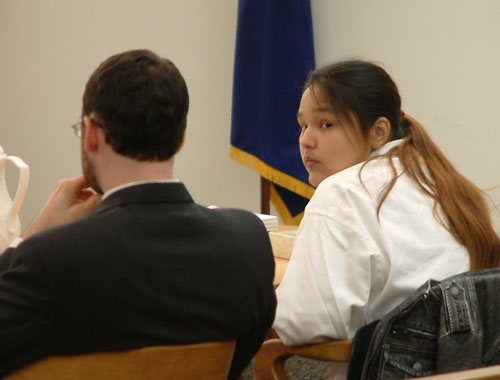 More testimony and presentation of evidence is expected on Thursday.
A seven-man, six-woman jury is hearing the case.
One of the jurors appears not to be giving the case his full attention. Seated in the jury box adjacent to where reporters have set up shop in the courtroom gallery, the juror appears to have dozed off at least once, and played with his smartphone or checked his email at least three times on Wednesday. That's even after he was gently reminded by Judge Pallenberg after the first time to turn off his phone and put it away.
(Spelling of Donny Haynes' name has been corrected in this story.)