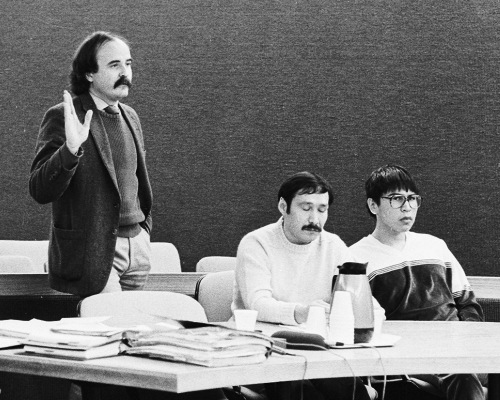 Thursday, January 10th portion of the hearing:
The reliability of evidence from a thirty-year old double homicide was at the center of a hearing that continued in Juneau Superior Court on Thursday.
Newton Lambert, currently serving a 99-year sentence for the April 1982 murder of Anne Benolken, has applied for post-conviction relief under a relatively new state law. He wants pieces of clothing worn by Anne's husband James to undergo DNA testing in the hope that it will point to another suspect in the murders. A swatch of sweatshirt fabric contains blood and a piece of pant fabric apparently contains traces of semen.
"It's not CSI on TV. They never show the paperwork," said Abirami Chidambraram, a former forensic scientist and DNA section technical manager at the Alaska State Crime Laboratory. She was referring to the popular television show and its spinoffs that focus on high-technology criminal investigations.
Testifying by phone on Thursday on chain-of-custody evidence procedures, Chidambraram said it is essentially the precise and careful documentation of each piece of evidence as it's picked up by an investigator, then handed over to a courier or shipper, transferred to a laboratory, and then examined by a forensic analyst. Notations are made at every step of the way.
"You are documenting information on a lot of different places," Chidambraram said. "But the chain-of-custody form shows all of this information, in essence, in one place. And (it) shows the connections and the movement of this item of evidence through the people who have it in their custody at any given point."
Evidence in the Lambert case has been in storage in a California lab with the swatches in separate smaller envelopes, and three broken sample slides, apparently from an unrelated case, all included in a larger envelope.
Chidambraram, reviewing testimony made during the first part of the evidentiary hearing in July, questioned the reliability of the evidence because of incomplete chain-of-custody. She also suggested possible cross-contamination of all the evidence in the larger bag from the broken slides.
"I would have serious concerns about testing anything in this particular case," Chidambraram said. She also noted improperly documentated preservation techniques, mistakes in packaging, and the striking-out of information or previous notations that cast doubt about integrity of the evidence.
Testifying for Lambert on Thursday was Blaine Kern, head of Human Identification Technologies, a private lab in Redlands, California. He was satisfied with the chain-of-custody in the Lambert case. In responding to Chidambraram's criticisms, Kern said she was essentially reviewing 1982 evidence procedures through the lens of 2013 protocols.
"I think, at that time, that was part of the standard operating procedure," Kern said.
He notes that the evidence envelopes have identifiers in the form of case and item numbers. The packages also include dates and initials of those who packaged the evidence, sealed the envelope, and later unsealed it.
"I think the integrity of the evidence is there," Kern said.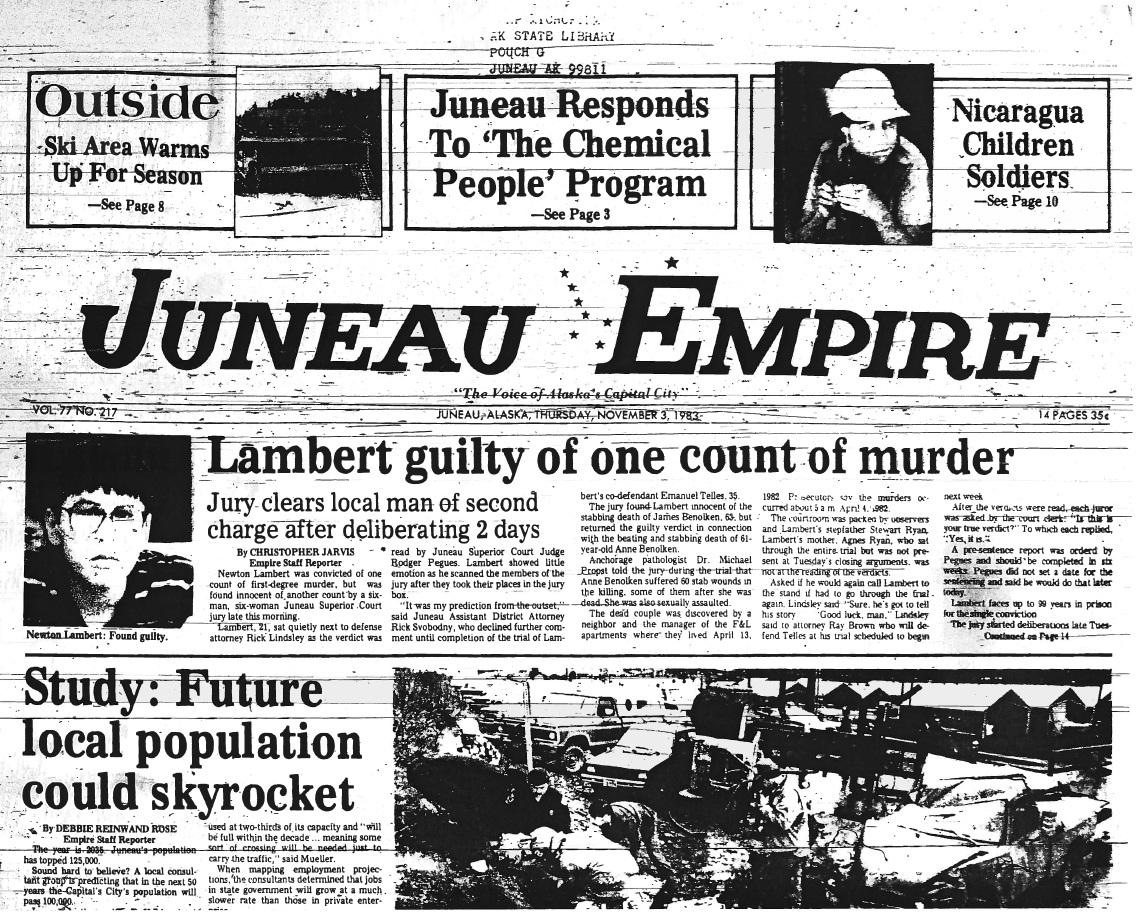 Under cross-examination by the District Attorney's office, which is serving as a respondent in Lambert's post-conviction relief petition, Kern admitted that he is under contract as a consultant for Lambert and his lab is not currently accredited. That's a process that requires strict outside review of procedures. Kern said it wasn't really necessary for their particular business.
Newton Lambert and Emanuel Telles were both charged with the 1982 murders of Anne and James Benolken. Lambert was acquitted of James' murder, but convicted of Anne's murder. Telles was acquitted of both murder charges during a trial that followed Lambert's trial.
The evidentiary hearing continued Friday afternoon with arguments over whether the evidence satisfies the statutory requirements for post-conviction DNA testing.
Updated – Friday, January 11th's arguments
Attorneys' arguments made on late Friday afternoon made up the third and final part of the evidentiary hearing that started in July.
Sitka-based Public Defender Jude Pate contended that the chain-of-custody for a set of evidence samples was satisfactory. He refuted claims made by Chidambraram, the state's main witness, who testified on Thursday.
"It seems that the criticism of the chain-of-custody boils down to 'It could have been better' and that by today's standards that are used that, perhaps, what happened in the early 1980s doesn't meet the letter of what is practiced today," Pate said.
"That doesn't mean that there was a break in the chain-of-custody, or that there was any evidence that they were altered, substituted, or contaminated in any respect."
Pate pointed out that broken slides from an apparently unrelated case, which were received damaged from the State of Alaska, are still consolidated with the Lambert evidence in storage in a California laboratory. But the slides remain compartmentalized or segregated to avoid contaminating evidence from the Lambert case.
The two key pieces of Lambert evidence are identified as Q-33 and Q-34, or sweatshirt and pant swatches taken from the clothing of James Benolken that are believed to contain traces of blood and semen.
Pate, in arguing his main theory of defense, said that an earlier, unadopted draft of the post-conviction relief statute had specified that DNA testing should conclusively establish innocence. But Pate said he only has to present a reasonable probability that Lambert did not commit the offense in order to apply for a test.
"Testing of Q-33 and Q-34 taken from Mr. Benolken would show the presence of DNA from two people other than the Benolkens and other than Mr. Lambert, and other than Mr. Telles," Pate said.
Pate said that another post-conviction claim is pending on Malone's false testimony about the hair.
Assistant District Attorney Amy Williams reiterated her main witness' argument from Thursday that the chain-of-custody, or careful notations of the transfer for the evidence, was substandard.
"Mr. Lambert is asking the court for DNA testing of evidnence that has limited value, that was maintained by a laboratory that did sloppy work, and in a case in which the evidence of guilt is overwhelming."
Williams also said that Pate misses the mark with his theory of defense.
"There could have been three killers for all we know," Williams said. "We all are hypothesizing about what happened to James Benolken. And that's really the only person for whom this evidence would have any kind of effect. It wouldn't say anything about who killed Anne Benolken which is the murder for which Newton Lambert was convicted."
Williams also told that Ketchikan Superior Court Judge William Carey that DNA post-conviction relief testing as performed in other jurisdictions must be exculpatory or have potential to show innocence of the crime in which the defendant was convicted. That's a higher threshold or standard than referred to by Pate.
"To relax the standard so far would put Alaska completely outside of step with the entire rest of country on post-conviction DNA testing statutes or testing standards," Williams said.
Plantiffs or petitioners usually get a final shot with a rebuttal. Pate called for a plain meaning of the statute.
"Maybe out of step, out in front, the forefront to make sure that wrongful convictions are not had," Pate said.
Judge William Carey took arguments under advisement. He will likely take as long as he needs to carefully consider the evidence before drafting an opinion. It's likely that such an opinion that will likely be reviewed intensely by the appellate courts, state attorneys, lawmakers, and courtwatchers.
Earlier stories on the case:
Juneau man wants DNA tested, seeks review of nearly 30-year old homicide conviction – July 13, 2012