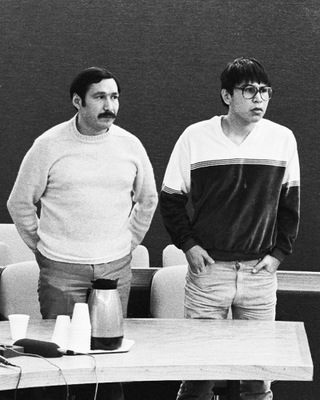 A defense attorney applying for post-conviction relief under a relative new Alaska law hopes other suspects will surface and cast doubt on his client's implication in a double homicide in Juneau nearly thirty years ago.
Newton Lambert was just 21 years old when he was convicted for the murder of Anne Benolken in her South Franklin Street apartment in April 1982. She was found, along with her husband James, at least nine-days after they were both sexually assaulted and stabbed to death. Lambert was acquitted in James Benolken's murder. Co-defendant Emanuel Telles was acquitted of both murder charges during a subsequent trial.
Lambert's attorney Jude Pate argues that Alaska's new post-conviction DNA statute is different than an earlier version of the proposed law that had a higher burden or standard to show conclusive proof.
"So, it's our position that the burden for us is a reasonable probability that Mr. Lambert did not commit the offense," said Pate.
Pate hopes to prove that DNA left at the scene, in the form of blood on James Benolken's sweatshirt and semen on his pants, will indicate suspects other than Lambert and possibly Telles. If a fifth or sixth person is identified as being in the Benolken apartment, then – according to Pate – someone else besides Lambert may have participated in the crime.
Pate also points to testimony about a hair sample from discredited FBI agent Michael Malone that the prosecution relied on at trial, particularly during closing arguments.
"The FBI did a review of many of Agent Malone's cases," said Pate. "He was a serial liar and put many people away that shouldn't have been." Pate says Malone could not support his testimony that there was a only 1-in-5000 chance that a hair fiber found at the crime scene did not belong to Lambert.
Assistant District Attorney Amy Williams says Pate's interpretation of the new post-conviction DNA testing statute to include the lower 'reasonable probability' standard is just wrong.
"Almost every person that we've convicted, where any biological sample was collected at all, would be allowed to have DNA testing," said Williams."We wouldn't need the statute. It could be de facto."
She also points to the totality of evidence presented at trial – including Lambert blacking out and waking up in the Benolken bathtub – and no innocence theory presented at trial. In addition, Lambert was convicted for Anne Benolken's murder, not James Benolken's murder.
Pate and Williams made their arguments before Ketchikan Superior Court Judge William Carey on Friday, July 13th.
Much of the long, nearly four-hour evidentiary hearing centered on a retired director of a California forensics lab, Charles Morton of the Institute of Forensic Sciences and Forensic Analytical, describing how they recorded the acceptance and storage of the shirt and pant swatches. It's referred to as evidence chain-of-custody in law enforcement parlance. The fabric was stored in a freezer, which survived undisturbed and intact, when it was transported to a new lab. But three slides of microscopic evidence from an unrelated case apparently were mixed in with three slides from the Lambert and Telles cases.
Judge Carey may issue an opinion on the case sometime next month. One of the witnesses who was not able to testify on Friday, a DNA technical manager at the state crime lab, will listen back to the other testimony and offer her own comments on chain-of-custody procedures.