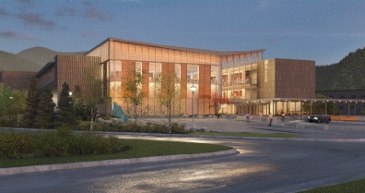 Another groundbreaking ceremony will be held next Wednesday in Juneau for the state Library, Archives and Museums project, also known as SLAM.
Contractor PCL Construction began work on the project about a month ago. When it's complete in 2016, the $131 million state of the art building will house the division of Libraries, Archives and Museums under one roof. Currently, those workers are spread out at three separate locations in the Capital City.
At a recent meeting with the Juneau Assembly, SLAM Director Linda Thibodeau said the project is important to communities statewide.
"There are over a hundred museums, a hundred public libraries, 80 archives and an unknown number, but around 300 school libraries," Thibodeau said. "So there are a lot of facilities that we work with."
Juneau residents may have noticed the recent arrival of construction trailers in the Subport parking lot across from where the SLAM project is underway.
PCL Project Manager Joel Kinman said eventually there will be as many as 15 trailers for various subcontractors. In addition, he said parking in the nearby Coast Guard lot will be reserved for construction workers.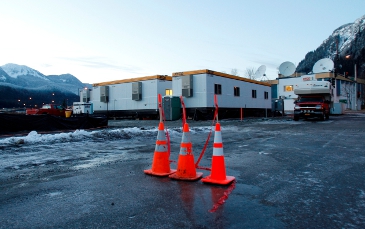 "During peak times we could potentially have as many as 250 people," Kinman said. "Of course, not all of those people are going to be driving their own car. But we anticipate that at certain times that parking area will be quite full."
To date the legislature has funded the project to the tune of more than $81 million. Another $50 million is needed to complete construction. Governor Sean Parnell included $20 million of that in his proposed state capital budget.
The current phase of the project is construction of an underground vault to be completed in February 2014. Building construction is scheduled to get underway in March of that year and wrap up in early 2016.
State officials held a preliminary groundbreaking for the project in October 2011.
The official groundbreaking will be next Wednesday at noon in front of the State Museum. A reception will be held inside the museum following the ceremony.