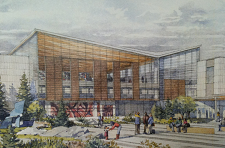 A preliminary groundbreaking was held Monday morning for the Alaska State Museum project in Juneau. State officials, historians, and lawmakers used a golden shovel to dig up the grass sod at one of the driveway entrances to the museum.
Linda Thibodeau, director of the state Division of Libraries, Archives, and Museums, says they already have $32 million dollars for the $124.5 million dollar project. A formal groundbreaking is planned for some time next year when the project is fully-funded.
Formerly called SLAM – for State Library, Archives, and Museum – the expansion project would incorporate all of Juneau's facilities in a single building.
Thibodeau says the current Alaska State Museum building no longer meets code and has many problems. She says they determined that it would be more practical to demolish and rebuild the structure, rather than renovate and add on to it. Space is running out on the eighth floor of the State Office Building for the Library and Historical Collections, while the Archives building located below the SOB is literally splitting in two.